Posted on 1/7/2014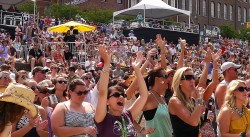 As the guys from Concert Blast reflect back on the coverage performed in 2013, we thought it would be better to show you with hundreds of photographs taken throughout the year in a video segment. The year's photo coverage began with an interview with singer/songwriter/actress Jewel from our guest blogger/photographer friend Samantha Shrader and ended with Mike Arnold's visit to the annual Christmas 4 Kids benefit touring of tour buses. This year also included the Memphis in May Beale Street Music Festival, the CMA Music Festival, and the K-Love Fan Awards,  along with numerous concerts, interviews, and CD reviews throughout the year. Enjoy this video of the Concert Blast 2013 Flashback and Happy New Year from Mike Arnold, Brian Hasbrook, and Tom Thompson!
CONCERT BLAST 2013 FLASHBACK VIDEO
Concert Blast Photo Coverage in 2013
Jewell
Rick Springfield
Tom Keifer
Elton John
Memphis In May Beale Street Music Festival
The Joy Forminable, The Wallflowers, Govt' Mule, Yngwie Malmsteen, Hall & Oates, Dwight Yoakam, Patti Smith, ZZ Top, The Black Keys, Big Boi, Public Enemy, Three Days Grace, Vintage Trouble
K-Love Music Awards
Newsboys, Casting Crowns, Mercy Me, Big Daddy Weave, The Afters, Sidewalk Prophets, Mandisa, Colton Dixon, Matthew West, Building 429, Meredith Andrews, Toby Mac, Alex Kendrick, the Robertson's from Duck Dynasty, Jase, Missy, Phil, and Ms. Kay, Kari Jobe, Matthew West, Mercy Me, Francesca Battistelli, Mike Fisher
CMA Music Festival
Tracy Lawrence, Luke Bryan, Taylor Swift, Eric Church, Miranda Lambert, and the Zac Brown Band, Randy Travis, Kip Moore, Hunter Hayes, Lady Antebellum, Little Big Town, Sheryl Crow, Blake Shelton, Bo Bice, Hollywood Yates, Lucas Hoge, Jenny Casey, David Nail, Maggie Rose, Rachel Williams, Mustang Sally, The Band Perry, Julie Roberts, Lady Antebellum, Goo Goo Dolls, Wynonna Judd, Mac Powell, Pam Tillis, Lorrie Morgan, Marshall Tucker Band, Willie, Jase, and Si Robertson from Duck Dynasty, Dierks Bentley, Keith Urban, Florida Georgia Line, Lenny Kravitz, Kelly Clarkson,Trisha Yearwood, Jason Aldean, Dee Jay Silver, Brad Paisley, Jake Owen, Carrie Underwood, and a lots of fans!
Bret Michaels
The Monkees
Ted Nugent
Laura Wilde
Bree
Vintage Trouble
Jason Bonham's Led Zeppelin Experience
Brian Milson
Vintage Trouble
Christmas 4 Kids Tour Bus Tour
The CD reviews from the year; Jenny Casey, John Waite, Tom Keifer
—

Please Leave a Comment!


—

Tags: Alex Kendrick, Beale Street Music Festival, Big Boi, Big Daddy Weave, Blake Shelton, Bo Bice, Brad Paisley, Bree, Bret Michaels, Brian Hasbrook, Brian Milson, Building 429, Carrie Underwood, Casting Crowns, Christmas 4 Kids Tour Bus Tour, CMA Music Festival, Colton Dixon, Concert Blast 2013 Flashback, concertblast, David Nail, Dee Jay Silver, Dierks Bentley, Duck Dynasty, Dwight Yoakam, Elton John, Eric Church, Florida Georgia Line, Francesca Battistelli, Goo Goo Dolls, Gov't Mule, Hall & Oates, Hollywood Yates, Hunter Hayes, Jake Owen, Jase Robertson, Jason Aldean, Jason Bonham's Led Zeppelin Experience, Jenny Casey, Jewell, Julie Roberts, K-Love Music Awards, Kari Jobe, Keith Urban, Kelly Clarkson, Kip Moore, Lady Antebellum, Laura Wilde, Lenny Kravitz, Little Big Town, Lorrie Morgan, Lucas Hoge, Luke Bryan, Mac Powell, Maggie Rose, Mandisa, Marshall Tucker Band, Matthew West, Memphis in May, Mercy Me, Meredith Andrews, Mike Arnold, Mike Fisher, Miranda Lambert, Missy Robertson, Ms. Kay Robertson, Mustang Sally, Newsboys, Pam Tillis, Patti Smith, Phil Robertson, Public Enemy, Rachel Williams, Randy Travis, Rick Springfield, Samantha Shrader, Sheryl Crow, Sidewalk Prophets, Taylor Swift, Ted Nugent, The Afters, The Band Perry, The Black Keys, The Joy Forminable, The Monkees, The Wallflowers, Three Days Grace, Toby Mac, tom Keifer, Tom Thompson, Tracy Lawrence, Trisha Yearwood, Vintage Trouble, Will Perry, Willie Robertson, Wynonna Judd, Yngwie Malmsteen, Zac Brown Band, ZZ Top