Written by Lisa Wilkerson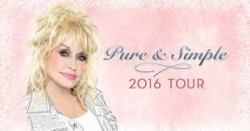 I was thrilled and honored to attend Dolly Parton's Pure & Simple show at the Von Braun Center in Huntsville, AL, on November 16, 2016. To say I'm a Dolly Parton fan is like saying Peyton Manning enjoys football and Papa John's pizza, a greater understatement has never been uttered. I've seen Dolly several times in various locations but looked forward to experiencing this particular tour, her first major North American run in over 25 years.
This was my first visit to the Von Braun Center similar in size and layout to Nashville's Municipal Auditorium. Nearby parking was reasonably priced, the staff was friendly and the venue was clean. I was seated floor level in front of the soundboard just a few rows from the back of the arena.
Blessedly, sound quality was excellent (besides a thunderous bass drum that caused heart palpitations) because I relied on my ears rather than my eyes most of the night. To put it mildly, the view was obstructed. There were no video screens or risers to enhance the floor experience. Every seat was at the same level. My 5-foot-8 frame usually doesn't have a problem in such situations but even I struggled to see. A majority of the evening was spent contorting around heads and cell phone cameras. When I finally caught a glimpse of Dolly, she looked like a tiny white candle 100 yards away. That country candle sure did shine, though; in her words, "I never leave a rhinestone unturned."
Dolly is an entertainer. From her look to her quips, she always amuses. She put on a nearly three-hour performance (no opening act) that included an intermission/wardrobe change. The multi-instrumentalist dabbled on guitar, banjo, fiddle, dulcimer, flute, piano, and (jokingly) saxophone; playing well-known hits, numbers from her gospel, bluegrass, Trio albums, her new #1 release Pure & Simple and a half dozen covers of Bob Dylan, Jerry Lee Lewis, Alicia Keys and others.
With over five decades in the music industry and three-thousand songs written, Dolly doesn't need to cover other people's tunes in concert. People come for the hits, her hits. With 106 singles, 55 Top 10s, and 25 #1s, she has more than enough material to mix up the set list every night; she doesn't have to look elsewhere. "Love Is Like A Butterfly", "The Bargain Store", "Rockin' Years", "Joshua", "All I Can Do", "You're The Only One", "It's All Wrong, But It's All Right", "Heartbreaker", "Tennessee Homesick Blues", "Old Flames Can't Hold A Candle to You", "Staring Over Again", "But You Know I Love You", and "Heartbreak Express" would've been welcomed inclusions over her cover choices.
It would've benefited her to play up on the Pure & Simple name by designing a pure and simple show. Forego the out-of-her-element smoke machine, pyrotechnics, light show, and electronic tracks for the more natural setting of the front porch of her Tennessee Mountain Home. Strip down the production. Dolly excels when she is accompanied by sparse string instruments and/or a capella harmony. "Those Memories of You" and "Do I Ever Cross Your Mind" were done this way and received some of the biggest reactions from the crowd.
I challenge her to conduct an arena concert like a writer's show at The Bluebird Café. The audience wants to hear her stories. She broke off script a few times to talk about her childhood, life on the farm, and how specific songs were composed; the crowd adored these glimpses into her personal life. People love Dolly—it's not about wild stage productions with her—they care about authenticity and going away knowing her better than they did when they arrived.
This show gets a Concert Blast rating of 8.5 out of 10. Deductions for too many covers and an awkward attempt at rock-like production elements.
Written by Lisa Wilkerson
SET LIST
INTRO: Hello Dolly
SET 1
Train, Train
Why'd You Come in Here Lookin' Like That
Jolene
Pure & Simple
Precious Memories (John Wright cover)
My Tennessee Mountain Home
Coat of Many Colors
Smokey Mountain Memories
Applejack
Rocky Top/Yakety Sax
Banks of the Ohio ([traditional] cover)
American Pie / If I Had a Hammer / Blowin' in the Wind / Dust in the Wind / The Night They Drove Old Dixie Down
The Seeker
I'll Fly Away ([traditional] cover)
SET 2
Baby I'm Burnin' / Great Balls of Fire / Girl on Fire
Outside Your Door
The Grass Is Blue
Those Memories of You (Alan O'Bryant cover)
Do I Ever Cross Your Mind
Little Sparrow / If I Had Wings
Two Doors Down
Here You Come Again
Islands in the Stream
9 to 5
Encore:
I Will Always Love You