Posted on 2/12/2015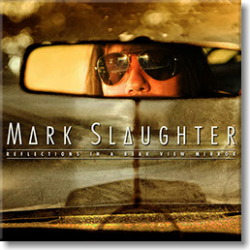 Welcome to our first post of 2015. We took off in January, but the posts are now returning as we are gear up for the concert and music festival season.  For 2015 starters we are excited to learn that Slaughter's front man and Concert Blast friend, Mark Slaughter, is back with new music. His solo album, "Reflections in a Rear View Mirror", is available now for down load.  From Mark's website he posted, "These tracks represent the last year of creative expression for me.  When I started this journey, I had no idea of where it would take me.  Now that I'm here, I hope that you love the songs as much as I loved making them for you!"  Continue to read the official Press Release.
Mark Slaughter First Ever Solo Album, "Reflections In A  Rear View Mirror" Out NOW!
Mark Slaughter, lead singer of the multi-platinum band Slaughter, is proud to announce the release of  his first ever solo album,"Reflections In A Rear View Mirror."     Staying true to his roaring rock and roll roots, and straying just enough to bring his heartfelt side into the mix, Mark Slaughter has brought to light this classic music that will be around for a lifetime. Listen here: http://www.markslaughter.com/music.html

The release is available exclusively on a Limited Edition, Autographed iDitty Card! With this card, you can download Mark's full album, "Reflections In A Rear View Mirror," to your phone, computer, and tablet.  Go to http://iditty.net/MarkSlaughter/Reflections With the chance to work with legendary producer Michael Wagener at the helm mixing and masterging the record, in addition to vocals,  Mark is playing all instruments on the album with the exception of drummer Mark Goodin.  His guitar playing rivals the greats out there and his vocals are spot on with a musical range that is par-excellence.Still in the band Slaughter and continuously touring with his band, Mark had years of music creativity stored up and has now decided it is time to share it with the world!
www.markslaughter.com
www.facebook.com/markslaughterofficial
https://twitter.com/markslaughter33
###MARK SLAUGHTER
The band Slaughter sold more than five million records worldwide, with  numerous Top 30 hits on the Billboard Charts with tunes such as "Fly To the Angels" and "Up All Night."  The band hit the road playing to stadiums and arenas, touring the world with bands such as KISS, Poison, and Ozzy Osbourne, and more.Before the formation of his own group Slaughter, he fronted a local band Xcursion before joining the Vinnie Vincent Invasion in 1987,  with a huge hit song "Love Kills" that appeared on the Nightmare Before Elm Street 4 movie soundtrack in 1988. After that band disbanded in the late 1980s, two of its members, Dana Strum along with Mark, formed the group Slaughter.
Mark Slaughter was born in Las Vegas, Nevada on the 4th of July, and has worked as a voice-over actor and composes music for television, movies and sports outlets, with credits including music compositions for Fox Sports, along with voice over ventures in productions like Batman Beyond, Bloodsport, and Animaniacs.
Slaughter helped co-found a new band, Scrap Metal, which consists of other platinum-selling singers such as Gunnar Nelson (Nelson), Kelly Keagy (Night Ranger) and Eric Martin (Mr. Big).    In addition to the militaries Red Circle Foundation, Slaughter actively participates in charity work including with St. Jude's Hospital.
###  Michael Wagener is a music producer, mixer, and engineer from Hamburg, Germany, best known for his work with many top hard rock and heavy metal bands in the late 1980s. Wagener's works have sold over ninety-four million albums worldwide. Wagener has produced or mixed platinum selling albums by Motley Crue, Overkill, Great White, Poison, Alice Cooper, Extreme, Megadeth, Jannet Jackson, Ozzy Osbourne, Metallica, Skid Row, and more.  The iDitty card is the latest technology in digital music and cross platform sharing.   When your iDitty card arrives, you will want to scratch-off the lower right hand corner of the back of the card to reveal your card's unique code.  Next, you will go to Mark's profile page on iDitty at:  http://iditty.net/MarkSlaughter/Reflections you will then click the download button at the top of the page, enter your unique code in the drop-down menu and your download will begin automatically!
—

Leave A Comment!


—

Tags: blog, concert blast, concertblast, Dana Strum, Kelly Keagy, Mark Goodin, Mark Slaughter, Michael Wagener, Reflections From a Rear View Mirror, Scrap Metal, Slaughter