Posted 2/03/2011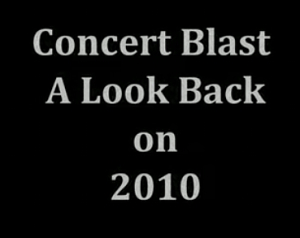 Written by Mike Arnold
 While the concert-touring season has slowed down for the winter, I thought it would be nice to show our listening audiences what we went through in 2010.  I created multiple videos of our experiences with a month by month journey of our adventures.
 Here's Part 4 of our 2010 Concert Blast Posts.  This video takes you through our experiences of a fun music festival,  the Bonnaroo Music Festival as well as Sheryl Crow in Chattanooga and The Freeman Lake Concert in Elizabethtown, KY with Grand Funk Railroad and The Guess Who .
 Take a look at this video (about 12 minutes) to see what Concert Blast went through during this section of our 2010 concert coverage.
 In this video, we covered the following…
Kings of Leon, Sheryl Crow, John Fogerty, Flaming Lips, Grand Funk Railroad, The Guess Who, John Butler Trio, Kris Kristofferson, Miranda Lambert, Tenacious D, Conan O'Brien, Steve Martin and the Steep Canyon Rangers, Damien Marley and Nas, Against Me, Michael Franti and Spearhead, Drop Kick Murpheys, Garry Peterson (The Guess Who), Bruce Kulick (Grand Funk Railroad, Kiss, Solo, and others),and Kenny Lewis (Elizabethtown, KY Councilman and Concert Promoter)  … And That's Just Part 4!
  ____
PLEASE LEAVE A COMMENT BELOW
____
Tags: 2010, Against Me, Brian Hasbrook, Bruce Kulick, CMA Music Festival, Conan O'Brien, concert blast, Concert Photos, Damien Marley and Nas, Drop Kick Murpheys, Flaming Lips, Garry Peterson, Grand Funk Railroad, James Downing, John Butler Trio, John Fogerty, Kenny Lewis, Kings of Leon, Kris Kristofferson, Michael Franti and Spearhead, Mike Arnold, Miranda Lambert, Nashville, podcast, Sheryl Crow, Steve Martin and the Steep Canyon Rangers, Tenacious D, The Guess Who, TN, Tom Thompson, video