POSTED 2/10/2011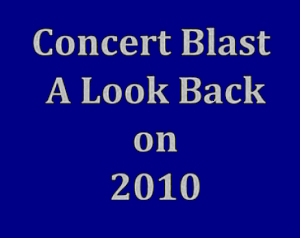 Written by Mike Arnold
 While the concert-touring season has slowed down for the winter, I thought it would be nice to show our listening audiences what we went through in 2010.  I created multiple videos of our experiences with a month by month journey of our adventures.
 Here's Part 5 of our 2010 Concert Blast Posts.  This video takes you through our experiences in Memphis, TN with REO Speedwagon and Pat Benatar, in Nashville, TN at the Bridgstone Arena with the Scorpions and Ratt, Paul McCartney, as well as Crosby, Stills, and Nash with Tom Petty and the Heartbreakers.  There was the Heart Concert at the Ryman, the Michael Bolton concert at the Wildhorse Saloon as well Hard Rockers Cinderella also at the Wildhorse Saloon.  We also covered the Americana Music Festival shows from the Cannery which was a lot of fun!
  Take a look at this video (about 13 minutes) to see what Concert Blast went through during this section of our 2010 concert coverage.
 In this video, we covered the following…
Reo Speedwagon, Pat Benatar, Scorpions, Ratt, Paul McCartney, Cinderella, Crosby, Stills,and  Nash, Tom Petty and the Heartbreakers, Heart, Michael Bolton, , and the Americana Music Festival with Jim Lauderdale, Shelby Lynn, Courtney Jaye, Mike Farris and the Cumberland Saints, Susan Cowsill, Tony Joe White, Todd Snider, Dan Baird, Don Was,and Jason D Williams  … And That's Just Part 5!
 ____
PLEASE LEAVE A COMMENT BELOW
____
Tags: americana music festival, Beatles, Brian Hasbrook, C S and N, Cinderella, concert blast, Concert Photos, concertblast, Courtney Jaye, Crosby, Dan Baird, Don Was, Heart, Interviews, James Downing, Jason D. Williams, jim lauderdale, michael bolton, Mike Arnold, Mike Farris and the Cumberland Saints, Pat Benatar, Paul McCartney, Podcasts, ratt, REO Speedwagon, Reviews, Scorpions, shelby lynn, Stills, Susan Cowsill, Todd Snider, Tom Petty and the Heartbreakers, Tom Thompson, Tony Joe White, videos