POSTED 1/29/2011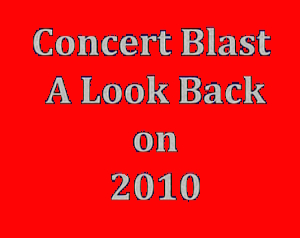 Written by Mike Arnold
While the concert-touring season has slowed down for the winter, I thought it would be nice to show our listening audiences what we went through in 2010.  I created multiple videos of our experiences with a month by month journey of our adventures.
Here's Part 3 of our 2010 Concert Blast Posts.  This video takes you through our experiences of one of the best music festivals in the world – the CMA Music Festival in Nashville, TN.
Take a look at this video (about 12 minutes) to see what Concert Blast went through during the CMA Music Festival 2010.
In this video, we covered the following…
Alan Jackson, Tim McGraw, Keith Urban, Lady Antebellum, Miranda Lambert, Carrie Underwood, Taylor Swift, Reba McEntire, Josh Turner, Jason Aldean, Julianne Hough, Bo Bice, Burns and Poe, Chelsea Field, and Susan Hickman… And That's Just Part 3!
____
PLEASE LEAVE A COMMENT BELOW
____
Tags: 2010, Alan Jackson, Bo Bice, Brian Hasbrook, Burns and Poe, Carrie Underwood, Chelsea Field, CMA Music Festival, concert blast, Concert Photos, James Downing, Jason Aldean, Josh Turner, Julianne Hough, Keith Urban, Lady Antebellum, Mike Arnold, Miranda Lambert, Nashville, podcast, Reba McEntire, Susan Hickman, Taylor Swift, Tim McGraw, TN, Tom Thompson, video