Posted on 7/31/2013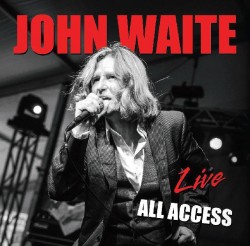 John Waite has been a long time favorite of Concert Blast.  We've loved his music when he was with The Babys, Bad English, as well as his solo career.  John has been on our show a couple of times for interviews and concert reviews.  We all agree that he still has one of the best voices in rock music today.  His voice can get rock and roll gritty and then turn on the charm for a ballad that makes us think about our loved ones.  So it goes without saying that we were thrilled when we received the notice that the John Waite's camp wanted us to review his latest CD, "John Waite – Live All Access"  Enjoy the CD review written by Mike Arnold.
Written by Mike Arnold
I have always been a fan of live albums.  Although there are some that are produced better than others.  If a live album is produced right with the loud guitars and a loud crowd to go with it, like Kiss' 'Kiss Alive' albums and Ted Nugent's 'Double Live Gonzo', then I love it.  If it's produced like it was recorded through the soundboard like Aerosmith's 'Live Bootleg' album, then I could do without it.  I could care less if the band goes back into the studio to lay down better background vocals or make corrections to the live mistakes, after all you are trying to sell a record. Whatever it takes to make the sound full and more alive is how it should be produced.  John Waite's latest project, 'John Waite Live All Access', has moments of both.  Sometimes it sounds full and at times they should have added to it.  Here's my track by track review along with a summary recap and a Concert Blast scale rating.
CHANGE
Just like all live good albums begin, a great introduction announcement of the artist or intro music to get the feel of being there while listening to the album is essential.  This one has that feel of being in the crowd as an announcer is heard, "In Our Great City of Philadelphia, Please Welcome John Waite!" We then hear the count of the opener with the clicking of drumsticks. We then hear John yell, "Oh!" as the guitar begins the opening number, "Change".  This is a good rocking song to begin the show / live album.  I love it when an artist starts their concert with an older song that is very recognizable.  In fact I hate the fact when an artist starts their set with a new song, unless it's a hit.  John Waite takes us back on a journey to the early days with a great tune from his 1982 project, 'Ignition' as the opener… Excellent!
BETTER OFF GONE
The second song of the CD kicks in with a smooth introduction by the drums while John Waite yells, "Good Evening!"  "Better Off Gone" is another good tune to follow up to the intro song and the style they perform it is right on.  However, it could have been improved with stronger background vocals and a keyboard. This is one of three songs from his 2011 project 'Rough and Tumble' that is on the record.
IF YOU EVER GET LONELY
The third track is another one from the 'Rough and Tumble' album.  Here's a song that was recorded by the country music duo, Love and Theft.  Knowing that John is a fan of the country music scene, he must be proud to have them record this song of his.  This is a very well-written ballad (as John does so well).  Keri Kelli's rock guitar leads in this ballad makes this song shine.
HEAD FIRST
John Waite takes us from a more recent song back to an older song from The Babys.  The band now takes us from the ballad sound back to rocking once again. "Head First" was one of my favorite songs from The Babys and I'm glad he put this one on the the record.  John and his band does another excellent job on this one, although two guitars could have enhanced the sound.
MR. WONDERFUL
This tune begins with drummer Rhondo keeping the timing on the high-hat while guitarist Keri Kelli displaying his guitar skills by showing a few bluesy licks while the crowd seems to be enjoying it. I will add bassist Tim Hogan is holding his on with his low-end rhythm. John Waite's voice has to shine when he begins the singing due to the low volume of the band.  Then he and the band kicks it into full gear for the chorus and brings it back down again. This song was from 1982's 'Ignition' and instead of a guitar on the studio recording, it's a piano with the lead.
IN DREAMS
It's a known fact that John Waite knows how to write a rock ballad.  Although I love his voice on ballads and rock tunes, I like his ballad songwriting more.  When John takes us through a ballad, I see what he's singing. As the opening line begins, "In my life, I've seen such things, that I wish I had not seen."  That one line takes me through all sorts of aspects of my life from childhood through being an adult.  John continues, "but through your eyes, I can let it go, when you're lying here with me."  Listening to this song removes the stress of my busy day.  What an excellent written song that is sang with John Waite's emotion.  I love the bass lines produced by Tim Hogan in the last half of the song during the chorus and guitar lead… and then John belts it out too!  This is one song I can listen to over and over!
EVIL
Here's another one from his 2011 project 'Rough and Tumble'.  John and company takes us into another upbeat song with the audience starting this one with clapping in time.  In my mind's eye I see John leading the crowd with clapping while walking back and forth across the stage.  "Evil" is just another number to keep the show going.  Nothing special on this one, but not a bad one either.  This is another tune with weak background vocals, that is until John joins in on the "Na Nas' at the end of the song.
SATURDAY NIGHT
This one came from John's big selling album from 1984, 'No Brakes' (also contains "Missing You").  The beat gets faster for this one to close out the record.  I love how the song ends on this record with the crash ending and the audience approving with loud screams.  The track and the album fades out with John saying, "I Love Ya!"
OVERALL RECAP
Although I really enjoy this record, there are some negatives I have on this CD as a whole.
Each song fades out.  I prefer to have a continuous concert of live music that doesn't fade out.  I try to get a mindset of being there when listening to any live album.  When the songs fade away and fade back in, I lose that vibe.  It no longer becomes a live album.  It becomes a live recording.
Background vocals should have been stronger, even if they had to go into a recording studio to add to the punch.
Instead of having John Waite fronting a three-piece band, I would have added keyboards and a second guitarist to give the songs more of a full sound.  The keys would have enhanced the ballads and a rhythm guitar could have added to the songs, especially during the guitar leads.  However, I understand that John wanted to keep it real in case you go see him perform and there is only a three piece band when you expected a five piece.
To me, every live album should contain songs that could come from a greatest hits record with a few surprises tossed in.  This album was lacking several great hits such as John Waite's best seller, "Missing You" and the very popular Bad English hit, "When I See You Smile".  How could these be left out?  Then there's my personal favorites, "The Hard Way", "Midnight Rendezvous", and "New York City Girl".  Having seeing John in concert a few times, I know he performs these songs live (at least when I saw him he did).  John also usually performs a cover song.  He performed Led Zeppelin's "Rock and Roll" when I saw him before.  This could have been a good surprise.  Another fun surprise could have been a popular special guest to sit for a song.  This would also help the sales of the record.  Instead, the only surprise was the extended intro to his song, "Mr. Wonderful".
This CD has only 8 songs.  A produced CD these days contain at least 10 songs with most CDs having 12 songs.  Sometimes there are even hidden tracks for purchasing the physical CD.
Although I mentioned many negatives of this live CD, it is produced very well with a great quality sound from a very good band lead by a world-class vocalist in John Waite.  I just believe it could be better.  In fact, this CD is in my car as part of my traveling music, which means I play this CD a lot.  I keep only about 5 to 10 CDs in my car at one time, so this CD made one of my favorites.  If this live album was corrected with my suggestions and had a larger and louder audience, this could be one of the best live albums of all time.  My favorite cut on this album is "Change" (love the announcing intro) with my least favorite being "Mr. Wonderful" (due to the extended jamming).  I will add there is not a bad song on this album.  I love nearly every song on here, but I still listen to the ones that aren't my favorites (maybe they will grow on me).
As far as rating 'John Waite Live All Access' on the Concert Blast scale, with a 0 being terrible and a 5 being the best music ever, I will rate this album 3.5.
Written by Mike Arnold
—

Please Leave A Comment!


—

Tags: Bad English, blog, CD Review, concert blast, concertblast, John Waite Live All Access, Keri Kelli, Mike Arnold, Rhondo, The Babys, Tim Hogan