Posted on 7/25/2013
From time to time we run across someone that impresses us with their passion and the same love that Concert Blast has for live music… Oh, and may I say their work is excellent as well. Whenever we meet these people, we want them to share their passion with our readers. We met Alabama Tina years ago at a Stryper concert in Nashville, TN and have been friends ever since. Tina has been a guest blogger for Concert Blast in the past and she has once again offered her services to cover one of her favorite rock artists (and friend), Bret Michaels. We've followed Bret for years and would love to have him on our show someday, but until then we will just discuss his concert. Tina is sharing her Biloxi, MS trip as she reviews Bret Michaels in concert… ENJOY!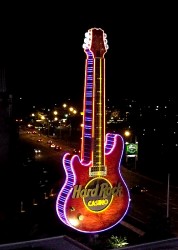 Written By:  Tina Williams (aka Alabama Tina)
Every year I make a special annual trip of over 6 hours to see one of the best rock and roll performances from one of the most ultimate Rock Stars around, Bret Michaels at the Hard Rock Hotel and Casino in Biloxi, Mississippi. This show is where Bret kicks off his summer tour every year.  Fans in the South come in from all over to see him play this particular show because he never fails to give it his all and rock out the whole crowd.
If you have seen him before, you already know that as the lights go down, the music will start.  What music you say?  "Welcome to the Jungle!"  A few spotlights shine down landing on one single place in the middle of the stage where a black cowboy hat is hanging from a microphone stand.  The BMB started going crazy!  Lucky Chucky starts banging on the drums and the lights start flashing everywhere.  Pete Evick and Dirty Ray run back and forth across the stage, while Robi Wylde is always playing that keyboard with a smile, making it fun for everyone.  Pete Evick on lead guitar runs to a microphone screaming, "Biloxi, are you ready to Rock and Roll?"  The crowd starts jumping, screaming, hands up in the air, and the energy is off the chain in this place.  Finally, when the crowd can't take it anymore, Pete screams, "Bret Michaels!"
Bret burst onto the stage with such energy that the fans go crazy with "Talk Dirty To Me!"  The fans are so loud and hands everywhere that I couldn't see anything, but I was still dancing away because everyone has so much fun with this song.  Bret stopped afterwards to address the crowd.  He grabbed the mic and said, "You know this is the show that kicks off my summer every year single year.  Right  here, right now, it is officially summer time tonight.  Are we ready to bring in the summer with a good party?  I want to thank you all for taking the time to come out here.  Every single year we come here and it is one of our absolute favorite shows every time we're here.  This is what I want to start it off with right now, one of my all-time favorite Poison songs and one of the first songs I ever wrote with the band.  I want to take you back and get this place steam-rolling right now.  This is called "Look What The Cat Dragged In!"  The band started playing and we were all singing to the top of our lungs and dancing while Bret ran all over the stage singing with his voice sounding very good and strong.
After Bret caught his breath he said, "We've got a brand new CD called 'Jammin' with Friends,' it's got 20 awesome songs on it and it is about 2 ½ years in the making."
Bret spotted a sign from a fan and said, "Happy birthday to you right there!  I've had 26 years on the road with my friends and family.  I have been able to hang out with some awesome people and some great musicians.  One of my all-time favorites, this just goes all the way back, it's one of the first songs I ever learned to play on the acoustic guitar, and this is even taking it back to my diabetic youth camp days.  I got to go in the studio and tour with these guys many times and I got to remake their song.  We hope to bust it out here tonight.  It's a little Lynyrd Skynyrd…some 'Sweet Home Alabama'."
So now, you know Alabama Tina here ALWAYS goes crazy when he plays this one, but so does everybody else!!!  "Sweet Home Alabama" is a song where Robi shines on the keyboard.  He was going crazy and Bret ran over and started playing along with him.  Bret was having so much fun and singing Mississippi and Louisiana in place and in addition to Alabama.
They broke it down and Bret said, "Put your hands up and wave em like you just don't care."  He started singing a breakdown with a bluesy feel, singing Alabama, but ended it with "Sweet Home, right back home, coming home to one of my favorite places to play in the world, right here the Hard Rock Biloxi, Mississippi, Lord I'm coming right back home to you."
He always sounds perfect on "Sweet Home Alabama" and makes it so fun for the fans.   Before you know it, Bret pulls out a harmonica and says, "I'm going to bring in a little old school instrument.  I'm going to bring it down with some blues on the old harmonica."
Any true Bret fan knows that Bret loves that harmonica, which in turn led to "Your Mama Don't Dance."  He plays that thing as if he was born with it in his hand.
The band went straight into "Go That Far."  Bret began to jump up and down encouraging the fans, so everyone started jumping up and down and singing along.  After all of the fast songs and excitement,
Bret decided to slow it down a bit.  He started speaking to the crowd and said, "We had a lot of friends that came out here tonight.  I want to welcome our friends from Louisisana, Florida, Alabama, Tennessee, and I want to thank you all for being here."  Of course you know I was screaming when he said Alabama and since he knew that I would be there, I had hoped that was directed towards me.
Bret continued, "We just recorded an acoustic version of this on the new album.  Every single year I dedicate this to all of our men and women in the military that give up their lives and sacrifice so we can have our freedom in this country.  We don't ever forget it.  We've had our chance as a solo band to be able to play in Iran, Afganistan, Kuwait and pray for our men and women overseas.  I've got to meet a lot of great people and I want to welcome some troops back here tonight, welcome back home and let's do this together.  This is off of the Poison 'Flesh and Blood' record and this is called 'Something to Believe In' so let's get it right now."
"Something To Believe In" is my all-time favorite song that Bret sings.  Even though originally this song was written for someone who was very close to Bret, it has now emerged as a beautiful dedication to our troops.  So through every tragic storm there lies a beautiful rainbow.  Bret stopped the song after the guitar solo and said, "You know this is my favorite part of the night when everybody in here waves your hands with me for all of the men and women overseas right now.  Until we get them home, let's let them know we're thinking about them right here and right now, so Biloxi, Mississippi, let's give them a little back and forth like this."
Bret held up his arm to the sky and waved it back and forth, the crowd followed.  Then he finished the last verse, bridge, and chorus.  It is such a beautiful moment of the night and it is every time he does this for our troops.  He sounded beautiful and several people had tears in their eyes.
Bret jumped straight from that touching moment into a little Poison "Unskinny Bop!"  When that bass kicked in and you could feel it pounding in your chest.  This bass driven song has always been one of my favorites because it is a little sexy and little fun all in one.
It was time for Bret to take a little break, so Lucky Chucky thrilled the crowd with his energetic drum solo.  The band came back at the end and Bret took this moment to introduce the band.  Bret walked up and said, "This is the first time we have played this song and we want to bust it out from the new record.  It's a remake by Sublime that we did and it's called "What I Got!"
This is the only song that I had never heard him perform and he sounded phenomenal on it as if it could have been his to begin with.  He loves to play with the crowd, point at people individually, which makes the fans feel special.  Everyone was singing and dancing, because this song really puts out a good and positive vibe.
Bret decided to slow it down again and although he did record a new version of it on his new album with Loretta Lynn at her Tennessee ranch, he brought "Every Rose Has Its Thorn" to us acoustically this time.  He is a huge Country and Rock fan, as he stated himself, and I always knew this song had Country roots.  This too always gets a huge response from the crowd, singing, and holding up cell phones everywhere.  It is always a special moment when the crowd and fans come together in unity and this song always brings that type of response.
"Nothin' But A Good Time" brought down the house!  Everyone was dancing and having a great time, so much energy, so much fun, and one of my favorites.  Anyone who has ever seen Bret knows how much he loves to scat, and he didn't disappoint when he broke down into a freestyle scat in the middle of the song for all of the fans in Alabama, Mississippi, Louisiana, and Tennessee while getting the crowd to jump up and down.  Then Bret walked off the stage as if it was the end of the night, but of course, we were waiting on our encore and Bret came back out with a little "Rock & Roll All Nite" from Kiss so yet again everyone went crazy.
When attending a Bret Michaels show, you can always expect a highly energetic performance the whole way through.  On the Concert Blast rating scale, I give this show a 9.0 because there was a little too much talking in between songs and the fans would rather hear a few more tunes verses a very long drum solo, however, Bret did play all of the songs that you would want to hear from Poison and the Bret Michaels Band.  I have been a longtime fan of Bret Michaels and Poison for 26 years.  Bret really and truly loves his fans and he is actually the person who gave me the name "Alabama Tina" 15 years ago, which has become the name that everyone knows me as today.  When I spoke to Bret after his performance he said, "Tina, please just make it about the fans."  I assured him that I would and I knew it would be easy to do because not only am I a fan, but I consider him a friend.  Thank you Bret, for always being the ultimate rock star and such an inspiration to myself and so many others.
Written By:  Tina Williams (aka Alabama Tina)
—

Please Leave a Comment!


—

Tags: 6/21/2013, Alabama Tina, blog, BMB, Bret Michaels concert review, concert blast, concertblast, Dirty Ray, Hard Rock Hotel and Casino in Biloxi, Lucky Chucky, MS, Pete Evick, Robi Wylde, Tina Williams