Posted on 8/5/2013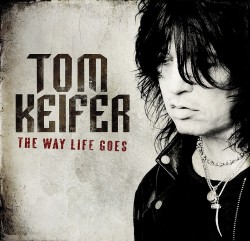 One of Concert Blast's favorite bands from the 80s is the Hard Rockers Cinderella.   When we got the word that their lead singer/front man, Tom Keifer, was going to put out a solo album, we were kind of excited and sort of nervous at the same time.  Excited that there was going to be more music from the voice of Cinderella, but nervous due to not knowing what style of music it was going to be.  Before it was released Tom went on a solo tour with a full band of his excellent musician friends.  After seeing the live show in Nashville, we were ready for the solo project.  Here's Mike Arnold's track by track CD review of Tom Keifer's "The Way Life Goes".
Written by Mike Arnold
Tom Keifer decided to take a break from touring with Cinderella to put out a solo project for himself, with the help of his songwriter wife and a few studio musicians and background singers.  This is a co-produced album with Tom Keifer, Chuck Turner and Tom's wife Savannah Keifer, on the independent label, Merovee Records.  Here's my personal opinion on each track of Tom Keifer's "The Way Life Goes" along with a recap of the overall CD and a rating.
Solid Ground
When the first song of the the CD started, I began to get excited to hear the different riffs coming through my headphones in each ear.  What A Mix!  I loved this intro to "Soild Ground" and was looking forward to the rest of the song… then the drums kicked in and the music became full along with the signature Tom Keifer scream!  I then thought "I hope the rest of this song (and CD) is as good as this well produced intro!" Once Tom started singing, I was even more pleased as I heard the singing voice he used in the band Cinderella.  Lot's of hooks in this one and toward the end there are excellent background vocals and more high notes from Tom.  I Love This!
A Different Light
After the opening number being one of the best songs I've heard in a long time, I was looking forward to the next one.  "A Different Light" has about a second of a hum of the keyboards before Tom Keifer sings the opening line.  Tom used a singing voice that didn't sound like his until about thirty seconds into this song as he expressed, "But all God's children needs a helping hand, but you gotta see before you understand – in a different light".  This is another well written/produced tune with a medium tempo that has an encouraging uplifting message.
It's Not Enough
The good tunes keep coming as the intro to "It's Not Enough" starts with a couple of guitars playing some continuous riffs along with some unusual sounds that reminds you of a loud ticking clock keeping the steady time (no pun intended).  Tom begins singing about seven seconds into the song.  Within about twenty seconds, the drums join in along with Tom taking his voice another octave higher to add the punch needed for this song. There is nothing about this song that really excites me beyond the first chorus, but it's not bad either.
Cold Day in Hell
Here's another great intro with electric rock guitars and drums starting up, but when you think you've got the intro figured out, here comes the harmonica to crank up "Cold Day In Hell".  This song is about a man refusing to take back his ex.  I love the line "Well, I ain't got amnesia babe and I remember to the bitter end" with the chorus ending with, "The day I take you back will be a cold day in hell".  The things that stood out to me is the sound of Tom Keifer harmonizing with himself in the chorus, the harmonica throughout the song, and every now and then there's the sound of only a couple of notes from some type of horn that adds to another good song on this CD.
Thick and Thin
It's piano time as the instrument is used along with keyboards to add to the sound as Tom Keifer begins singing in his familiar Cinderella style.  After the first verse and chorus, the rock band joins in on "Thick and Thin". This is the ultimate written song for couples to embrace.  This song actually reminds me of the song "I'll Stand By You" by The Pretenders, although it doesn't sound too much like it.  Maybe because of the last section of the chorus, "Thick and Thin, give up my last breath if you were dying, I'll stand by you, Thick and Thin".  It's a good catchy song.
Ask Me Yesterday
As the CD continues, the softer side is now showing up with, "Ask Me Yesterday".  This one begins with some pretty picking on an acoustic guitar and as the song continues, the song ends up becoming a rock ballad.  This song is not a bad song, it just took me a while to warm up to it.
Fools Paradise
A synthesizer introduces "Fool's Paradise" with electric rock guitar riffs and more synths as the rockin' song continues.  With the lyrics expressing about the cyber world we live in.  "Livin' in a fool's paradise, what we sow surely comes back around"… It definitely has come back around for the music industry!  Another so-so song.  Not that good – not that bad.
The Flower Song
Here's the first single of this project, which was released before the CD was distributed.  "The Flower Song" is a happy go lucky acoustic song with lyrics describing another romantic relationship.  As the song goes, "But when it comes to forever, you know my heart is true. Of all the pretty flowers, baby I picked you".  It's a single warned the Cinderella fans that Tom Keifer's solo project will be different.  This is another catchy song once we get past the first verse.  The background singers add to the chorus.
Mood Elevator
The introduction to "Mood Elevator" will definitely wake you up from listening to the previous tunes. The rock guitar riff kicks it off and keeps the rock going throughout the song.  This definitely sounds like it could a Cinderella or Aerosmith song.  It's high energy and full of rock guitars throughout.  The last thirty seconds of the song is over produced with all sorts of guitars and screaming. I saw on the credits that Cinderella's lead guitarist, Jeff Labar, also played on this one. This song has too much going on in it for me.
Welcome to My Mind
Synthesizers are used in the intro to "Welcome to My Mind" before the rock band kicks into this rockin' number.  This song sounds very psychedelic and the lyrics seem as if someone wrote this while on some type of LSD trip… or describing the trip.  "Mirrors are screaming – walk on the ceiling, oh what a feeling in my mind".  The lyrics and music are way too heavy for my taste!
You Showed Me
Whew!  Glad that previous one is over with and now we can get back to normal.  Tom's voice and a piano starts "You Showed Me".  Here's another good tune that is without the band for the first minute of the song.  As the song continues parts of it reminds me of an Aerosmith song.  This song is somewhat of a "thank you" song as the lyrics go, "'Til you showed me how to live again, kept me in the light, when darkness was my only friend".  I like this song's catchy melody.  I also like Tom's singing voice on this one.
Ain't That a Bitch
The guitars and keyboards introduces "Ain't That a Bitch", which sounds as if a Tom Petty song was about to play.  This is a good groove rockin' song with a very catchy chorus, "No you can't break a wild horse baby, ain't that a bitch".  I really don't care for the catch phrase, which is used as the title in this song, but I love the song.
The Way Life Goes
Here's  a bluesy/rock sounding number with a grove beat along with a harmonica playing throughout the title track, "The Way Life Goes".  Tom's lyrics takes us through two couples' lives.  In verse two George, the all star American dream and captain of the football team became an all star American queen.  Tom added in the footnotes that George didn't become a queen, he thought it would be funny to have it in the song.  The female background vocals and the harmonica really add to the chorus! To me it's ok, not bad, it grows on you, but I do like the clever lyrics.
Babylon
There's a "nanananana" and rock guitar fading in to introduce "Babylon".  It's back to the hard rock to close out the CD.  This rocker doesn't really sound like a Cinderella song at all.  Tom doesn't use his high pitch octave to sing this one, which is what I would expect him to use in a rocker like this.  That's not a bad thing.  Tom shows us that he can do something that we wouldn't expect.  The lyrics serve as a warning to be careful what you want.  The lyrics describe that a girl (I suppose, because of the name 'little sugar') that wants a taste of heaven and ends up with the opposite, "So what's wrong little sugar, you're back in Babylon".  The saxophone break (provided by the legendary Rolling Stones sax man, Bobby Keys) adds to song by breaking up the rockin' guitars and pounding drums. Another ok song with very meaningful lyrics.
OVERALL RECAP
Tom Keifer gives us our money's worth by having fourteen songs on this CD.  However, I would have left a couple of the songs off and only offered twelve (that's still plenty).  The one song I would have definitely left off is , "Welcome to My Mind".  This is the only song I didn't care for at all.  There are several songs that I thought were just ok, nothing to get me excited, but after listening to the CD several times the songs grew on me.  The one song that does excite me is the opening number, "Solid Ground".  I will say that this song is produced and mixed very well while using top-notch Nashville musicians and background vocalists. The only exceptions were "Mood Elevator" and "Welcome to My Mind".  I felt these two songs were over produced.  Some CDs have songs on them that you just don't appreciate at first, but after hearing them over and over, you seem to appreciate them.  Tom Keifer's "The Way Life Goes" has several of these songs.  I suppose it's due to having a different sound than we expected like the rock that Cinderella gave us.
I'm a Tom Keifer and Cinderella fan, but that has nothing to do on how I review this album.  On the Concert Blast scale of 0 being terrible and 5 being the best ever, I will rate this CD a 3.5.
Written by Mike Arnold

—
Please Leave A Comment!
—
Tags: blog, Bobby Keys, CD Review, Chuck Turner, Cinderella, concert blast, concertblast, jeff labar, Merovee Records, Mike Arnold, Savannah Keifer, Solid Ground, The Way Life Goes, Tom Keifer solo