Posted on 8/15/2013
The Motor City Madman, Ted Nugent, returned to one of his favorite cities to rock, Nashville, TN, to perform his show at the mother church of country music, The Ryman Auditorium.  It's ironic to say the word "Church" and Ted Nugent in the same sentence!  Ted Nugent didn't calm down his profanity filled concert while performing in one of Nashville's first churches. If he did calm it down, then I wouldn't want to see the normal performance!  Concert Blast was invited to this performance to cover the Motor City Madmouth… uh… I mean Madman and we were excited.  The main things we were excited about was seeing one of our favorite rock singers, Derek St. Holmes, perform the songs he helped made famous in front of a large excited crowd, and to interview the opening act, the young rock beauty from Australia, Laura Wilde.  Enjoy the concert review from Mike Arnold.
Written by Mike Arnold
On this particular Sunday night in Nashville, TN, Tom Thompson and I made our way to the Ryman Auditorium early to go back stage for a scheduled interview with the talented young Australian rocker, Laura Wilde (podcast coming soon).  After her interview we prepared for her concert as the opening act for Ted Nugent.  Laura and her band, consisting of another guitarist, bassist, and a drummer from our hometown of Mt. Juliet, TN, rocked the house with a thirty minute set consisting of great songs from her debut album, "Sold My Soul", new tunes from an upcoming project, as well as a song from a classic band from her home country, AC/DC's "Jailbreak", which got everyone excited!  Laura ended her set with the title track of her album, "Sold My Soul" followed by an unreleased song called "Tragedy".  Laura Wilde and her energetic band plowed through their set that had people cheering with their fists pumping in the air.  No wonder Ted Nugent has her on his tour.  What a great way to warm up the crowd!
Within thirty minutes after Laura's departure, The Ryman house lights went down again as drummer Mick Brown, bassist Greg Smith, and singer/guitarist Derek St. Holmes walked out on the stage.  Within seconds there was this loud lead guitar playing and strumming as Ted Nugent came practically jogging out on the stage while a roadie was guiding his guitar cord leading to his amp.  I believe Ted was the only one not playing a wireless. "Uncle Ted's" very loud voice was screaming and saying, "It's Alright! It's Gonna Be Alright!"  As if he was coming to our rock and roll rescue.  According to the enthusiastic rock crowd in attendance, he was and he did!  Before we knew it, Ted's words was switching to introduce the opening number, "It's Gonzo Time Baby!" as he and the band thrilled the crowd with "Gonzo".  At this point I was having a great time reliving his great live album from the 70's, "Double Live Gonzo", but it became much better with the second song of the night as Ted and the band crashed out the first tune and dove right in without stopping as Ted started the opening guitar riff of one of our all time favorites, sang by Derek St. Holmes, "Just What The Doctor Ordered".  I was on cloud nine watching Derek and Ted back together again performing these rock classics right in front of me while taking photos of the show!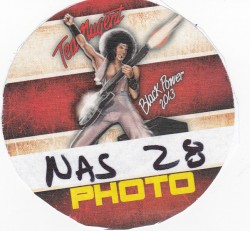 At the end of the song, the band stopped long enough to hear the loud cheers of approval from the near Sold-Out Ryman.  Ted yelled out, "Are You With Me?" then continued as he screamed out the name of the next song, "Wango Tango!"  Ted and the band celebrated the Motown sound and the black rock/blues artists throughout the night.  In fact my media pass had "Black Power" on it with a cartoon character photo of Ted Nugent with an alfro!  Many people there mentioned to me how they loved my media pass.  Ted inserted a portion of an old Motown song called "Cool Jerk" into the middle of "Wango Tango" and then continued with the blazing guitar rock to close out the number.  To introduce the next song, Ted yelled, "Hey boys, let's turn it up for Nashville!" Which led into the song from the "Free For All" album, "Turn It Up".  The Ted Nugent classics continued with another favorite, "Free For All".  I always thought this was a great rock/dance tune and I've always loved how Ted talks to the crowd through the opening guitar rhythms, "Are you ready? It's a free for all baby!"
Here's the point when the profanity began to flow out of Ted's mouth non-stop and began to get political with his Obama bashing… Which is a huge turn-off to me.  I liked the Ted in the 70's when he let only a few words fly in concert and we didn't have to listen to his opinions on hunting and politics, although I appreciate Ted on being alcohol and drug free for 65 years!  Today Ted lives in a fear of (or looking forward to having) a revolution evolving in this country.  He speaks about how "they" know everything about you, listen to all the phone calls, and watch your every move… in my opinion, "So What!"  This rampage leads into another great song from the Ted Nugent album, also sang by Derek St. Holmes, "Stormtroopin'".
Before continuing with his show, Uncle Ted continued with his personal rants.  Ted went on to send a message to the kids in the crowd He said that the dads bringing their kids to a Ted Nugent show would be arrested as they leave. He continued to talk about his healthy lifestyle of no drugs, no alcohol, no tobacco, while blurting out untold profanities. He said you are going to stumble in life, so pick yourself up (in his favorite choice of words).  Ted added the only vice he has is, he can't control his love.  He said you cannot control the spirit. Ted said, "As I'm looking out there… …I look at all those pretty girls out there, they drive me nuts!"  Ted continued with expressing that maybe since he has this silver beard going on, maybe he should relax, settle down a little bit, and add some maturity. As his story continued, he said that since he had so much love to contain, maybe they should play the ultimate love song. And eventually the band went into "Wang Dang Sweet Poontang".  At the end of the song, they embedded a type of a blues jam before closing out the song.
In continuing with the show, Ted expressed, "I know why you came here tonight.  You came here to cleanse your soul didn't you?" "My music will always cleanse your soul, you know that." "In this <explicit> world, you need me.  You need my music as a cleanser."  He continued after playing a few guitar licks, "So we'd like to make sure that Bo Diddley and Chuck Berry can cleanse our soul.  Derek and I wrote a song inspired by Bo Diddley.  Derek would like to start this song off because no matter how crazy the world gets…. No matter how many criminals are in the White House, which happens to be all of them… You've got to live it up!"  As they started the song, "Live It Up" from the "Cat Scratch Fever" album, Ted continued yelling, "You've Got To Live It Up.  No Matter What!"  After the song Ted yelled, "Bo Didley!  Never forget where you come from!" (finally some words of wisdom).
Ted began another rant about loving to hunt during the season and loving to play rock and roll in the summer.  He added, "We're the only ones who play like this because we're the only ones who can!"  As Ted began bragging about how good his hunting skills are, he shared, "We killed so much <explicit> that the Nugent family sent one ton of pure venison jerky to the hills of the U.S. Military in Afghanistan.  Let's hear it for the boys in the U.S. Military!  Freedom Ain't Free! Freedom Ain't Free!"  As the crowd continued to roar throughout the entire speech., he continued with "I wanna say thank you to the United Sates Army.  Say thank you to the Army out there. the U. S. Navy, the Air Force, the Coast Guard, and the National Guard and say thank you to the United States Marine Corps <explicits> out there.  I wanna say thank you, Feedom Ain't Free!"
Ted went on to say that he met a man in Michigan in 1952, his name is Fred Bear.  Then added, "If you wanna get your kids to be the best they can be, get them a bow and arrow and teach them about the spirit, teach the about the spirit!" While the band continued to play warm ups along with Ted, he said, "This is a song about my buddy (playing around on the guitar). This is a song about my buddy (more playing around on the guitar). This is a song about my buddy, his name is Fred Bear." And the band led into the Ted Nugent song, "Fred Bear".
Ted continued by saying, "Alright, I'm gonna play another love song.  I have got it down to a science.  How about this Gibson right here?"  After playing around with his Gibson and talking about how well he can play it, he returnd to talk about the love song, "Let's play a love song from Detroit boys!"  Then Ted took off playing a super fast guitar lead while screaming.  His playing led right into another favorite from the Ted Nugent Album, "Motor City Madhouse".   This brought back the 70s in my mind of how he used to play this on his encore, as he stood on top of his amps or the tall drum riser playing the lone intro and jumping off onto the stage while the flash pots exploded right in front of us.  Those were the days of the young energized Ted Nugent.  Now in his mid-sixties he stands mostly in one place on the stage and runs his mouth instead of his legs!
Ted continues to brag on Detroit being the Motor City and Motown as the band led into the Derek St. Holmes song, "Hey Baby". The show's set was getting close to the end as Ted yelled it was time for another love song.  He mentioned this is the best guitar riff in he world, as they cranked out, "Cat Scratch Fever".  Ted continued with another rant about the criminals in the White House and how we need to take back America.  He mentioned this is their battle song as he starts the opening riff of "Stranglehold" and the place erupted with a roar!
At the end of the song the song Ted yelled, "Freedom!  Freedom!" as he and the band crashed out the ending of the song on the instruments, he added, "God Bless Ya'll!  Thank you Nashville!", then introduced the band members.  Ted continued with, "God Bless Ya'll!  Freedom Ain't Free! Freedom Ain't Free! Freedom Ain't Free!  Freeeedooooommm!"  Then Ted and his band left the stage while the roar of the crowd went to a different level to bring back Uncle Ted for more!
Ted and band returned to perform his signature encore song, "Great White Buffalo" for the one encore song.  While ending the song he and the band threw in song lines of the National Anthem, and then repeated himself over and over with the words, "Feel The Spirit!"  Ted then added, "Thank You Nashville! Celebrate the Spirit!"  He wanted to make another political point by yelling, "Stand Up For What You Believe In!  Let's Bring This Country Back! Take America Back From The <explicit>!" Finally the crash ending of the song came to an end. Ted added, "God Bless Ya'll, Thank You! Stand Up For What You Believe In!  Never Give Up!  Never Give Up!" as Ted and company waved and left the Ryman stage for the last time of the evening.
What a show to see, hear, and experience.  Not necessarily a good or bad show, just an experience.  When you leave a Ted Nugent show, you learn that he's an excellent guitarist that has written good songs, he's against recreational drugs, alcohol, and tobacco, he performs with an excellent band, he plays an American made Gibson guitar, he loves hunting, he is very political, he cares deeply about our country's military, he drops "F-Bombs" (and other profanities) as if he was a warrior on a battlefield and that is his only weapon, and he literally hates the current administration in the White House. One thing for sure, I bet you won't see Ted Nugent performing at the Farm-Aid benefits.  Not because of the American Farmer, but because of the political views of the organizers (John Mellencamp, Willie Nelson, Neil Young, and Dave Matthews).
Ted Nugent's show began with a bang and a surprise by starting with "Gonzo" and "Just What The Doctor Ordered"!  It was great to see Derek St. Holmes with Ted again.  I love their chemistry together. Actually I love Derek's voice singing those songs he helped made popular and for expanding my rock and roll ears during my teenage years that still holds true today.  Derek's voice was just as strong today as it was back then.  In fact if Derek hadn't been in the band, we probably wouldn't have been there.  Ted did keep his profanity down to a minimum for the first four or five songs.  Once the story telling began, the show turned into a Hard R Rating.  Normally I would walk out on a show with this much profanity, but we were mentally prepared for this, so it wasn't a shock to us.  However, I must report this to you as a reader in case you are considering going to see Ted Nugent in concert or even worse, bringing along small children.  Also if you oppose hunting deer, or are a strong supporter of the Democratic Party, this is one show you may want to re-consider about attending.  I loved the Ted Nugent of the 70s when he spent more time running around on stage playing music, instead of running his vulgar mouth while trying to pull you into his way of thinking.
On the Concert Blast scale (with 0 being terrible and 10 being the best show ever) I will rate this concert a 7.0.  I deducted one point for the profanity, one point for displaying his political views (why should a concert attendee pay money to see a show and hear music, but end up in a political rally!), ½ a point was deducted for stretching out songs, and a ½ point for talking too much.  I thought the set list was ok, better than the past recent years, but I would have added "Dog Eat Dog", and "Snakeskin Cowboy" and left off "Live It Up" and the blues section of "Wang Dang Sweet Poontang".  I know Ted has a heart for "Fred Bear", but I would have left it off the list too.  If you've seen Ted Nugent in the 70s and 80s, then you remember how he used to run all over the stage and jump off the drum risers and amps.  Being 65 years old (later this year), those days are long gone.  I suppose we should be happy he can still stand and play guitar for as long as he did.  Would I go see Ted Nugent again?  It would have to be something special.  This trip Derek St. Holmes made it special… and the fact that Ted's office invited us to review his concert and take photos!
Written by Mike Arnold
—

Please Leave a Comment!


—

Tags: 7/28/2013, blog, concert blast, concertblast, Derek St, Derek St. Holmes, Greg Smith, Holmes, Laura Wilde Concert Review, Mick Brown, Mike Arnold, Motor City Madman, Nashville, Ryman Auditorium, Ted Nugent Concert Review, TN, Tom Thompson, Uncle Ted Nugent