Posted on 5/3/2012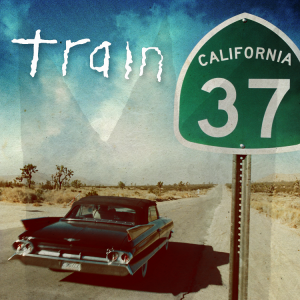 Written by Mike Arnold
Having been a Train fan from the day I heard the song, "Drops Of Jupiter", I always look forward to hearing new material from the San Francisco based band. Although I am a fan of Train, I am not fanatic about any artist.  Some fans love everything their favorite artist records.  I never understood that and that is definitely not me!  In fact since I am such a huge fan, when listening and reviewing their music and concerts, I will be much more particular on what my favorite band from this century produces. 
California 37 is Train's sixth studio album and to me this album seems more like a Pat Monahan solo effort than a Train album (although I enjoyed Pat's solo album much more).  California 37 had only four tunes that really caught my attention and kept the song in my head ("Drive By", "California 37", "We Were Made For This", and When The Fog Rolls In").  There were several cute tunes on this project ("Mermaid", "Sing Together", and "Bruises"), but all in all the songs were just "OK" and not exceptional like the tunes on their last album, "Save Me San Francisco". 
Although there were good Pat Monahan vocals on this album, there were no outstanding shinning moments as in "Calling All Angels", "Drops Of Jupiter", "Words", and "When I Look to the Sky".  There were no exceptional moments from the other two Train members, guitarist Jimmy Stafford and drummer Scott Underwood either, although they all three shine their musical and vocal ability in concert and a live performance is how I really judge the quality of the artist.
Here's my review on each track…
"This'll Be My Year" – While listening to this song for the first time, it took me about 30 seconds before I thought of Billy Joel's "We Didn't Start the Fire".  Just like that song, the lyrics takes us through the history books, but also Pat's personal history, as he expressed that in 97' his dad had a second heart attack and Train leaves San Francisco in a $1,000 van.  The chorus expresses there is no more counting down the hours, maybe this will be his year.
"Drive By" – This very popular single is my favorite selection on the album.  I love the concept of Pat relaying the message that "Oh I swear to ya, I'll be there for ya.  This is not a Drive-By".  I like the simple strum of the guitar and drum beat, but the chorus explodes with all sorts of sounds that captures my attention.  This is a very well written and produced song.
"Feels Good At First" – An acoustic love song describing the moments of what couples go through during their relationship.  A lot of valid points are made in the lyrics, but the hook that grabbed my attention was, "I don't know about love, but it sure Feels Good at First".  You can't argue about that!
"Bruises" – An upbeat acoustic song with Pat sharing the vocals with country music singer/songwriter, Ashley Monroe (from Miranda Lambert's side group, Pistol Annies).  Ashley and Pat discuss their past as old school mates and mention they haven't seen each other in ten years and are now catching up with each other.  Pat tells her he bet she is rich by now, but Ashley returns with the news of it's been two years since he left her.  In the chorus, they sing together that the "Bruises" in our life make good conversation.
"50 Ways to Say Goodbye" – This song has a Spanish flare beginning with horns and an acoustic guitar.  This song is a story about a man who has lost his love, but didn't want his friends to know she left him.  As the song goes, if his friends ask about her, he will simply reply one of the various ways she has died such as; she went down in an airplane, fried getting suntan, met up with a shark underwater, drown in a hot tub, among many other ways, but my favorite is "She fell in a cement mixer full of quicksand". This is a cute comical song, but I'm not a fan of the Spanish horns and guitar.  In fact it's a turn off for me!
"You Can Finally Meet My Mom" – Here's a very strange written tune with a touch of being a little sacrilegious.  This song begins with nice whistling before getting into the strange storyline. This song is about a man who is madly in love with a girl who may have passed away and he is looking forward to dying himself so he can spend his time with her… and as Pat sings, "You can finally meet my mom".  STRANGE!  In the song he expresses that he doesn't want to spend time with the celebrities whom have died such as Jimi Hendrix, Paul Newman, Whitney Houston, Chris Farley, Gilda Radner, Jesse James, and many others.  He even puts Jesus and Buddha in the song. The song ends with a choir singing the title of the song… Did I mention this was strange?
"Sing Together" – It was time for Train to try another song with a ukulele, since the last one worked so well ("Hey, Soul Sister").  This one is what I call an ok song.   It's not great, but it's not bad either.  In fact after listening to this song for a while the chorus stayed with me.  I can see Pat leading his concert crowd in a sing-along while singing the title of this song.
"Mermaid" – Another cute song with a Caribbean feel about a man falling in love with a mermaid that he found washed up on a remote island shore.  As Pat sings, "An island so remote that only Johnny Depp has been to it before".  This song contains a lot of cute lyrics and is another one that is a feel good catchy tune, but it doesn't sound like a Train song at all.
"California 37" – California 37 is the highway that runs north of San Francisco. This is a song with a good melody, but the lyrics in the first verse are very bitter and sounds like a personal message.  By the time the second verse hits, this song turns into one of my favorite tunes on the album.  I love the message to the Train fans in the second verse.  I am a fan of sing-along songs and I believe the Train crowds will be singing along with this one during their concerts, "Knock Knock, Whoa Oh, Rock and Roll, California 37 took me right to heaven's door".  The second verse is a thank you and apology from Train to their fans.  There are several lines in this song that caught my attention, but my favorite, "San Francisco got it done, 415 took a 911.  Thank you all for believing, we won't let you down again!" 
"We Were Made For This" – This is a well produced song and it actually sounds like a Train song (Thankfully!).  The beginning of the song has this keyboard hum as you anticipate the opening musical notes.  Jimmy Stafford begins picking the electric guitar and Pat Monahan's voice starts up with a line of "I woke up on Angel Island in your arms".  Now that's a hook!  The song continues with many more hooks, "Like your lips were only made for me to kiss, Ohhhhhh, Oh, Oh, We Were Made For This"!  I love this song.  As the intro starts slow like a nice romantic song, the words switches to "burning bridges" and now I think it's a heartbreak song…. I was confused but that's the part I loved…The emotional swing!  By the second verse Scott Underwood throws his magical drumbeat into the mix as the tune's beat picks up a notch.  After the second verse, the song turns into an instrumental rock song with Jimmy Stafford churning out his signature lead guitar licks.  By the time the musical break is over, the song returns to the slow guitar pick as it had in the beginning… and Pat continues singing the story line while closing the song with the line, "You're the only thing I'm ever gonna miss, We were made for this".  All I can say is WOW!
"When the Fog Rolls In" – A slow piano based song that is full of great hooks, but this song is more of a breakup heartbreak song.  The opening line explains it all, "Driving over the bridge to give you my keys, I know you don't love me, I know it ain't easy."  If I was currently involved a breakup relationship that I didn't want and I heard this song, I would be crying my eyes out by now (ok it's just a figure of speech!).  The one line in the song that really grabbed my attention was, "Friends become lovers and lovers lose friends." (How true is that!).  After the opening sad verse, Pat's switches back and forth from reminiscing about good times together to the reasons of breaking up, "Somehow we got older, yea just got colder, that's When the Fog Rolls In."  Just like the previous track, as the song progresses, so does the beat and the various instruments join in on the song.  This song is another favorite of mine.
  As I mentioned in the beginning of this review, I thought only four songs from this project really grabbed my attention, I will have to say this is not a bad album… it's just not a good Train album like they've produced in the past.  Maybe this will be Train's new sound, I don't know, but I miss the sounds of their older catchy songs that are on their live album.  I do believe devoted Train fans will enjoy this album and not my review… I just expect more from them.  Out of a 5 point scale (with 5 being the best) I give this album a 3.0.
Written by Mike Arnold
—

What Are Your Thoughts on California 37?




Please Leave a Comment Below

!
—

Tags: 50 Ways to Say Goodbye, Ashley Monroe, blog, Bruises, California 37, concert blast, concertblast, Drive By, Feels Good At First, Jimmy Stafford, lyrics, Mermaid, Mike Arnold, Pat Monahan, Pistol Annies, San Francisco, Scott Underwood, Sing Together, This'll Be My Year, Train, We Were Made For This, When the Fog Rolls In, You Can Finally Meet My Mom