Posted on 1/15/2012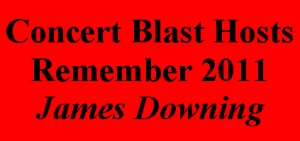 We felt Concert Blast had a very successful year in 2011 from our stats and the experiences we were very blessed to encounter. This is the first in a series of Concert Blast Blogs from each host that will be dedicated to 2011 as Mike Arnold, James Downing, and Tom Thompson remember their favorite times covering events for Concert Blast.
Enjoy James Downing's favorite 2011 Concert Blast Experiences! 
FAVORITE CONCERT BLAST EXPERIENCES
1. Getting to finally see The B-52s in concert. 
I had wanted to see them since their heyday back in the 80s but never got the chance.  They still sound good and they can still rock the house!
2. Getting to see The Stacie Collins Band on stage at the Wildhorse Saloon open up for Eddie Money. 
This girl needs to be heard by the masses and any chance she gets to strut her stuff in Nashville is a good thing.
3. Attending the 2011 Celebrity Softball Game during CMA Week. 
I had always read about these games and how much fun they are.  It was great seeing and talking with the stars while having fun raising money for a great cause.
4. Discovering the sounds of Sugarland at the CMA Fest. 
Never had listened to them before but they had me seconds after they took the stage.  I went out and bought "Big Machine" the following week.
5. Getting to see Glen Campbell on the stage of the Ryman in Nashville. 
A long time favorite of mine and the first time I had seen him live.  Just as good now as he was back in the 70s.
FAVORITE CONCERT BLAST PODCASTS
1. Billy Burnette Interview.
He is a legend in the Rockabilly field and I was happy to be able to talk with him for a podcast.
2. Yes and Styx Concert Review – The Woods at Fontanel. 
It is not often you get to hear two classic bands in the same night.  Listening to this podcast reminds you of the reasons why they are still out there going strong.
3. CMA Music Festival – Concert Reviews and Interviews. 
There is always so much going on during this week, it can't all fit into one podcast. These are always a favorite of mine each year.
4. Credence Clearwater Revisited Concert Review and Interview.
Awesome hearing Woodstock stories from people who actually performed there!
5. Elvis Presley's Graceland Sound-Seeing Tour. 
Learned a few things about Graceland and The King that I didn't know.
FAVORITE CONCERT BLAST BLOGS
1. Alice Cooper CD Review – Welcome To My Nightmare 2 (James Downing)
2. ZZ Top Concert Review – The Woods at Fontanel in Nashville, TN (James Downing)
3. Rock And Roll Hall Of Fame 2011 Inductees Coverage (guest Josh Jackson)
4. Grammy Awards Coverage (guest Josh Jackson)
5. Glen Campbell Concert Review – The Ryman Auditorium in Nashville, TN (James Downing)
—-

What were some of your 2011 Concert Blast Favorites?




Please Leave a Comment Below!


—-

Tags: alice cooper, B-52's, Billy Burnette, blogs, CMA Music Festival, CMA Week, concert blast, favorites, Glenn Campbell, Graceland, Hosts, Interviews, James Downing, Nashville, Part 1, Podcasts, reflect, Remember 2011, Stacie Collins, Styx, Sugarland, The Woods at Fontanel, TN, Yes