Posted on 1/17/2012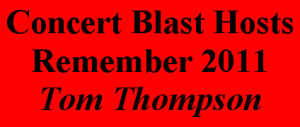 We felt Concert Blast had a successful year in 2011 with our stats and the experiences we were very blessed to encounter. We will have a series of Concert Blast Blogs from each of us that is dedicated to 2011 as Mike Arnold, James Downing, and Tom Thompson remember their favorite times covering events for Concert Blast. 
This Blog is Tom Thompson's Concert Blast Favorites from 2011.
TOM'S FAVORITE CONCERT BLAST EXPERIENCES & PODCASTS
1. U2 Concert Review – Vanderbilt Stadium – Nashville, TN 
The stage, the quality of the sound and the band, sold out, and never seen them before. You could feel the excitement and the energy from the crowd. It was one of those concerts that you knew that you were experiencing a special event.
 
2. CMA Music Festival Concert Reviews and Interviews
Four days of talking to numerous fans, interviews with the artist as well as the up and coming artists. There are just a lot of things to do and the music is always great! The excitement from the fans are by far the highest point with this great festival. It is by far the most fun that I have every year. I look forward to this musical fun event every year.
 
3. B-52′s Concert Review – Wildhorse Saloon – Nashville, TN
Fred and the girls still have it.  Very high energy, vocals are still great, the fans dress up in all kinds of crazy outfits and they know and sing every song the B-52′s play. Lots of dancing and just lots of fun!
4. Alter Bridge / Like A Storm Concert Review with Interview – The Cannery Ballroom – Nashville, TN
I've never seen Alter Bridge before. This band was by far the most talented group of musicians I had seen in 2011. Their sound was absolutely excellent, vocals just pristine and the overall quality of the band was superb.  This is a must see this band, especially if you like Creed.
 
5. Eddie Money / Stacie Collins Band Concert Review – Wildhorse Saloon – Nashville, TN
Always great to hear Eddie Money play his several hits from the 80′s and 90′s. There were lots of singing along with the fans. Eddie has aged but his vocals, dancing, and stage presence are still good. Glad to see him still performing!
 
6. The Crowd Concert Review – Douglas Corner Café – Nashville, TN
What else can I say? Experiencing performing to a packed enthusiastic club from our Reunion Concert and also reviewing my own show with a Concert Blast podcast!  What a night of fun-filled Rock and Roll!
FAVORITE CONCERT BLAST BLOGS
1. Remembering 911 (Mike Arnold, James Downing, Tom Thompson)
 2. The Crowd Reunion Concert – This was a great podcast and a blog! (Mike Arnold)
 3. Raconteurs Concert Review (guest Terri Gibson)
 4. Alice Cooper – Welcome to My Nightmare 2 CD Review (James Downing)
 5. 3 Doors Down Concert Review (guests Josh Jackson and Cory Woodroof)
—-

What were some of your 2011 Concert Blast Favorites?




Please Leave a Comment Below!


—-

Tags: 3 Doors Down, alice cooper CD Review, Alter Bridge, B-52's, blogs, CMA Music Festival Concert Reviews and Interviews, CMA Week, concert blast, eddie money, favorites, Hosts, Interviews, Like A Storm, Nashville, Part 2, Podcasts, Raconteurs Concert Review, reflect, Remember 2011, The Crowd reunion show, Tom Thompson, U2 Concert Review