Posted on 10/12/2011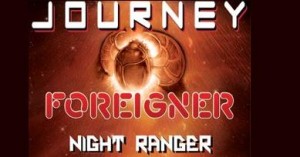 Written by Guest Blogger Zach Clayton
Lots of folks have dreams of being in a rock band, playing music in front of thousands of people, and living the rock & roll lifestyle; if you know what I mean……  On September 13, I got to see the living and breathing definition of living the dream – Arnel Pineda.  Don't click off here and go to Google; hang on and keep reading.

Once again, the oldest teenager (Will), life-long friends Joe & Shannon, and I took off to catch another concert.  We did have one additional passenger on our ride back to the 80's – youngest son KYLE!  This concert with Night Ranger, Foreigner, and Journey would be Kyle's first big-time concert.  He was pumped about seeing Journey, as was Will.  I continued to be amazed at how the music from my youth captivates my boys.  Well, most of it – still haven't gotten them to like "Kiss Me Hello" or "Lonely School".  I, too, must admit that I was looking forward to this show, since I had never seen Foreigner and the last time I saw Journey, it was the Escape tour and I was in high school. Once we got the "been there and done that" t-shirts for Will & Kyle, we made it to our seats just in time.
Night Ranger was the first on the bill and was ready to rock or needed to hit the road quickly, because they came out 10 minutes early!  Luckily, I was in my seat and ready.  Like most fans, when I go to see concerts, especially older acts, I really want the old stuff vs. playing new stuff that I will never buy.  Night Ranger's opening song "Lay It On Me" was new and rocking.  It actually convinced me to go snag the new CD.  This was about the fourth time that I have seen Night Ranger and they continue to impress me.  They are high energy and great musicians with Jack Blades playing the ultimate rocker by having the talent, as well as the rocker looks.  Nashville's own – Kelly Keagy did a great job playing drums and singing their signature song – "Sister Christian".  Even with the short set list – Jack treated the crowd to Damn Yankee's "High Enough".  It was interesting to hear Jack sing Tommy Shaw's parts in the song since their vocal ranges differ just a bit (sarcasm!).  On that subject, Damn Yankees is one band from the 80's that needs to get back together for a few shows, if not a new album and tour.  Gentlemen, the time has come for this to happen. 
Night Ranger Set List
·         Lay It On Me 
·         Sing Me Away
·         High Enough
·         When You Close Your Eyes
·         Don't Tell Me You Love Me
·         Sister Christian
·         (You Can Still) Rock in America
Foreigner was scheduled to come out next.  This was one that I could put a checkmark by, having never seen them before.  I really liked the early Foreigner – so early that I had Foreigner, Double Vision, & maybe even Head Games on 8-track (Google it if you are under 35).  The latter stuff was too much pop-leaning for me.  Foreigner basically has had two known members through the years – Lou Gramm on vocals and Mick Jones on lead guitar.  The other members could have been plug & play.  Lou Gramm left the band a few years ago and was replaced by Kelly Hansen; so that left Mick Jones.  Well, Foreigner came out and commenced to run through their list of hits.  About halfway through the set, Kelly Hansen was talking to the crowd and said that Mick Jones sends his best and that he would rejoin the tour soon.  Huh?  I hadn't realized that Mick Jones wasn't there since I wouldn't know him if walked out of my bathroom.  My friend Joe summed it up best by saying "…so we are watching a cover band?"  That about sums it up.  Nothing against Kelly Hansen who worked his tail off, but if no original members are up there – pull-eze. 
Foreigner Set List
·         Double Vision
·         Head Games
·         Cold as Ice
·         Waiting for a Girl Like You
·         Dirty White Boy
·         Feels Like the First Time
·         Urgent
·         I Want to Know What Love Is
·         Hot Blooded

·         Encore:
·         Juke Box Hero
Last and certainly not least, Journey came out.  As I mentioned, the last time I saw Journey was years ago and there were a couple of personnel changes since then.  First, Steve Smith retired and was replaced by Deen Castronovo.  Deen was in Bad English, as was Journey's (and Nashville resident) Jonathon Cain.  The most obvious personnel change since the 80's was Steve Perry's departure and ultimate (2 swings & misses) replacement by Arnel Pineda.  If you don't know Arnel's story, he was in a Journey tribute band in his home country of the Philippines.  Journey was looking for a replacement (after Steve Agulari and Jeff Scott Soto) and someone suggested they get on YouTube and watch video of his band.  Well, bing, bang, boom – Neal Schon & company hire him.  The thing about Arnel is his voice and the resemblance to Steve Perry.  Most folks say that when you close your eyes (Night Ranger reference), you wouldn't know that Steve Perry had left.  He is full of energy and was running all over the place, including a couple of laps around the floor of the arena.  Journey has a new CD out, so they did the obligatory two cuts off the new disc.  The best way I have found to describe Journey's sound is a "wall of sound".  It is just this large and loud backing sound with Neal Schon's lead guitar licks and Arnel's voice coming through.  Neal Schon and Jonathon Cain's intro's and extended jams got a little old, but all in all, they still have their chops.  They pulled one oldie out – La Do Da.  Joe & I theorized that this song was done because of the range in this song and it gave Arnel a chance to show his talents.  
Journey Set List:
·         Separate Ways (Worlds Apart)
·         Ask the Lonely
·         When You Love A Woman
·         City of Hope (new)
·         Faithfully
·         Stone in Love
·         Edge of the Moment (new)
·         Lights 
·         Wheel in the Sky
·         Open Arms
·         La Do Da 
·         Be Good to Yourself
·         Any Way You Want It

·         Encore:
·         Don't Stop Believin'
·         Lovin', Touchin', Squeezin'
Throughout the show, Kyle kept smiling and would occasionally squeezing my arm and saying how great it was.   At one point while Arnel was running around the arena and high-fiving the crowd with this huge grin on his face, I leaned over to Joe and said "this guy is living the dream".  Just a few short years ago, he was in a tribute band playing in a nightclub and now he was in THE band he was emulating and playing to sold-out arenas.  So whether it was Kyle at his first concert or a guy from the Philippines singing with his idols, they were living the dream.
Written by Zach Clayton

This review has been edtied by Concert Blast.

Zach Clayton is a blogger from Nashville, TN. 
Logon his blog website…
http://squireponderings.blogspot.com/
____

Have you Seen This Tour?




Tell Us Your Thoughts




Please Leave a Comment Below!


____

Tags: Arnel Pineda, blog, Bridgestone Arena, concert blast, concert review, Deen Castronovo, Foreigner, Jack Blades, Journey, Kelly Hansen, Kelly Keagy, Mick Jones, Nashville, Neal Schon, Night Ranger, TN, Zach Clayton