Posted 10/15/2011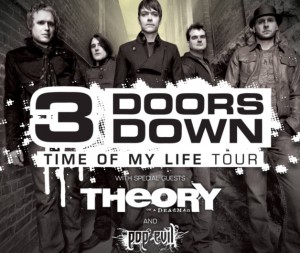 Written by Josh Jackson and Cory Woodroof
I love music – particularly live music. So much so that I would go see just about any band, of any genre, if given the opportunity. So, when my wife's cousin and journalism student at Lipscomb University, Cory Woodroof, invited me to this weekend's 3 Doors Down concert at The Woods at Fontanel – I jumped at the chance.
 
Cory and I go way back. I mean WAY back. One of the first dates I ever went on with my wife was his 1st birthday party. And then there was the time I dressed up like a duck for another of his birthday parties, scaring all the children to tears…but that's neither here nor there. He's all grown up now – and he was ready to rock with 3DD.
 
I have never been a big fan of 3DD, but appreciated them as a hard-working band from the south and enjoyed their hits. Cory, on the other hand, is a huge fan. They have been his favorite band for the last 10 years. So I thought it would be neat to include him on the review to give both the perspective of a casual fan and a real fan. So let's get started.
 **THE VENUE**
Josh Jackson:
First off, here's a word or two about The Woods at Fontanel. I heard some murmuring this summer about how this venue would fill the void left by the now bulldozed 'Starwood' Amphitheatre in Nashville, TN.  Having now witnessed a show there, I am not sure I would go that far, yet. 
On the plus side, it is a smaller outdoor venue with good sight lines that allow for an intimate concert experience.  A pleasant surprise was the sound quality, which I found to be excellent. On the downside, the seats were really crowded together and at least where we were, set on a downhill slope. It just wasn't that comfortable. Then there's the fact that because you are outside, there were people smoking everywhere. I'm assuming this could vary per event, but that and the porta-potties for restrooms (with no lights) really were extremely negative to me. There was also a noticeable absence of security and ushers. Not that we had any problems, but finding your seat wasn't the easiest and well, you never know what's going to happen at a rock concert these days. It would have been nice to have a 'presence' of security there in the crowd.
 
Cory Woodroof:
The Woods at Fontanel really is a nice, up-and-coming venue for a concert. It's got a really down-home, exciting vibe to it. The sound also works perfectly. If there's ever a band there that you are interested in seeing playing at The Woods, then by all means, go for it. I could definitely see this venue becoming a main-stage if they took care of a few problems. To me, one stood out over the others.
Allowing smoking in a public facility almost seems archaic. If you want to mark a designated smoking zone, then please do that. Don't allow your concert goers to puff freely throughout the concert, hindering the experience of the other concert goers who paid good money to see the show. It's a matter of common courtesy to all concert goers who just want to enjoy a smoke-free show.
**POP EVIL**
Josh Jackson:
The evening began with Michigan rockers, Pop Evil. Neither of us are fans and we had previous plans, so we missed their set. Sorry guys.
Cory Woodroof:
Although, I will say, from what I've heard, their stuff is pretty good. 
**THEORY OF A DEADMAN**
Josh Jackson:
Next up was Theory Of A Deadman. First off, I have to admit something. Before even seeing them, I already had an extreme dislike for this band's music. There is something about them that to me embodies all that is wrong with the modern rock scene. You know the type – mediocre talent, cookie-cutter music and looks – Ugh. I guarantee I could go to any rock club in town and find a better band, but I was willing to give them a chance – maybe they would surprise me.
Unfortunately, my suspicions were correct. Their performance was about as exciting as watching grass grow. And in between songs you could almost hear it happening – so I must not be alone in my disdain. Lead singer Tyler Connolly struggled, and tried to cover it by throwing out every rock n roll trick in the book – multiple four-letter words, stories about strippers from Peoria, but none of it worked – or seemed real. The icing on the cake was when they played 'Cocaine' by Eric Clapton and then faked 'Paradise City,' inviting 'Axel Rose' to come out on stage to sing. I guess they were trying to be funny, but everyone just sat there looking back at them. Poor guys.
After a lengthy turnaround, 3 Doors Down hit the stage. The difference between 3DD and what we had just seen from Theory Of A Deadman was vast. The band was tight and lead singer Brad Arnold sounded flat-out incredible with his crystal-clear voice dominating the excellent rock n roll mix.
**3 DOORS DOWN**
Josh Jackson:
 I was VERY impressed with their gracious attitude towards the fans. Several times Arnold took the opportunity to say thank you to everyone for attending the show and even sprinkled several 'God bless you's' throughout the night, which leads me to how impressed I was with how clean they kept the show. They didn't rely on cursing or shock value in their performance – and that is rare these days. It was all about their talent and well-crafted material. They should be commended for putting on a concert that was appropriate for all ages, and yet, was still a 'rock' show.
 The evening wasn't without its faults, though. It seemed like guitarists Matt Roberts and Chris Henderson disappeared and changed guitars between every song, leaving an empty, dark stage for sometimes up to 30-45 seconds between each hit. The dead space seemed odd to me. I like to see bands structure a set list that gets momentum going their way, ending with a 1-2 punch that knocks you out. 3DD seemed fine with letting the evening progress organically – something that many rock bands don't do.
 Another thing that really stuck out to me was the quality of their video support. I know it should be 'all about the music' – but unfortunately, these days you really have to stay up with all aspects of putting on a great show and their video technology didn't cut it. Several images playing in the screens during the show seemed more like 'wallpaper' stolen from an aging PC than the support that a band who has sold 16 million albums deserves.
 
All in all, it was a good show. They played the hits, performed well and made a fan out of this casual listener with their honest performance and quality material. Favorite performances included "Believer," "It's Not My Time," and the super-hit, "Kryptonite." After seeing this concert, I'm looking forward to going a little deeper into the 3DD catalog and finding more that I will enjoy. But that's just my opinion. Let's hear what the real fan has to say…
 

I heard my first 3 Doors Down song at the ripe age of 7. In the midst of *NSYNC, The Backstreet Boys, Christina Aguilera, Britney Spears, and The Baha Men, I found "Kryptonite." The song was different from the poppy tunes I usually listened to. It was rock. There's no doubt about that. The song had a distinct sound, verses that would never leave you, and a booming chorus that had every head nodding, if not banging. I was 7, and I had just had my first taste of 3 Doors Down.
Cory Woodroof:
Time passed. On May 14th, 2000, at a heavily crowded Adelphia Coliseum, I saw *NSYNC live. I thought it was the greatest experience I had ever been a part of. While not many people can claim they got to see JT and crew live in their hometown, I was essentially capping off my fandom with the boy band phase of the early 2000s. Don't judge me. I was in elementary school, and back then, these groups were the kings of the media.
As I got a little older, my taste in music changed, and I began to explore many different genres. During the summer of 2004, I found my place in the music spectrum. I bought my very first 3 Doors Down album. I had my personal CD player (didn't have an iPod until a year or two later), and I rocked out to Away From the Sun. I had always had a love for the song "When I'm Gone", and I finally decided to buy its source record. It's on my list of lifetime great decisions. I could practically recite the record by the fall of my 6th grade year. Their third studio album then came out in spring 2005, and round two began. 3 Doors Down quickly become my childhood favorite.
Over the years, my musical taste has become as broad as it could be. I have a horse in just about every genre, and I will essentially listen to anything. But there's that one band that I always look back to. It's the band I grew up with. It's the band that I have loved from their first big hit. It's my favorite band.
Within the 11 years or so since that *NSYNC concert, I had not seen any sort of musical act live.
On Sunday October 2nd 2011, I did what I should have done years ago. I went to see my favorite band in concert.
The concert itself will be an experience I shall never forget. The band started out with the explosive "Time of My Life", a song I just recently have fallen in love with. It was the perfect entrance to what I hoped would be the perfect show. They followed this with "Duck and Run", an older track from their first album. It's another one of my favorites. The Better Life (their first album) had a decent showing, with most of the hits being played ("Duck and Run", "Loser", "The Better Life", and eventually, "Kryptonite").
The band also played many of their newer songs to the stage off their recent release Time of My Life, featuring "When You're Young", "Every time You Go", "Believer", and the concert opener "Time of My Life". From my personal favorite album from the band, Away From the Sun, the band played "Away From the Sun", "Changes" (a deep cut that I was glad got recognition), "Here Without You", and the megahit "When I'm Gone". Their third effort Seventeen Days had a mild showing, with only "It's Not Me" and "Behind Those Eyes" being played.  The band played its 2008 hit "It's Not My Time" and "Citizen/Soldier" off their self-titled fourth album.
The band had a screen behind them, playing different graphics and video clips during the concert, while taking breaks usually after every song to gear up for the next song.
Front-man Brad Arnold greeted the audience often with thanks for the warm reception the crowd gave. It was apparent throughout the show that the band was meeting everyone's expectations.
Performance-wise, I found their opener "Time of My Life" to be quite exceptional. The performance got the audience's blood racing and set a high standard for the night. The band's fantastic rendition of "Loser" also had my heart pumping. The pre-encore performance of "It's Not My Time" was full of energy, and hearing Arnold sing the moving lyrics of "Here Without You" and "Away from the Sun" really had me.
The best performances of the night, however, came with the encore. The band returned to the stage and performed new hit "Every Time You Go" and the age-old classic "When I'm Gone". I was extremely happy to hear "When I'm Gone" live for the first time, it being one of my favorite songs.
But the night was made complete when the band played its first encore song. Once I heard the signature opening of "Kryptonite", everything came full circle. I saw that 7-year-old child sitting in the passenger seat discovering the band that would forever define their love of music. I belted the song along with the rest of the crowd. It truly is going to be one of the defining experiences in my life-one of those events that would have been crossed off my metaphorical bucket list.
I left the concert feeling quite surreal. I finally had gotten the chance to see my favorite band in action. Future concerts are going to have to try pretty hard to top that experience. All biased opinion aside; it was a fantastic show by a band that really helped define modern rock in the first decade of the new millennium.
It helps that they're a lifelong favorite, though.
 
Set List:
Time Of My Life
Duck & Run
The Better Life
Away From The Sun
It's Not Me
What's Left
Citizen/Soldier
Changes
When You're Young
Loser
Round & Round
Behind Those Eyes
Here Without You
Believer w/ Breakin' The Law interlude
Not My Time
 
Encore:
Kryptonite
Every Time You Go
When I'm Gone
____

Have you seen 3 Doors Down In Concert?




Tell Us Your Experience Below!


____

Tags: 10/02/2011, 3 Doors Down, 3 Doors Down Concert Review, blog, Brad Arnold, concert review, Cory Woodroof, Josh Jackson, Nashville, Pop Evil, The Woods at Fontanel, Theory of a Deadman, TN