Posted May 28th, 2011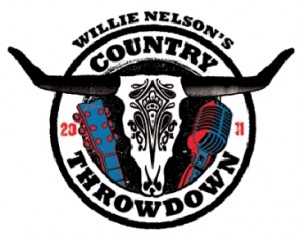 4FINI, Inc., producers of the wildly successful Vans Warped Tour, the longest running traveling music and extreme sports festival in the world today, now brings to you, Willie Nelson's Country Throwdown Tour 2011 kicking off in Philadelphia, PA on May 27 and going out with a bang with Willie's Picnic in Fort Worth, TX on July 4.
 The second annual 24-city outdoor amphitheater trek will feature a diverse lineup including recording artists Willie Nelson, Jamey Johnson, Randy Houser, Lee Brice, Brantley Gilbert, Craig Campbell, Lukas Nelson & the Promise of the Real and Drake White, with the addition of Jack Ingram 6/30-7/4.
 Fans will have the opportunity to enjoy the unique and intimate "in the round"- style sets made famous at Nashville's Bluebird Cafe. Adam Hood, Caitlyn Smith, Austin Lucas, Brent Cobb, Dani Flowers, and Erin Enderlin have signed on for the Bluebird Cafe Stage and also will be front and center on a specially designed set during the main stage set changes.
 Willie Nelson, Jamey Johnson, and other Throwdown artists announced that they will donate their performance fees from the Orange Beach, AL show on June 5 to tornado relief efforts in Alabama.
 Says Nelson, "I am saddened by the devastation in Alabama from the recent tornadoes that have hit that state. In an effort to pitch in, I am going to donate my income for the upcoming Throwdown date in Orange Beach on June 5. I believe this will assist the relief effort in that state to help people in real need."
 Lukas Nelson & Promise of the Real, Caitlyn Smith, Brent Cobb and Alabama native Adam Hood will also be donating their performance fees.
 Says Hood, "You never know how devastating things are until they hit close to home. Alabama is still where I hang my hat and this has changed the lives of many of my friends, family, peers, and supporters, and mine as well."
 Other artists pitching in to show their support include Randy Houser, Craig Campbell, Lee Brice, and Drake White.
Confirmed Dates:
5/27 – Philadelphia, PA @ The MANN
5/28 – Gilford, NH @ Meadowbrook US Cellular Pavilion
5/29 – Essex Junction, VT @ Champlain Valley Expo
5/30 – York, PA @ Sovereign Bank Stadium
6/3 – Nashville, TN @ The Woods at Fontanel
6/4 – Little Rock, AR @ North Shore Park at the Arkansas River in North Little Rock
6/5 – Orange Beach, AL @ The Amphitheater at the Wharf
6/9 – Southaven, MS @ Snowden Grove Amphitheater
6/10 – Columbia, MO @ Midway Exposition Center
6/11- Sparta, IL @ World Shooting & Recreation Complex
6/12 – Lawrenceville, GA @ Coolray Field
6/16 – Roanoke Rapids, NC The Rapids Jam Festival*
6/17 – Simpsonville, SC @ Charter Amphitheater at Heritage Park
6/18 – Waldorf, MD @ Regency Stadium
6/19 – Knoxville, TN @ World's Fair Park
6/21 – Morrison, CO @ Red Rocks Amphitheater
6/23 – Del Mar, CA @ Grandstand
6/24 – Ontario, CA @ Citizens Business Bank Arena
6/25 – Pozo, CA @ Pozo Saloon
6/30 – Mission, TX @ Las Palmas Race Park
7/1 – Corpus Christi, TX @ Concrete Street Amphitheater
7/2 – Eufala, OK @ Eufala Cove Amphitheater
7/3 – Siloam Springs, AR @ Osage Creek Amphitheater
7/4 – Fort Worth, TX @ Billy Bob's, Willie Nelson's 4th of July Picnic & Throwdown
 
* Rapids Jam is a three-day country music and camping festival in Roanoke Rapids, North Carolina, June 16, 17, 18. The first day of the festival kicks off with the Willie Nelson's Country Throwdown Tour. Single day and weekend general admission tickets, plus reserved tickets are available at http://www.rapidsjam.com.
 
For more information about Willie Nelson's Country Throwdown Tour 2011 dates and venues, visit www.countrythrowdown.com. Check individual venues websites and Ticketmaster.com for tickets.
 CTD iTunes Online OFFER IS LIVE!!  Willie Nelson's Country Throwdown Tour has partnered up with iTunes to offer Throwdown fans on an 8-song free download sampler with tracks from the below artists!! Details to get your FREE tracks here: http://bit.ly/jzWzsz
 iTunes Card Offer: Card will be available onsite, inside the Country Weekly Tour Program, and various locations onsite.
Drake White "50 Years Too Late"
Craig Campbell "When I Get It"
Lukas Nelson "Four Letter Word"
Brent Cobb "I've Been Known"
Adam Hood "The Shape of Things"
Austin Lucas "Thunder Rail"
Jack Ingram "Barbie Doll (Live at Gruene Hall)"
Eli Young Band "Even If It Breaks Your Heart"
Willie Nelson "Man With The Blues"
Randy Houser "Lowdown and Lonesome"
Jamey Johnson "Can't Cash My Checks"
Yallwire is an official, non-exclusive online partner of the 2011 Country Throwdown Tour, who will provide 100,000 bags for giveaways and additional promotional materials. They will also create a Tour Branded Skin on Yallwire Throwdown Artist Pages and Video Player Page.
Willie Nelson's Country Throwdown will be partnering up with the Sustainable Biodiesel Alliance, a deeply dedicated organization out to prove the most sustainable biofuels around as well as education the world on the positive impact of using & supporting biofuels. Willie Nelson and Woody Harrelson are honorary board members of Reverb & Sustainable Biodiesel Alliance, which will be supplying bio-diesel for the whole tour! Bio diesel fuel was used in all 37 production buses and trucks on the Warped Tour. There were 103,920 gallons of B20 pumped on site, saving 33,028 pounds of CO2. www.fuelresponsibly.org
The tour will wrap up with the always-anticipated Willie Nelson's annual 4th of July Picnic. The long-standing Texas tradition will break new ground as it will be held outside and inside of the famed Billy Bob's Texas. Headliners at Willie Nelson's 4th of July Picnic & Throwdown will perform on the venue's main stage outside with many artists taking the stage indoors for a full complement of multi-talented entertainers. Willie's Picnic will also feature many artists who are traditionally featured on the Willie's Picnic lineup, including Ray Price, David Allan Coe, Paula Nelson, and more.
 Fans are welcome to by the Harley Saloon at 5:30 p.m. on every tour stop to meet country performer Randy Houser and see his personal custom-made Harley Davidson motorcycle on display.
 "Willie Nelson is an American treasure," said Jamey Johnson. "When I was asked to return on The Throwdown Tour and was told Willie would be doing the shows, it was a simple yes."
 "I'm really looking forward to the Throwdown Tour and working with Jamey, Randy and all the folks…it will be fun," said Willie Nelson.
 At the young age of 25, Brantley Gilbert already has a list of impressive industry accolades notched on his belt. The rising star's second album – the independently-released Halfway to Heaven — reached #1 on the Billboard Heatseekers Album Chart and #2 on the iTunes Country chart. Gilbert's current single on The Valory Music Co, "Country Must Be Country Wide," is a Top 35 hit and rising. In addition, Halfway to Heaven, has spent 48 consecutive weeks to-date in the Top 20 of the Billboard Heatseekers Album Chart. Gilbert's first album, A Modern Day Prodigal Son, has also spent 32 consecutive weeks on the Billboard Heatseekers Chart. Also a celebrated songwriter, Gilbert most recently penned, "My Kinda Party," the hit title track to superstar Jason Aldean's latest album as well as his latest single, "Dirt Road Anthem."
 Lee Brice's "Love Like Crazy" reached the top five on the charts and was named Billboard's #1 country song of 2010. It currently holds the record for the longest charting song in the history of Billboard's Hot Country Songs chart. Brice is also known for his songwriting, penning hits for many great artists including Garth Brooks and Tim McGraw.  Was nominated for 3 ACM Awards including Single and Song of the Year.  Was recently nominated for CMT Music Awards USA Weekend Breakthrough Video of the Year
 Lukas Nelson might have got his start singing with his famous father, Willie Nelson, but with the recent release of his band's debut full-length album and their constant roadwork, it's become quite clear that Nelson is emerging from the shadows of the Red Headed Stranger and accruing quite a following on his own merits. The group has performed for the first time on national late-night television on both Late Show with David Letterman and Tonight Show with Jay Leno, and has every major publication singing its praises.
With the release of his self-titled album, Craig Campbell has the highest first week sales for any debut male this year! The lead single "Family Man" is a Top 15 hit and will be included in an upcoming episode of HBO's wildly popular "True Blood." New single: "Fish"
The enthusiastic 27 year-old EMI singer/songwriter, Drake White, is a Hokes Bluff, Alabama native who credits many country, blues, rock, freestyle and bluegrass influences for his unique musical sound.
SPONSORS INCLUDE: COUNTRY WEEKLY, HARLEY-DAVIDSON, DICKIES, CMT, NAMM, THE BLUEBIRD CAFE, BMI, YALLWIRE, KEEP A BREAST, SHIRTS FOR A CURE, AZUNIA, SOUTHWEST AIRLINES, WARNER MUSIC NASHVILLE and US MARINES.
For more information visit www.countrythrowdown.com
Tags: Adam Hood, AL, Alabama tornado relief efforts, Austin Lucas, Bluebird Cafe, Brantley Gilbert, Brent Cobb, Caitlyn Smith, countrythrowdown.com, Craig Campbell, Dani Flowers, David Allan Coe, Drake White, Erin Enderlin, itunes, Jack Ingram, jamey johnson, Lee Brice, Lukas Nelson & the Promise of the Real, Orange Beach, Paula Nelson, Randy Houser, Ray Price, Sustainable Biodiesel Alliance, Willie Nelson, Willie Nelson's July 4th Picnic, Willie Nelson's Country Throwdown Tour 2011, Yallwire