Posted On 2/12/2013 

ARRIVES IN NASHVILLE FEBRUARY 19-24
AT THE TENNESSEE PERFORMING ARTS CENTER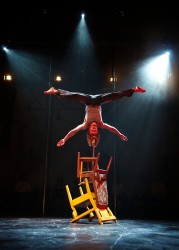 NASHVILLE – TRACES, the acclaimed show by the Montreal-based troupe 7 Fingers, arrives at the Tennessee Performing Arts Center's Andrew Jackson Hall for eight performances on February 19-24.
Tickets start at $15 and are on sale now by visiting www.tpac.org, calling (615) 782-4040, and visiting the TPAC Box Office, 505 Deaderick Street, in downtown Nashville. For groups of 10 or more, call (615) 782-4060.
New York City's most acclaimed and groundbreaking circus, TRACES strips away everything you thought you knew about the Big Top and fuses the traditions of circus with the energy of street performance to create an explosive display of emotion and physicality set to the music of Radiohead, VAST, Blackalicious, and more.