Posted on 9/4/2013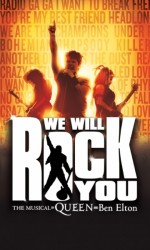 The London Production of "We Will Rock You", featuring the Music of Queen, will be making a tour stop in Nashville, TN at the Tennessee Performing Arts Center (aka TPAC) November 12th through November 17th 2013.  Tickets on sale 9/5/2013. This will be the first North American tour of this production.  Read more about the tour and the musical production from the official press release.
THE RHAPSODY IS COMING!
'ROCK THEATRICAL'
BUILT ON QUEEN'S BIGGEST HITS
NASHVILLE NOVEMBER 12-17
Tickets On Sale Now

NASHVILLE – Launching its first North American tour, WE WILL ROCK YOU, the award-winning 'rock theatrical' built around 24 of Queen's biggest hits, will rock the Tennessee Performing Arts Center's Andrew Jackson Hall for a one-week engagement, November 12-17 2013. Tickets will go on sale at 10:00 a.m. on Thursday, September 5, in honor of Freddie Mercury's birthday. Tickets can be purchased at www.tpac.org, by phone at (615) 782-4040, and at the TPAC Box Office, 505 Deaderick Street, in downtown Nashville. For group sales, call (615) 782-4060. This hilarious, multi-award-winning and record-breaking phenomenon is created by celebrated British comedian and writer Ben Elton (TV's "Mr. Bean" and "The Young Ones"), and boasts a fantastic score of Queen's biggest songs including "Another One Bites The Dust", "Crazy Little Thing Called Love", "We Are The Champions," "Bohemian Rhapsody" and, of course, "We Will Rock You."
"Like so many others, I am a huge fan of Queen's music, which has always been incredibly theatrical in nature. I can't wait to hear all their amazing rock hits again and see how they work at the heart of this fantastic story," said Kathleen O'Brien, TPAC's chief executive officer. "London audiences have raved about this show for years, and we're excited to be able to bring it to Nashville's theatre fans and Queen fans alike." WE WILL ROCK YOU takes place in a future age on a planet once called Earth that is now controlled by a mighty corporation. Globalization is complete. Individuality is taboo. Everyone watches the same movies, wears the same clothes and thinks the same thoughts. Music is generated by the corporation's computers, rock music is unheard and all musical instruments are banned. The hope of breaking free rests with an unlikely resistance – an alliance of rebel Bohemians, waiting for a hero to lead the battle to bring the power of rock back to the people.
"This show is all about legend," says Ben Elton. "We take the legend of Queen and create our own fantastical story of young kids battling the mighty corporation who wants to suppress their individuality and their love of music. They need a hero who can help them in their struggle, and we have two – the dreamer Galileo, and the sassy rock chick Scaramouche. Guess who ends up winning?" "Creating the show with Ben was very much a three-way thing," says Roger Taylor. "It was great because he was a pleasure to work with and because he has such a fertile mind. He never stops churning out ideas." Brian May adds, "The amazing bonus is that Ben's script subtly works as a metaphor, too. People definitely come out of the theatre feeling that in a strange way they now know us, Queen, and our struggle, our journey." Queen Theatrical Productions, Tribeca Theatrical Productions, Phil McIntyre Entertainment and NETworks Presentations have announced casting is complete for the first North American tour of Queen and Ben Elton's WE WILL ROCK YOU. The cast features Brian Justin Crum as Galileo, Ruby Lewis as Scaramouche,Jacqueline Arnold as Killer Queen, P.J. Griffith as Khashoggi, Ryan Knowles as Pop,Erica Peck as Oz and Jared Zirilli as Britney. Rounding out the ensemble are Danny Balkwill, Samantha Berman, Bentley Black, Jessica Crouch, Saccha Dennis, Sam Digiuseppe, Suzanna Dupree, Daniel Greenberg, Stephen Hernandez, Nathan Keen, William Joseph Lewis, Brooke Morrison, Jennifer Mote, Katie Murphy, Jennifer Noble, Fred Odgaard, Patrick Ortiz, Jason Sermonia, Stephanie Sy and Kasey Walker. The WE WILL ROCK YOU band includes Rick Hip-Flores (Musical Director and Conductor), Brandon Ethridge (Assistant Conductor and Keyboards), Emily Marshall(Keyboards), Tristan Avakian (Guitar), Bob Wegner (Guitar), Mike Cohen (Bass), David Stevens (Percussion) and Danny Young (Drums).

Queen's Brian May and Roger Taylor are musical supervisors to the show, taking an active role in casting the singer/actors and musicians for every production worldwide. Unprecedented success around the world has paved the way for WE WILL ROCK YOU to launch its first North American tour. The show is in its 12th year at The Dominion in London's West End, one of London Theatreland's biggest theatres, making it the venue's longest-running production ever. WE WILL ROCK YOU is now officially the 9th longest-running show in the West End and was crowned the UK's favorite show at the 2011 Olivier Awards, the UK equivalent of the Tony Awards, in a category voted entirely by members of the public. Outside of the UK, the show has been seen in local productions in 17 countries, playing to an audience of over 15 million people.
The original production of WE WILL ROCK YOU is a Phil McIntyre Entertainment, Tribeca Theatrical Productions and Queen Theatrical Productions presentation.  Book and direction is by Ben Elton. Music and Music Supervision is by Queen/Roger Taylor and Brian May. Musical staging and choreography is by Arlene Phillips. Production Design is by Mark Fisher and Lighting Design by Willie Williams. Sound is by Bobby Aitken. Costumes are by Tim Goodchild. Tracey Flye is the Associate Director and Associate Choreographer of the North American tour. Queen Theatrical Productions is a production entity created especially by the band's parent company Queen Productions Ltd. to handle the development and production of WE WILL ROCK YOU. Headquartered in New York, Tribeca Theatrical Productions was founded in 2001 byRobert DeNiro and Jane Rosenthal, the acclaimed producers of the Meet the Parentsfranchise, Analyze This and Wag the Dog. Through Tribeca Theatrical Productions, De Niro and Rosenthal co-produced, along with Queen Theatrical Productions and Phil McIntyre Entertainment, the theatrical musical WE WILL ROCK YOU, based on the music of Queen.
Since 1995, NETworks has produced and managed over 55 touring productions in the U.S., the U.K. and internationally. Current productions include Disney's Beauty and the Beast,Blue Man Group National Tour, Elf The Musical, Flashdance the Musical, The National Theatre of Great Britain's production of War Horse, Memphis the Musical, and Cameron Mackintosh's spectacular new production of Andrew Lloyd Webber's The Phantom of the Opera. For more information about WE WILL ROCK YOU, please visit wewillrockyou.com. WE WILL ROCK YOU is the second production featured in the HCA/TriStar Health Broadway at TPAC series. Performance schedule, prices and cast are subject to change without notice. TPAC reminds ticket buyers that the only official place to buy tickets online is www.tpac.org. TPAC is an accessible facility that provides a variety of services including wheelchair accommodations, accessible parking, and assisted listening devices. Open captioning, American Sign Language, audio description, and large print and Braille programs are offered at the Sunday matinee performance of each Broadway Series and Broadway Special show. For more information about accessible services, contact Keely Hagan at (615) 782-4081.
Tags: 2013, Ben Elton, Brian May, Broadway Production, Freddie Mercury, Kathleen O'Brien, London Production, music of Queen, Nashville, Roger Taylor, Tennessee Performing Arts Center, TN, TPAC, We Will Rock You