Podcast: Play in new window | Download
Posted on 7/5/2013
As we continue our CMA Music Festival coverage from 2013, Mike Arnold narrated this podcast on some of the various stages that they have to offer for the fans in attendance.  The outside stages are free for all, but the intimate stage in the Music City Center (the Fan Fair area) had a ticket price with it, although the price was included if you had a four day stadium show admission ticket.  Enjoy listening to this podcast of the various performances by (in order) Lady Antebellum, Marshall Tucker Band, Grits and Glamour (which is Pam Tillis and Lorrie Morgan), Mac Powell (of Third Day with his rockin' country side), Lucas Hoge, Bo Bice (with friend Hollywood Yates performing together), Wynonna, Julie Roberts, David Nail and The Goo Goo Dolls (yes at the CMA Fest!).  Enjoy listening to this podcast and/or reading Mike Arnold's blog about the fun adventures.  Special Thanks to The Old Spaghetti Factory for sponsoring Concert Blast during the CMA Music Festival 2013!
Written by Mike Arnold
The media that covers the CMA Muic Festivals get invited to all sorts of fun and special events (even days before the CMA events begin).  On the first official day of the event we were invited to The Band Perry's Fan Club Party.   The press had a question and answer session (see podcast 249) and then we were invited to join the fans for their performance.  Brian Hasbrook and I had to make a quick decision.  Should we stay and enjoy the fun or head over to the new Music City Center for the ribbon cutting ceremony with Lady Antebellum for opening of the Fan Fair area along with a Q & A and acoustic performance with them.  We decided to cover more artists so we left… reluctantly!
Lady Antebellum
Lady Antebellum were part of the Fan Fair Section of the CMA Music Fest as they cut the ribbon for the official opening.  About 20 minutes later they answered questions from fans and media (listen to podcast 249) and then performed an acoustic set of several songs and had the crowd of about 1500 singing along with them.
Songs We Covered: "Downtown" – "Run To You" – "Golden" – "Need You Now"
Marshall Tucker Band
The Lady A experience took longer than we thought, so we missed the opening of one of the outdoor stages with the Marshall Tucker Band.  We got to the Marshall Tucker Band performance as quick as we could and arrived in time to the large crowd singing along to their hit, "Cant You See".  Everyone there was having a great time, including the band!   Leader Doug Gray was all smiles as the fans sang along.  He also threw out several high quality tambourines to the spectators, including one to one of the photographers in the photo pit.  What a nice gesture!
Grits and Glamour (Pam Tillis and Lorrie Morgan)
Once we left the stage where the Marshall Tucker Band were performing, Brian and I ran to the stage outside the Brigestone Arena to catch the duo Grits and Glamour.  This duo consists of country music stars Pam Tillis and Lorrie Morgan.  Once we arrived we noticed the place was packed to the max!  Everyone was ready and waiting to see these two perform (including us).  We didn't know what songs they were going to perform, but once the show began we were thrilled to learn they had a mix of hits, new songs, and covers on their set list… Perfect!  They opened the show with a cover song from the sixties, a Joni Mitchell song that Judy Collins made famous, "Both Sides Now".  As soon as the song was over, Pam Tillis instructed us that there was not going to be a lot of talking because they have a lot of songs to perform in a small amount of time including some tunes from their upcoming album, "Dos Divas"… Just like we like it!  After the opening cover song, Pam and Lorrie performed the first single from the new album then took turns performing their hits while pitching us a new one from time to time.  We thoroughly enjoyed this set and would love to see the complete show.
Songs We Covered: "Both Sides Now" – "I Know What You Did Last Night" -  "Except For Monday" – "Shake The Sugar Tree" – "Watch Me" – "Mi Viva Loca (My Crazy Life)" – "I Am A Woman"
Mac Powell
The lead singer of the Contemporary Christian band Third Day has thrown his hat into the Contemporary Country Music ring and showed us his rockin' country skills later that day on the same stage at the Bridgestone Arena.  Isn't it ironic that they would put him at the stage sponsored by Budweiser beer (Hey, don't let the Baptists know! LOL! – Just Kidding Around!).  Mac showed us how he can produce some great southern rock songs with the best of them.  He also performed a cover of "Ramblin' Man", which he told us not to let his daddy know if they don't play it right, and a new ballad called "Carry You", that actually sounded like a Third Day song.  We are fans of Mac Powell's Third Day and now we are fans of Mac Powell the southern rock solo artist.  Great songs and a great front man who insists on getting the crowd into the show!
Songs We Covered: "Sweet Georgia Girl" – "Saturday Night" – "This Ain't No Hobby" – "Carry You" – "Ramblin' Man" – "Mississippi"
Lucas Hoge and Bo Bice
As the entertainment came to a close for the daytime performances and before the stadium concerts began, we had another appointment at BB King's on Second Avenue to enjoy the fan club party for country singer and reality show host Lucas Hoge (show: Last Chance Highway on Animal Planet) and the American Idol runner up from season four, Bo Bice.  Bo Bice and Lucas Hoge took the stage with acoustic guitars while sitting on stools performing new and older songs.  Bo Bice also covered Marshall Tucker Band's "Can't You See" with vocal help from southern rock singer Hollywood Yates (learn more about this night on podcast 249).  Lucas began the set with singing one of his, then Bo Bice took the reigns by singing one of his songs.  They took turns throughout the set.  At the end of the set they invited a friend of theirs, Hollywood Yates, on stage to sing Jamey Johnson's "In Color".  I wished we had recorded a portion of this since he did such a good job, but our server and various conversations distracted us and before I knew it, the song was over.  Hollywood stayed on stage to continue singing background vocals for the remainder of the set.  Lucas, Bo, and Hollywood all did a good job, although it was strange watching the energetic Bo Bice sitting down for an entire performance.
Songs We Covered: "Wild Honey" (Lucas Hoge) – "Different Shade of Blue" (Bo Bice) – "Satan and Grandma" (Lucas Hoge) – "Glory Hallaujah" (Bo Bice) – "Witness" (Bo Bice) – "Give A Damn" (Lucas Hoge) – "Take The Country Outta Me" (Bo Bice) – "Can't You See" (Bo Bice with Hollywood Yates).
Wynonna Judd
On Friday, our second day of the CMA Music Fest, we decided to take it easy and only attend a couple of performances before covering the stadium concerts.  The one acoustic show we didn't want to miss during the weekend was Wynonna.  We were late on arriving to the Fan Fair Close Up stage, but she came out as soon as we arrived.  The place actually had more people there than Lady Antebellum had.  Wynonna performed with her husband and a couple of other musicians.  They all sat on chairs with acoustic guitars as Wy led the band and the crowd through her set of familiar material.  She had people singing along and actually got on to them for not singing loud enough.  During the song "Grandpa Tell Me About The Good Ole' Days", there is a pause at the end of the song.  Wynonna paused longer than usual and warned the audience that this is her show (all in good fun).  There was a time she was talking about country music legends and a lady spoke over the building PA announcing that the Fan Fair will be closing in 15 minutes.  Wynonna stopped and said, "Somebody knock her off!" Everyone laughed including Wynonna.  Wy continued her set and everyone had a great time.  We definitely did!
Songs We Covered:  "What It Takes" – "Why Not Me" – "Grandpa Tell Me About The Good Ole Days" – "No One Else On Earth"
Julie Roberts
On Saturday Brian Hasbrook became ill and Tom Thompson picked up where Brian left off by attending all the events with me.  We started our performance coverage by attending Julie Roberts' fan club party at the downtown club, The Rutledge.  We knew Julie was going to make a special announcement to her fans and we wanted to be there for the coverage.  When we arrived Julie had just made the announcement that she has signed a record deal with the legendary Sun Records out of Memphis, TN.  She performed some songs and cut up with the fans in attendance.  Everyone had a great time.  Thank you for the invitation!
Songs We Covered: "Sweet Dreams" – "Mama Said Don't" – "No Way Out"
David Nail
Later on Saturday we had a scheduled interview at Riverfront Park with newcomer Maggie Rose.  After we spoke to her, country star David Nail took the stage to a large enthusiastic crowd as he went through several songs and listened to the ladies scream when he performed a familiar song.  The crowd loved David Nail's performance, especially during the song "Red Light", but we couldn't stay long due to having other scheduled overages.
Songs We Covered: "Counting Cars" – "This Time Around" – "Red Light"
Goo Goo Dolls
During the CMA Music Fest there always seems to be some type of rock act invading the festival.  With our love of country music, we don't mind a bit!  This year we were treated to an invitation to interview the Goo Goo Dolls.  Of course I jumped at the chance immediately, but there was too little time for the band to speak to anyone.  Although we would had loved to speak to them, we didn't mind due to the concert coverage we got to do.
We really didn't know that the band was going to be at the festival until I got the interview invitation on the day before.  Then we didn't realize they were going to be performing a long set.  What a gift!  When we arrived at the small HGTV barn we were escorted to the side of the building to enter a roped off area where the media staff could stand with plenty of elbow room, unlike being in the crowd of standing room only shoulder to shoulder screaming fans.  With us being fans of the Goo Goo Dolls for years, Tom and I were elated to be there… and within ten feet of the stage. We loved their set of greatest hits and a couple of new tunes.  There were more fans than I had ever seen at the barn.  Many fans were outside the barn watching the big screen TVs and acting as if they were inside with the rest of us.  Loads of fun!
Songs We Covered: "Slide" – "Slow It Down" – "Black Balloon" – "Name" – "Better Days" – "Iris" – "Broadway"
As usual we had a great time at all of the performances.  We tried to cover a few other acts as well.  Jo Dee Messina performed at the Riverfront Stage on Friday as the headliner, but the rain started which kept us away from outdoor coverage.  We also wanted to catch Rachel Williams in concert, but the club she was performing in started her show later than scheduled, which wouldn't work in our schedule.
Written by Mike Arnold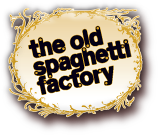 We want to thank The Old Spaghetti Factory for being our sponsor during the CMA Music Festival 2013.  It's one of our favorite places to eat!  Visit them where you live and tell them Concert Blast sent you.
—
Please Leave A Comment!
—
Tags: Bo Bice, Brian Hasbrook, CMA Music Festival 2013 concerts, concert blast, concertblast, David Nail, Fan Fair, Friday, Goo Goo Dolls, Grits and Glamour, Hollywood Yates, Joni Mitchell, Judy Collins, Julie Roberts, Lady Antebellum, Laurie Morgan, Lucas Hoge, Mac Powell, Marshall Tucker Band, Mike Arnold, Pam Tillis, performances, The Old Spaghetti Factory, The Voice, Third Day, Tom Thompson, various stages, Wynonna Judd