Posted on 6/10/2013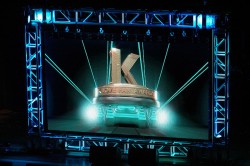 On Saturday June 1st  Contemporary Christian Radio Station K-Love presented its first Fan Awards.  The Concert Blast staff were invited to cover this excellent event and they all had a great time.  Brian Hasbrook took some excellent photos of the Awards show that lasted about three hours.  Those photographed were the hosts of the evening, the Robertson's from Duck Dynasty, Jase, Missy, Phil, and Ms. Kay, along with many Contemporary Christian artists such as Newsboys, Casting Crowns, Bart Millard of Mercy Me, Big Daddy Weave, The Afters, Colton Dixon, Matthew West, Audio Adrenaline, Natalie Grant with Kari Jobe, Amy Grant, and many others including Missy Robertson performing with Michael W. Smith… Enjoy the Photos!
The K-Love Fan Awards show was more than just a show that gave out awards, in fact there were only nine fan awards given away and twenty-three songs performed from today's top Contemporary Christian artists, as well as hilarious stories and one-liners from the hosts of the night, Duck Dynasty's Phil & Ms. Kay Robertson and  Jase & Missy Robertson (who also sang "Heart of Worship" with Michael W. Smith!).
Performers of the night included Toby Mac, Francesca Battistelli, Newsboys, Audio Adrenaline, Casting Crowns (with a string section), Matthew West, Colton Dixion, Big Daddy Weave, Building 429, Rhett Walker Band, Tenth Avenue North, Citizen Way, The Afters, Third Day, NEEDTOBREATHE, For King and Country, and several collaborations including, Amy Grant with Steven Curtis Chapman, Brandon Heath with Matt Maher and Bart Millard (Mercy Me), Jami Grace with Toby Mac, Natalie Grant with Kari Jobe.
One of our favorites was when Laura Story sang "Blessings" while playing the piano, with her baby in a front carrying pouch.  Toward the end of the song, her baby turned its head and looked right at her (which melted everyone's heart!).
The other favorite was the closing number of the night as Michael W. Smith joined Third Day for "Agnes Dei" and Mac Powell (Third Day) encouraged all the artists to join them on the stage as they led the worship song with the audience.  What an excellent ending on an excellent night!
K-Love Fan Awards Winners
Male Artist – Chris Tomlin
Female Artist – Kari Jobe
Duo/Group – Casting Crowns
Song – Redeemed (Big Daddy Weave)
Artist – Toby Mac

Breakthrough Artist – For King and Country
Movie Impact – Alex Kendrick (Courageous)
Book Impact – The Love Dare (Alex Kendrick and Stephen Kendrick)
Sports Impact – Mike Fisher (Nashville Predators – hockey player)
Unsung Hero Award – The Cochran family
—
Please Leave A Comment Below!
—
Tags: Alex Kendrick, All Things New, Big Daddy Weave, Brian Hasbrook, Building 429, Casting Crowns, Chris August, Citizen Way, Colton Dixon, concert blast, concertblast, Contemporary Christian Music, Dara McClean, David Evans, Duck Dynasty Cast, Finding Favor, For King and Country, Francesca Battistelli, Hawk Nelson, Jase Robertson, K-Love Fan Awards Red Carpet Photos, Kari Jobe, Mandisa, Mark Shultz, Matt Maher, Mercy Me, Meredith Andrews, Mike Fisher, Mike Gracin of Mike's Chair, Missy Robertson, Ms. Kay Robertson, Newsboys, Phil Robertson, Plump, Sidewalk Prophets, Tenth Avenue North, The Afters, The Grace Card