Podcast: Play in new window | Download
Posted on 6/16/2013
It's that time of the year when Concert Blast makes their way to downtown Nashville, TN to cover one of their favorite music festivals, The CMA Music Festival.  This music fest is something that all music genres should learn from. It's when the top selling country music artists, the legendary country artists, as well as the new country artists gather together in Nashville, TN during the second week of June to perform for the fans which drove in and flew in from all over the world to see all the concerts and meet their favorite country artists.  The key music lesson here is that all the performers do this for nothing but the love of their fans! Special Thanks to our CMA Music Festival sponsor, The Old Spaghetti Factory (http://www.osf.com).  Please visit them and tell them Concert Blast sent you!
Enjoy this podcast on the first of four nights of the stadium concerts with Tracy Lawrence, Luke Bryan, Taylor Swift, Eric Church, Miranda Lambert, and the Zac Brown Brown… ENJOY!
Written by Mike Arnold
On night one of this first of four nights of the CMA Music Festival stadium concerts, we had a night full of superstar contemporary country artists that could sell out any arena in the nation and parts of the world. This night started with 90's country favorite, Tracy Lawrence.  Tracy took the stage to perform a few songs including, "Footprints On The Moon" and "Time Marches On".
LUKE BRYAN
Next up on the stage was one of our current concert favorite artists, the country music entertainer of the year, Luke Bryan.  He took the stage with strange electronic synthesizer sounds before starting the first song of the night, "Kiss Tomorrow Goodbye".
Luke asked the CMA Fest crowd, "Who's feeling a little bit frisky on a Thursday night in Music City?" as the loud cheers returned, he said, "Well, I know you go a little whiskey in your boot out there, ain't that right? Here's your chance to have the time of your life, Come On!" as the guitarist began the intro to, "Rain Is A Good Thing".
Luke continued by asking, "Nashville CMA Music Fest, how we feeling? Is this a party or what?" as he and the band continued with "Crash My Party".
The show continued with the sound of a bass drum thump and a recording of Luke's voice saying, "Girl You Make My Speakers go Boom Boom!" as the crowd screamed with approval.  As the acoustic guitar began playing the opening rhythm chords, Luke asked the crowd, "Ya having a fun CMA Music Fest out there tonight?"
"Thank ya so much for letting me be up here.  I couldn't be up here without all the fans rolling into Nashville supporting this night!"
"And I wanna take a quick second.  I wanna thank each and every one of you for making me your Entertainer of the Year, I love you so much for it and I will never forget it, Thank You!"
"Alright, I wanna hear the biggest Boom Boom I've heard in my life Nashville, ya ready?"
Luke began singing and gave the audience a chance to prove they can deliver a loud Boom Boom.  He thrilled the crowd with his smooth dancing ability and his skills of singing high, low, holding notes, and leading sing alongs throughout this song, "Drunk On You" and his set night.
As Luke continued with his next song by saying, "It's one of those nights we are gonna make last C'mon!" as they began "I Don't Want This Night To End", which he included a snippet of the dance pop song by Taio Cruz, "Dynamite".
Luke began his last song of the night by asking if there are any country girls in the crowd, as he began "Country Girl (Shake It For Me)".  In this number Luke went out into the crowd to find some girls to pull into the official photo pit area to dance with. There were plenty to choose from so he pulled about seven or eight girls to actually jump up and down with while take videos and pics of their experience.  Luke Bryan ended on a great note with all the fans.  He definitely knows how to conduct a large crowd and turn a concert into a party!  The only issue with his performance was the longer than usual delay in between songs, but that might have been something to do with the TV crew.
TAYLOR SWIFT


The major surprise of the night for us was Taylor Swift not being the headliner.  Not only that, but she was placed as the third act (of six) on the night.  The other surprise for us was Taylor's onstage persona.  Although she looked great, her voice and her band sounded good, she acted very dramatic. This really upset us.  We were used to the outgoing, friendly, appreciative Taylor Swift, not the artist that strutted like some type of model that displayed a "Look At Me" appearance.  I don't know who or what changed her mind on how to present herself on stage, but please bring back the friendly Taylor Swift that helped made her one of the top billing acts in the world.

Taylor took the stage to one of her many hits, "Love Story".  To introduce the next song Taylor mentioned that if she was to give all the emotions of love, it must be "Red".  For the next tune, Taylor walked to the side of the stage, strapped on a banjo, and began playing the intro to her hit, "Mean".  This was the best crowd pleaser thus far with fans singing along to the song.  Taylor followed up with another sing along and crowd pleaser, "Never Ever Getting' Back Together".
Taylor was brought an acoustic guitar to strum for her next tune.  She mentioned that she always get requests for this song whenever she performs.  Taylor said she wrote this song when she was just fifteen.  Then she continued with a chorus of the song, "Tim McGraw".  As soon as she finished the partial number, she said, "Ladies and Gentlemen, Tim McGraw".  The crowd erupted with the loudest cheers of the evening as Tim McGraw walked out on stage to sing the hit, "Highway Don't Care".  We were discussing the only thing missing from this song was Keith Urban.  When it came time for the guitar solo, Taylor introduced Keith Urban.  This announcement brought out louder cheers than Tim McGraw!  Although Keith didn't sing with them, his on stage appearance showing his guitar skills made this song complete.
After the song ended, Taylor thanked Keith Urban and Tim McGraw and gave them hugs.  Then she turned to the CMA crowd and said softly, "Goodnight Nashville" and walked off the stage.  We thought that was a very strange way to end and wondered why she didn't perform one more popular song before closing her set.  I know that Taylor Swift has used concert consultants in the past.  If she still uses them, then she needs to fire them!  By the way Taylor (and others), my concert consultant services are available.  Contact me (Mike Arnold) at concertblast@gmail.com.
ERIC CHURCH
Eric Church was announced and he took the stage with extremely loud cheers from the CMA Fest crowd, wearing his signature cap and mirrored sunglasses, while his band played the intro to his first song of the night, "I'm Getting Stoned".  He immediately followed with, "Keep On".
Eric said hello to the CMA Fest crowd and continued with a fan favorite, which nearly everyone sang along, "Jack Daniels".  The crowd continued to sing along throughout the set with, "Livin' Part Of Life".
Eric Church paused for a moment before he continued with his story telling songs.  The acoustic guitar began to slowly pick out the sounds to introduce another sing along crowd favorite, "These Boots".  People in the crowd were holding up one boot to show an appreciation of his lyrics.  I looked up at the huge stage to see Eric holding up a boot that was handed to him from a fan in the front of the stage.  He appreciated it very much and went down to the crowd to personally thank the person and to take a photo with them (learn something here Taylor Swift!).
The set continued with another sing along story type song, "Homeboy".  With the continuous thump of the bass drum, Eric Church performed his last song of the night.  Another crowd favorite, "Smoke A Little Smoke".
Two songs we missed in this set was "Drink In my Hand" and "Springsteen".  Last year's set included both of these songs as well as more interaction with the crowd in between his songs.  This year he seemed to get in more songs.  The fans seem to appreciate his performance.  The main issue I have with Eric Church is how he sings about Jesus in some songs, then turns around and sings about getting drunk and stoned in other songs.
MIRANDA LAMBERT
When the stage hosts of the night introduced Miranda Lambert, she didn't waste any time at all rockin' the crowd with her opening number, "Fastest Girl In Town".
As the band kicked off the into to the second song of the night, Miranda yelled, "Hey Nashville! You ready to blow off a little steam tonight?"
As the crowd yelled with approval, she continued by saying, "Alright girls, this one's for you." As she began singing the fan favorite, "Baggage Claim".
For the next tune, Miranda began to slow down the music while the fans sang along with her on the chorus of, "Over You".  She continued with songs, "All Kinds of Kinds" and "Mama's Broken Heart" before going into another older fan favorite, "White Liar".
Before Miranda Lambert's last song, as the band was playing she told the story behind the song by saying, "When I was a little girl, my daddy taught me how to use a shotgun."
"He also told me that it is not ok for a man to beat up on a woman." And the crowd yelled in agreement.
"So, I grew up and wrote this pretty little love song." As the band kicked into high gear with Miranda as they performed the rocker, "Gunpowder and Lead".
While the band continued to finish out the song, Miranda Lambert thanked everyone for coming out to the CMA Fest and said goodnight as she strutted off the stage.  This performance was a crowd favorite during the older popular songs, otherwise the fans were just so-so.
ZAC BROWN BAND
Once the Zac Brown Band were announced, they took control of the CMA Fest crowd by beginning with one of the best sing along songs around, "Chicken Fried".  Zac yelled during the last chorus, "Ya'll  sing, 'Cold beer on a Friday night'…" and they did!  Zac and band continued with another favorite, "Goodbye In Her Eyes".
Zac instructed the crowd to repeat after him, the title of the next song, "Jump Right In".
It seems that every year the Zac Brown Band brings out surprise guests to perform a song with the band.  This year was no exception as he introduced the legendary Kenny Rogers to perform his classic country hit, "The Gambler".  Everyone loved it and showed their approval by singing along.  When the song was over, Zac mentioned that Kenny Rogers has a great new album coming out this fall so be sure to pick it up. Kenny waved and left the stage.  Zac Brown and company continued with two more favorites, the ballad, "Day That I Die" and the good feeling danceable song, "Keep Me In Mind".
Zac mentioned that he had some more guests to bring out as he introduced someone from the band Blackberry Smoke, Charlie Starr, and popular rap/country/rock artist Kid Rock.  Kid Rock took over the lead vocals on the last song of the night, the Grand Funk Railroad popular tune, "We're An American Band".  Thank you Kid Rock for preventing the flow of profanity from spewing out of your mouth!  Good Job!  However, you could have worn a cap without your self proclaimed statement.
Zac Brown introduced Charlie Starr and Kid Rock again as they left the stage and then introduced each member of his band before thanking everyone for coming out and telling them goodnight.
What a fun first night of the CMA Music Festival stadium shows.  It's amazing that these acts all performed on the same night.  This night had the most popular artists, but Friday, Saturday, and Sunday nights were stocked full of top-notch acts as well. Tom Thompson said his favorite of the night was Eric Church, while Brian Hasbrook and I agreed our favorite performer was Luke Bryan.
Written by Mike Arnold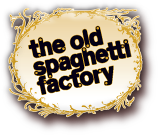 Special Thanks to the Old Spaghetti Factory for being the CMA Music Festival sponsor for Concert Blast this year.
http://www.osf.com
—
Please Leave A Comment!
—
Tags: Blackberry Smoke, blog, Brian Hasbrook, CMA Music Fest coverage, CMA Music Festival 2013 review, concert blast, concertblast, Eric Church, Keith Urban, Kenny Rogers, Kid Rock, Luke Bryan, Mike Arnold, Miranda Lamber, podcast, Stadium Concerts, Taylor Swift, The Old Spaghetti Factory, Thursday, Tim McGraw, Tom Thompson, Tracy Lawrence, Zac Brown Band