Podcast: Play in new window | Download
Posted on 5/21/2013
The fun continued for the Concert Blast staff at the Beale Street Music Festival for Day Two coverage on Saturday May 4th.  On this day we covered ZZ Top, The Black Keys, Patti Smith, Jerry Lee Lewis, Dwight Yoakam, and Gavin DeGraw.  Saturday started on a great note as we have always started for many years… sleeping in late and getting a late lunch at the world's famous barbeque ribs restaurant, Charlie Vergos' Rendezvous!  They have sponsored our Saturday coverage for years and this year they asked us to return next year.  We thank both sponsors that helped make these trips possible, Rendezvous and The Best Around Food Concessions!  Check out the podcast and/or read the following blog on our Saturday adventures!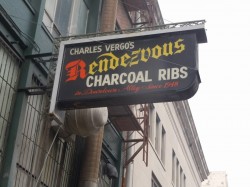 Written by Mike Arnold
It was 1:30pm when we began looking for a place to park in downtown Memphis so we could enjoy our yearly visit with our Concert Blast Saturday coverage sponsor, Charlie Vergos Rendezvous.  This year we had some friends from Kentucky also attending the festival, so we invited them along with us to enjoy some ribs and brisket.  Mike and Adrienne Deinlein enjoyed their meal as much as we did.  I love introducing people to Rendezvous' delicious food!  I know they will return when they are in the area.
After our meal we enjoyed a short talk with John Vergos and since it was still early in the day, we decided to take a walk over to another world famous location, The Peabody Hotel.  It's been years since I've been in the building and some of the staff haven't ever been there before.
While we were walking back to my car, it began to rain lightly. We didn't want to go to the festival this early while it was raining, know we would be there until after midnight, so we decided to do something different.  I told the guys about a donut shop called Gibson's Donuts I saw on one of those Travel Channel / Food Network shows. Since it was raining we thought this would be a great place to have desert and coffee.  By this time it was about 3:30pm and there was a line nearly going out the door.  We stayed there eating a variety of donuts and sipping coffee while staying out of the rain… which was coming down hard!
About 5pm we decided to take the trip to Tom Lee Park to start our Saturday coverage.  As we headed toward downtown Memphis, the rain slowed down and completely stopped.  Within an hour of being at the festival, a very strange thing appeared in the sky that brought warmth and light to the area.  It was called the sun… oh yeah, I remember you!
Once we arrived inside the park, Rock and Roll Hall of Famer Patti Smith was performing.  The ironic thing here was after a couple of songs, she talked to the audience (of about 3,000) about her previous day in Memphis visiting Graceland (the home of Elvis Presley) and enjoying a delicious meal at Rendezvous.  We watched a couple of her songs, but left to walk around to see what else was happening.
We found ourselves at the stage with the largest crowd at the time (about 15,000) watching The Killer, Jerry Lee Lewis.  Jerry Lee was performing a lot of hits from his country standards to his Rock and Roll classics.  Jerry Lee was looking and sounded better than I've seen him perform in several years.  He's always scheduled to perform at the Beale Street Music Festival, but this year he looked more energetic and sounded better than he had in the past years.  He's 77 years old now, so he's definitely not the loud energetic performer with the strong vocals that he once had, but he can still draw a large crowd to see this historic performer.
We didn't see Brian in the photo pit for Jerry Lee Lewis.  In fact we got word that he went back to the media trailer to rest since he didn't make it to Jerry Lee's stage in time to get to the photo pit.  Tom and I couldn't believe it!  Brian has a lens that's a foot long so he doesn't need to be in the photo pit.  He could take pics from the crowd easy and get great close up shots.  Tom and I was videoed while discussing Brian's perfect plan of taking photos.  We came to the conclusion that He's Spoiled!
The next scheduled performer on our list was Dwight Yoakam.  Dwight drew another large crowd (about 10,000).  The people in the crowd were definitely fans and not just happened to walk up to the stage. Tom and I talked with several of the audience members as we continued with our live coverage into our dead audio recorder!  Dwight's performance was a good one.  Once he and his band members took the stage, Dwight  took full control of his show… and the audience!  It was one song after another performing the songs "Take Hold of My Hand", "Streets of Bakersfield", "Little Sister", "Turn It On, Turn It Up, Turn Me Loose", "Honky Tonk Man", "A Thousand Miles From Nowhere", and many others.
Since the stage he was performing on was next to our media trailer, Tom and I went to see if we could find Brian there… and of course we did!  We asked what he's been doing, which he replied with a very surprising answer!
Brian told us since he was late for the Jerry Lee Lewis photo pit, he decided to return to check out Patti Smith's concert and loved it.  Brian informed us that Patti went back to her early days and played, "Because The Night", a Neil Young cover called "It's A Dream", another older cover, "Night Time" (which George Thorogood made famous again), and closed her set with her version of the old party song, a cover of Them's (Van Morrison's tune) "GLORIA".  He then told us he went on to another stage to catch part of Big Boi's show.
Then I asked the important question, "But did you take any pictures?"
Brian replied, "Of course!  I got some great photos of both acts!"
Then I asked Brian if he got some good shots of Dwight Yoakam.  Brian said the photographers weren't allowed in the photo pit for Dwight.  All the other photographers joined in to support his answer.  Photographers don't like it when they aren't allowed in the photo pit!  I asked Brian if he could take photos of Patti Smith from the crowd, so why not Dwight Yoakam?  I told him they looked great and the show is excellent!  Brian turned to the other photographers and said I'll be right back.
Brian and I went back to the crowd, while he took some shots of Dwight Yoakam and his band.  Once we returned to his show, we saw him perform my favorite Dwight song, "Guitars, Cadillacs".  Then he performed a tribute to Johnny Cash, Dwight's version of Johnny's classic song, "Ring of Fire".  Dwight left the stage and returned for an encore, which is rarely done at this festival unless you are the headliner at one of the stages. We were very impressed with his performance and his set list!
As soon as Dwight Yoakam's set completed, a new set of fans exchanged at this stage area.  The country fans left and the young alternative rock fans came in… and kept coming in.  Before we knew it, there were about 30,000 fans at this stage getting ready to see The Black Keys.  Since we knew it would be about 30 minutes to make the set change, Tom and I decided it was dinner time.  We returned to our sponsor's booth to try out a Chicken on a Stick from "The Best Around" food concessions.  I sent a Facebook and a Twitter message to say where we were eating and told the workers that the people will be coming.  After we got our food I turned around and saw about 100 lining up for dinner.  We all had a good laugh about it as if I actually had something to do with the all of a sudden business.
Tom and I ate and returned back to the stage where The Black Keys were about to perform.  The huge crowd of mostly 20 something's were very excited to see this band.  They were all fans and knew all the songs.  We had a great time interviewing the fans in the crowd (into our dead audio recorder!).  Once the stage lights went dark and the intro music picked up, the crowd became alive in anticipation of the concert!  Finally Dan Auerbach and Patrick Carney walked out on the stage while Patrick started the first number of the night with his rhythmic drum beat to "Howlin' For You".  Dan kicked out the second song of the night with "Next Girl" after a few more numbers they performed one that the crowd sang along with (and one of my Black Keys favorite) "Gold on The Ceiling".
After a couple of more songs we decided it was time to head to another stage to catch some more acts.  Govt. Mule was performing at the middle stage to about 10,000.  We stopped long enough to hear my favorite song from them, "Soulshine".  I wanted to hear more, but Tom insisted on us going to the next stage to catch some of Gavin DeGraw's set.  I didn't know much about him or his performance and I thought it would be boring with him playing ballads on an acoustic guitar… boy was I wrong!  Gavin DeGraw put on a show that made me wished I had got there early to see his complete set!  However, I did see about the last thirty percent of the show, which was probably the best part of his show.  Gavin was jumping, running, and dancing all over the stage and also found his way though the crowd while leading a sing-along.  The enthusiastic crowd of about 8,000 was really into the show (and with good reason).  What a performer!  This show reminded me of a Train show.  In fact they should go on tour together! Gavin had everyone dancing and singing along to his hit, "Not Over You".  He also was called back for an encore, which he did two songs.  I hate to admit it, but Tom was right!  Thanks Tom for the excellent advice!
Once Gavin finished up, we returned to the middle stage for a taste of classic southern rock, from the little ole band from Texas, ZZ Top.  We arrived as their stage was being setup.  While we continued to report into our dead audio recorder (still unknown to us) we cut up with several of the fans, we ran into this couple from Arkansas (Charles and his wife) who were overly thrilled to be there with us.  Charles was extremely excited that we reported throughout the show with them.  We interviewed he and his wife about the festival and the concert he was about to see (into our dead recorder).  They were huge ZZ Top fans and drove in from Little Rock for this one set.  They kept telling everyone around us that we were celebrities.  He sold the fact so much that Tom and I were beginning to believe it.  Charles is the best publicity / marketing guy we've ever had!  Too Funny!
ZZ Top took the stage in style with their Texas style suits, hats, and long groomed beards to about 30,000 southern rock fans.  They started their show with an old song from Tres Hombres, "Precious and Grace".  The sound was so jumbled that we couldn't tell what they were playing.  Brian was in the photo pit and he said he recognized it immediately. The second song was something I wasn't familiar with (along with thousands of others), a new song called, "Heartache In Blue".  While we were all waiting for a familiar tune, the famous ZZ Top guitar riff finally started as Billy Gibbons connected with "Waitin' For The Bus" and of course followed by "Jesus Just Left Chicago".  He show continued with plenty of new songs such as "I Gotsta Get Paid", as well as a mixture of older hits such as "Gimmie All Your Loving" and "Sharp Dressed Man".  They also played around with some blues as they went into "Blue Jean Blues" and "My Head's In Mississippi".  They closed their set, using the fur carpet guitars, with a sing-along of "Legs".  The encore was definitely worth being there for as they went into, "Tube Snake Boogie", "Viva Las Vegas", "LaGrange", and closing the show with another sing along, "Tush".  We all had a great time with this set.  This was the only entire show we the witnessed on Saturday.  The way they got people to sing along with the large enthusiastic crowd made the show.  To make the show better I would had replaced some of the newer songs with more classics such as "Got Me Under Pressure", "Cheap Sunglasses", "Just Got Paid" and others.
On our way back to the media trailer to meet up with Brian and Steve, we caught a small segment of the DJ Porter Robinson putting on his electronic music set with screens, lights, and smoke making for great effects.  We're not into this type of music, but we know an entertainer when we see one.  This after party show was in full swing with about 6,000 in attendance.
Night two of the Beale Street Music Festival was a fun, but another cool night.  It began to rain lightly in about the middle of ZZ Top's set.  We had ponchos and caps, so we didn't notice it until we looked at the spotlights. Before leaving the park, we closed out the night by recording our recap for our podcast, into our dead audio recorder, but at least we had a great time!  The highlights were definitely ZZ Top, Gavin DeGraw, The Black Keys, Dwight Yoakam, and Brian said his highlight was Patti Smith and Big Boi (of Outcast).
Special thanks to our Saturday sponsors, Charlie Vergos' Rendezvous (www.hogsfly.com) and The Best Around (http://www.thebestaroundconcessions.com)food concessions, for making it all possible for us to afford this trip.  A big thank you to Diane Hampton, Tonya Dyson, and the rest of the media staff for inviting us and for making us fell so welcomed.  Tom and I would personally like to thank our new Little Rock, Arkansas friend, Charles, for making us feel like celebrities.  Sorry about our dead recorder Charles!
Written by Mike Arnold
—
Please Leave A Comment!
—
Tags: 5/4/2013, Beale Street Music Festival Review, blog, Brian Hasbrook, Charlie Vergos Rendezvous, concert blast, concertblast, Dwight Yoakam, Gavin DeGraw, Gibson Doughnuts, Jerry Lee Lewis, John Vergos, Memphis, Mike Arnold, Patti Smith, podcast, Porter Robinson, Saturday, Steve Shattuck, The Best Around Food Concessions, The Black Keys, TN, Tom Thompson, ZZ Top