Posted on 4/28/2013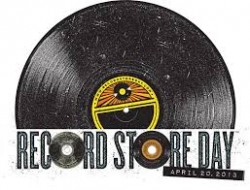 On Saturday April 20th, 2013, Record Store Day was celebrated throughout the world to continue to bring awareness that vinyl records still exist and to bring them to turntables everywhere… well, for those who still have turntables.  One of our Concert Blast friends and guest blogger, Terri Gibson, spent her day at Jack White's Third Man Records in Nashville, TN to celebrate this annual event.  Check out Terri's blog and be sure to make plans to attend next year's Record Store Day!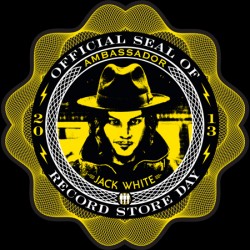 Written by Terri Gibson
When I first heard about Record Store Day a few years ago, I was curious but not enough at that time to investigate this yearly musical ritual taking place the third Saturday of April.  Thousands of independent record stores all over the world participate in the event which exists for the sole purpose of promoting and celebrating vinyl records.  Fans from all walks of life converge together in honor of the beauty and art of vinyl; an art that declined in recent years due primarily to mp3 purchases, and the sale of compact discs.  Limited edition releases of albums are part of the celebration, as well as live musical performances. An ambassador is usually chosen to represent and promote RSD, with past official ambassadors including Ozzy Osbourne, and Iggy Pop.  This year, my favorite artist Jack White, (formerly of The White Stripes), was the official ambassador.  Part of this year's festivities included a reissue of The White Stripes album, Elephant, in a 10th anniversary edition LP, with black-and-red vinyl on one side, white vinyl on the other.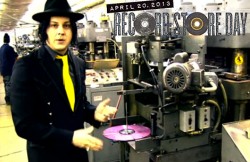 As a subscriber to anything Jack White is involved in, I am privy to several fan clubs on Facebook, as well as the Third Man Records website.  I was excited to read about the upcoming events scheduled for Saturday, April 20th.  Headliners of the day included the Document Records reissue series, featuring volume two of the Complete Recorded Works in Chronological Order of Charley Patton, Blind Willie McTell, and The Mississippi Sheiks.  White's ex-wife, Karen Elson, was scheduled to perform in the Blue Room (Third Man's concert venue which records all concerts live). Other offerings included food and drink vendors (including the local Bang Candy Company), and new merchandise in the TMR store and Novelties Lounge.  Plus, the newest addition, the Third Man Recording Booth; giving fans the opportunity to custom record their very own 45 record.  How could I turn down this opportunity?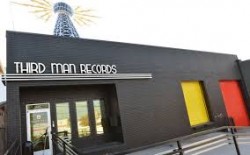 My fellow music aficionado, friend and guitar teacher, Brittany, accompanied me to the outskirts of downtown Nashville.  Third Man Records is in an area you would not expect.  It's not on Music Row, and nowhere near the usual touristy-type places most people venture to when in Nashville. Sharing a block with a restaurant, and a deserted church as well as an upscale apartment building, TMR's location is somewhat private and unique, yet easy to find among its surroundings. Neighboring across the street is the Nashville Rescue Mission.  White purchased and renovated the building which houses Third Man Records originally as a place to store his gear and musical instruments.  Eventually, a small record store was opened, with a buzzer for customers to ring when they wanted to come in and shop.  Soon, the buzzer system gave way to the shop having regular store hours.  White expanded, built on, and his empire kept growing to what now includes a novelty lounge, record label offices, photo studio, dark room, and analog recording booth.  Every few months, there is something new and exciting introduced by TMR to keep White's fans always guessing in anticipation.
As we approached 7th Avenue, I could feel the excitement welling up inside. However, turning down the street gave way to feelings of dismay.  A long line of people wrapped around the other side of the block.  I had envisioned a moderate line, but didn't imagine the line would be this long. Also, it wasn't such a good idea to arrive just 10 minutes before Third Man was due to open.  I didn't find out until the next day that some people had an advantage because they actually camped out the night before in tents.  Brittany and I made our way around the block and stood in line, talking and eavesdropping on other conversations.  It was fun to hear what other fans had to say about Jack and several of them traded their stories; ranging from sightings in the airport, to highlights from past concerts.
By noon, we had made our way around the block and found out the line we were in was heading into the Blue Room. This was where Karen Elson had already begun her show, and the copies of Elephant were flying out the door.  We were moving right along and thought we might make some reasonable time.  However, the line slowed down significantly due to fans lingering when Elson began singing.  Meanwhile, I kept my eyes open for any Jack sightings.  I looked up, and saw a familiar face approaching.  It was Brendan Benson, from The Raconteurs (one of White's other bands).  He looked focused and hurried, so I didn't attempt to take a picture. I watched him as he approached someone he knew and walked past the line I was standing in to make his way to The Blue Room, where he also performed a few songs.  Several of Jack's crew, who took time to talk to fans in line, was easy to spot in their TMR trademark black suits, fedoras, yellow ties and yellow suede shoes. They were friendly and answered several questions.
Finally, after three hours we approached the door leading up to a small stair case, through a corridor, and to the Blue Room. Someone then told us it would be another hour and a half before we would actually get in.  Brittany and I agreed to give up and try getting in to the record store and novelty lounge, which had yet another line, but was much shorter.  Standing in line gave opportunities to meet some really nice people. I talked to a nurse who lived down town, and another lady who flew by herself, from Pennsylvania just for Record Store Day at TMR, and even a couple who came all the way from Paris.  We passed the time by talking about White, his bands, and our favorite songs. At one point, our attention was drawn to a few people running down the driveway to the adjoining building (also a part of TMR).  I decided to investigate for myself, and noticed a crowd of people taking pictures of an ivory car, belonging to Neil Young. I took a picture, then went back to claim my spot in line.  If only I'd stayed a few minutes longer – White soon emerged with Young and the two drove off.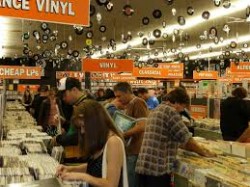 Finally, at 5:15 p.m., we made it into the store.  I had been here before but not since the November 2012 opening of the Novelties Lounge.  The store had the usual souvenirs any fan could hope for including t-shirts, records, cd's, buttons, stickers, magnets, tote bags, and guitar tab books.  The lounge has several machines that take official TMR tokens, worth a dollar a piece. Fans can make Jack White's Airline guitar out of molded plastic with the Mold-A-Rama machine, get their photo taken in the photo booth, listen to new releases on the TMR Monkey Band, and watch 16 mm videos on the Scopitone video juke box.  I decided I would make the Mold-A-Rama guitar to bring back for my son. I found a 45 I wanted, a t-shirt, and a guitar tab book that would ensure I would soon be playing all of Jack's riffs and become the envy of all.  Grabbing my treasures, I checked out and was on my way – about 30 minutes later.
I didn't make it to the Record Booth, as I'd hoped to.  Several were in line for this new novelty that had encouraged many to bring their guitars and other instruments to play while recording. Rumors among the crowd were confirmed on TMR's website that someone had recorded a marriage proposal and another person had recorded their last will and testament. Very creative!  When finished, the record came with a postage paid sleeve. TMR has a mailbox right outside the store where people can drop their record in and send to the recipient of their choice.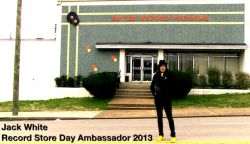 To sum it up, RSD at TMR was a good day.  I wasn't sure what to expect since it was my first time participating. White's popularity, the attraction and draw of his store, and the rare vinyl releases being offered should have cued me in to the fact that I would be waiting for a long time. At one point, White made a very brief appearance from behind a curtain, leading to the Recording Booth that was temporarily situated behind one of the garage doors in the front of the store.  He gave a shout out to the crowd and wasn't around long enough for me to snap a picture.  Some people commented that as ambassador, it would have been nice if he had played a song or made a speech. I enjoyed meeting a variety of people from all walks of life, and it was nice to be around other people who had as much appreciation for Jack White and his talent. Now that I know what to expect, next year I will plan to find out what direction the lines are headed, and find out where I need to go. I spent a lot of time in line for the Elephant record, and didn't purchase a copy.  Instead, I could have been among the first in line to record a 45.  I also could have made my way into the TMR store much earlier as well.
On the Concert Blast Rating Scale, I will have to give Record Store Day, at Third Man Records an 8.  Although there were directional signs indicating where to go, the signs were posted closer to the store; so if you were waiting toward the end of the line, there was a bit of confusion as to where you were headed.  I don't want to give fault for the long lines, as that was par for the course considering what was offered at the end of the line; the coveted Elephant.  Throw into the pot the opportunity to catch a glimpse of Jack White and you will have a lottery of fans from all over.  It made the day long; but interesting, exciting, and full of anticipation.  I'm already planning for next year.  Does anyone have a tent I can borrow?
Written by Terri Gibson
—
Please Leave A Comment Below!
—
Tags: blog, concert blast, concertblast, Jack White, Karen Elson, Neil Young, Record Store Day, Terri Gibson, The White Stripes, Third Man Records, vinyl records