Posted on 1/24/2013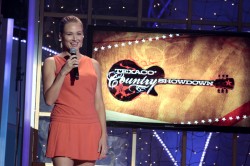 Written by Guest Blogger Samantha Shrader
Acclaimed singer/songwriter Jewel hosted the 31st Annual Texaco Country Showdown Finalist competition at the Historic Ryman Auditorium in Nashville, TN last week.  In addition to taking photographs of their amazing event, I was given the opportunity to chat with Jewel prior to the show.
What are your thoughts on this year's Texaco County showdown, are you excited to be doing the show?
Very excited to do this show!  It's produced more celebrities than any other talent show, and I'm just excited to be a part of it!
Have you ever performed at The Ryman before?
I don't think I have before. It'll be my first time, and what a neat way to do it!
What advice would you give to the finalists that are performing at the Showdown?
I would say to be authentic…it's not about being cool. That's the great thing about Country music…you don't have to be cool or slick, you just have to be yourself, and be true to yourself. And that's what people love and that's really a gift for a musician…a lot of people can love you for who you are instead of having to be somebody else.
You're releasing a Greatest Hits album on February 5th…what can you tell me about the album?
The album will have all of the radio versions of my singles. Often times, the version on the album isn't what I ended up going to radio with. So the song that you may have fell in love with on the radio, wasn't necessarily the same as what' was on the album…so this will have all those radio versions in one place. It will also have a re-cut of "Foolish Games" with Kelly Clarkson.  She sings amazingly on it! I also re-cut "You were Meant For Me" with The Pistol Annie's which are a great Alt-Country act.  And then, I have a brand new song called "Two Hearts Breaking".
I actually had the pleasure of hearing the new song a couple of days ago….great song!  It was on Doug Stephan's radio show. I wondered what can you tell me about the new song?
(laughs)  I really had no business singing on that show, because I really hadn't planned to, so it was my first time ever having sung the song all the way though while playing it…so it was really rough but it was fun to get to play it!  It's a song I wrote by myself maybe 6 mo's or so ago.
I thought it sounded great, I liked it a lot!
Oh good! I didn't have the courage to go back and listen! (laughs)
Will it be released as a single in the future?
I think that it will be…we're trying to work on all that now. If you want to hear a produced snippet of "Two Hearts Breaking" people can go to my website http://www.jeweljk.com/ and you'll hear about 30 seconds of what it will sound like on the record.
I heard that there was another single that was being considered to be on the album called "Dance Sing Laugh Love".  Did that make the album as well?
It did not…but good research! We didn't end up putting it on.
Do you think it'll be released on a future album?
Well, yeah, maybe I'll get to it later. I didn't really feel like the production was quite there.  That one felt like a definite pop song, but this one feels at little more like where I'm at at the moment, musically.
When you're writing songs, where does your inspiration come from?
Writing just seems to be a river that flows all of the time. ..And if I take a minute to dip my toe in it, it's there to have.  I don't think it really comes from any one place, it's a constant partner in my life.  Really it's usually the deep subconscious of what's going on for me or what I'm feeling in some way. And that can come off quite opposite…like I wrote "Two Hearts Breaking" and "Dance Sing Laugh Love" at the same time…one's really sad, and one is about celebrating life, so go figure!  (laughs)
When you're writing, what normally comes first, the music or the lyrics?
The melody and the lyrics usually come together.
Does any of your poetry ever become a song or vice versa?
Usually there will be lines of poetry that will turn into a song…idea, or a phrase in a line. But rarely will it be a whole poem turning into a song, the structures are so different.
Do you feel like your progression into country music has changed the way you approach writing?
Not really. I feel like what I've done has kind of stayed the same. The radio formats have changed a lot.  When I was starting out, pop was grunge but it slowly moved to where a female singer/songwriter/storyteller had a chance. And country at that time was very beautiful, great singers, singing songs other people wrote on, like Shania Twain or Faith Hill. And that was honestly almost more pop, than pop was…songs what like Mutt Lange produced, you know, great production, so it just wasn't really a great fit.   And now country music is really this wide open format that has everybody, from very traditional to pop leaning like Taylor Swift and Lady Antebellum, so the format has just sort of shifted around. So I think what I do is the same. I grew up listening to Joni Mitchell as well as Loretta Lynn, Merle Haggard, Bob Dylan, so those styles have always really been in my songwriting. I think the song "You were meant for me" is, it's a country song, it's a shuffle but with kind of a strong Beatles'y  pop melody. So It's just how I've been my whole life…some things I write come out rock, some things I write come out  country, so come out pop, so I don't know.  It's like going into your closet…sometimes you have dresses and sometimes you have sweat pants! (laughs)  I think for country, the only difference is that I can be unapologetically old school in my approach to story telling. I can just tell a story. You don't have to think about being cool, or, I don't know how to say it, just being authentic is ok, and that's nice.
I have a friend that's a huge NASCAR fan, and she was telling she watched a show you did a few years back called Fast Cars and Superstars, and how much she enjoyed it. With all of the different things you've done , I wondered what unique opportunities do you feel that you've been given as a result of your music career?
Oh my gosh, so many opportunities! (laughs)  Something like with that, I got to drive with some of the best NASCAR drivers in the world! So many things!   I was able to sing for Pope John Paul II in the Vatican, and sing my song "Hands" with the Vatican Orchestra,  I got to sing with BB King, and do a duet with (Bob) Dylan, and just so many amazing opportunities I never thought I would have been given.
You have a son who's about a year and a half now? How has he inspired you?
I do! He's 18 months now, and he's amazing! I made him a couple of records, I wrote  "Lullaby" for him and I've written a children's record called "The Merry Goes Round" and a children's book called "That's what I'd do", so he has inspired me a lot!
Tell me about your upcoming tour?
It'll be acoustic, just me and my guitar. I'll be doing theater settings. I talk a lot, some nights. Every night is different. I don't do a set list.  I just like to read the audience, and see what mood they're in, and go from there.
Do you ever get pre-show jitters before you perform?
I don't think I've gotten that since I was 7 or 8 years old, probably.  Something that I've learned is that they came to see you. You know I grew up bar singing and they didn't always come to see you. They just came to drink or get drunk, and you just had to somehow get them to pay attention to you. That really taught me to learn to be confident and take control of the crowd, and read a crowd, and listen to them as much as you want them to listen to you. I think those skills really helped me and now when people actually pay to come see me. You kind of start winning because the people want to be there!  "laughs"  And even if I mess up a song, which I do all of the time, and kind of famous for, you can just stop and start over.
You've done so much, you write music, poetry, you perform, you produce, you're an actress, and you've done TV, Movies, what's next on the bucket list?
I'd like to do more movies.  My guitar playing isn't that great, I'd love to learn more on the guitar. I've done visual art a little, but not enough, I'd really like to do more of that.
Is there anything you'd like to share, that I haven't asked you?
If people want to check out my tour dates, I'll be touring March, April, May and June at   http://www.jeweljk.com/ .  I'm really looking forward to that.  And, check out the "Lullaby" record, it's had a great response to it.   It's sort of a mood record. I've had a lot of Moms say that their kids can't go to sleep without it, but I've had a lot of college kids say that it keeps them calm when they're pulling their all-nighters. Other people say they can't drive during traffic hour without it.  It's been neat to have such great response to it!
By Samantha Shrader
—
Please Leave A Comment Below!
—
Tags: blog, concert blast, concertblast, Jewel, Nashville, Samantha Shrader, Texaco Country Showdown, The Ryman Auditorium, TN