Posted on 10/22/2012
Written by Mike Arnold
Back in the late 1960s Elvis Presley started a trend in Las Vegas that still continues today, rock music at casinos.  This trend seemed to work for the casino business, although I personally never understood the mix.  If you are visiting a casino, it seems to me that music would be the last thing on your mind, unless you are celebrating a huge payoff!  If I wanted to attend a concert at a casino, gambling would be the last thing on my mind, but I'm not a gambler.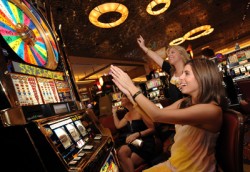 Las Vegas and other casino towns have had huge success with the business approach of hiring popular music entertainment, but I actually believed with the popularity of online casinos around the world, gamblers physically visiting casinos would slowly come to a crawl.  I suppose the true gamblers like the excitement of being in the presence of the noise, watching other people gamble and the excitement of it all… or maybe the casinos do have to offer more than bells and whistles to excite people to visit their establishments.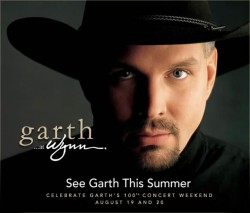 While smaller casino communities hire mainly classic rock acts to entertain their guests, with hopes to get new customers from those who are willing to purchase a ticket to see their favorite act perform in concert, Las Vegas took this approach to another level by building arenas/theatres for artists to perform over a long period of time.  I can understand this business model approach in a tourist town, because fans will travel and purchase high dollar tickets to a very popular act and the casino could have a building paid for (or most of it) once the contract for the artist is complete.
Back in 2006, Concert Blast attended and covered our first rock show at a casino when The New Cars and Blondie invited us to review their first show of their tour in Tunica, Mississippi at the Grand Casino.  Everyone in attendance seemed to be there for the concert and not to gamble, but once the show was over, many of the rock music fans headed to the tables and machines to try their luck at winning Big Dollars in a short time.  Even our Concert Blast co-host Tom Thompson would always find his way to the card tables when we covered concerts at casinos.
Now we kind of know what's in it for the casino, but what's in it for the artists?  Since that show, Concert Blast had fun covering Joan Jett & the Blackhearts, Rick Springfield, and Heart at casinos.  Joan Jett's crew told us that playing a casino was a great gig.  They paid the band a higher than normal guarantee, gave them extremely nice rooms right there on the property, and covered all of the expenses.  Garth Brooks told me when he was approached by the Wynn Hotel to perform for an extended time, he told them they didn't have enough money to afford him to come out of retirement… Garth then told me he was wrong!
All musicians are in music for the business side; otherwise all the shows would be free or cost very little.  It is wise for casinos to hire classic rock performers to fill their theaters today, but those bands will soon be going away, so they better be concerned about the newer acts that are out today and to see if they can convert the music fans of this generation into the gamblers for tomorrow.
Written by Mike Arnold
—

Do You Visit Casinos For Concerts?




Do You Gamble When You Do?




Please Leave a Comment Below!


—

Tags: concert blast, concertblast, Elvis Presley, gamblers, Heart, Joan Jett and the Blackhearts, Las Vegas, Mike Arnold, mississippi, Nevada, online gambling, Rick Springfield, Rock Concerts at Casinos, Tom Thompson, Tunica