Posted on 5/10/2012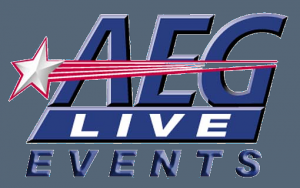 Concert promoters AEG Live / The Messina Group will be presenting three amazing concerts during the last three days of May at the Ryman Auditorium in Nashville, TN.  AEG Live / The Messina Group will be presenting PRIMUS on May 29th. The Weir, Robinson, & Greene Acoustic Trio will perform in concert on May 30th.  Edward Sharpe and the Magnetic Zeros will take over the Ryman Auditorium on May 31st.  Three nights in a row, the last three days in May, AEG Live / The Messina Group produces the fun at The Ryman.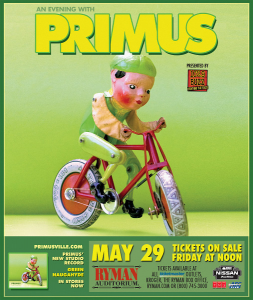 The tour is in support of Green Naugahyde, its first studio album in 11 years out September 13, 2011 on ATO Records and Prawn Songs. Green Naugahyde was produced and engineered by Les Claypool in his personal studio, Rancho Relaxo, in Northern California, and features Claypool, long-time guitarist Larry LaLonde and drummer Jay Lane. Lane was in an early lineup of the band, and was also in Sausage, a 1994 reunion of the 1988 Primus lineup. Green Naugahyde expands on Primus' incomparable sound and also sees them bringing it into the next millennium. It is a cerebral and complex album that, like all of the band's output, is teeming with the band's signature blend of whimsy and underlying darkness.
For the past 27 years, Primus have followed in the footsteps of boundary-pushing artists like Frank Zappa and Pink Floyd to create some of the most original and inventive music in existence. Green Naugahyde is a Primus record with all of the magic and mystery that phrase entails-and while no one can say for sure what the future will hold in store for the band, the most important thing is that the album exists and will inevitably hold its own in the band's impressive cannon of music.
—
THE WEIR, ROBINSON, & GREENE ACOUSTIC TRIO


Nashville, TN – May 30th – The Ryman Auditorium
Tickets: www.ryman.com,  www.ticketmaster.com,  and the Venue Box Office


CLICK HERE FOR TICKETS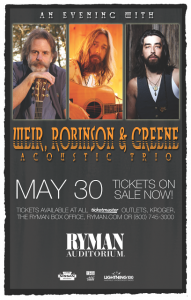 Bob Weir, Chris Robinson, and Jackie Greene have decided to embark on a very special journey together, and will no doubt be a treat for anyone lucky enough to catch this once in a lifetime performance.
With a touring history that has made him one of the most traveled road musicians of all time and a restless music personality that has kept him occupied for over 50 years, Weir knows a thing or two about staying fresh and living in the moment. Although best known as one of the founding members of the Grateful Dead, adding Dead staples such as "Truckin'," "Sugar Magnolia," and "Cassidy" to the band's catalog, Weir has sustained a long and affluent music career that is second to none, and has allowed him to do what he loves and share it with others for nearly his entire life.
Chris Robinson is a founding member and the singer of The Black Crowes since their multi-platinum debut "Shake Your Money Maker" in 1990. In 2010, the band celebrated their 20 year anniversary. Robinson's first solo act, "New Earth Mud," released their self titled debut in 2002 garnering rave reviews from both critics and fans. Their second album, "This Magnificent Distance" was released in 2004. The newly formed Chris Robinson Brotherhood was launched in 2011 and has earned a reputation for playing remarkably inspired sets across the country. The Chris Robinson Brotherhood will release their debut recording in 2012.
In a short span of time, Jackie Greene has accomplished what many have strived decades for. Armed with a voice that turns heads and a near-mastery of several instruments, Greene has recorded seven albums of original work, an EP, DVD, and a recently released book of lyrics. Constantly touring with his band, Jackie Greene has built a reputation for eclectic and energetic live shows, earning the respect of critics and musicians across the country. Dubbed "The Prince Of Americana" by The New York Times, Greene continues to enhance his reputation with his involvement in high profile side projects such as Phil Lesh and Friends and Trigger Hippy.
—
EDWARD SHARPE and THE MAGNETIC ZEROS
Nashville, TN – May 31st – The Ryman Auditorium
Tickets: www.ryman.com,  www.ticketmaster.com,  and the Venue Box Office


CLICK HERE FOR TICKETS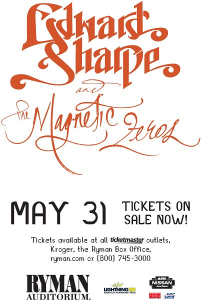 After intensive touring throughout 2009-2011, including hit appearances at Lollapalooza, Bonnaroo, and Coachella, Edward Sharpe and the Magnetic Zeros have proven themselves to be a touring force to be reckoned with. In April 2011, the band embarked on the "Railroad Revival Tour" with Mumford & Sons and Old Crow Medicine Show where the band traveled exclusively in vintage railcars across the American Southwest for a week and played concerts at unique outdoor locations along the route. Edward Sharpe and The Magnetic Zeros actively support Water Wells For Africa, Charity Water, APJ Now, Hope Campaign and Voice Project.
Edward Sharpe and the Magnetic Zeros formed in Los Angeles in 2007. They released their debut album, Up From Below, in July 2009 on Community Music. The album has sold over 275,000 copies in the US, and charted on iTunes for 69 straight weeks. With its unique and universal appeal, their hit single "Home" soared to over 775,000 downloads.
 
  
  
—

Have You've Seen These Acts In Concert?




Please Leave A Comment Below!


—

Tags: "The Weir, & Greene Acoustic Trio", AEG Live, blog, Bob Weir, Chris Robinson, concert blast, concertblast, Edward Sharpe and the Magnetic Zeros, Jackie Greene, Nashville, Primus, Robinson, The Black Crowes, The Greatful Dead, The Messina Group, The Ryman Auditorium, TN