Posted on 4/14/2012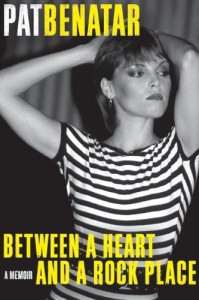 Written by Mike Arnold
Pat Benatar, actually Patricia Mae Andrzejewski, wrote her "thus far" life story in her recent book, "Between a Heart and a Rock Place."  Pat takes the reader not only on her life's musical journey, but also through her childhood in New York, being as tough as the boys her age as well as being a very charming girl… then growing up to become a military wife that led to a broken marriage.  The book described Pat growing into a tough woman who knew what she always wanted in life, especially when she met the guitarist in her band, Neil Giraldo.
The book starts with a small section of her seeking a guitarist for her band to record her first album and when she laid her eyes upon Neil Giraldo for the fist time, she told her manager, "He's in the band even if we have to teach him to play!"  Of course they didn't have to teach Neil anything, in fact he was the teacher.  When Neil plugged in the borrowed guitar to play for Pat, she knew that he was the one to be in the band.  Pat said that guitar sound he created was the same sound she had in her head.  Although she loved his playing, she admitted the first time she laid her eyes on him, she thought to herself, "I just saw the father of my children!"
 The book then goes through Pat's life in a chronological order beginning with her childhood.  Pat's household family included her brother, her mom and dad, her grandmother and her two teenagers.  They lived in a very tight space with an extra tight budget.  They lived on a polish block in Brooklyn before moving to Long Island to a house with more room, but caused many financial struggles.  The household budget was so tight that they hoped the toilet paper in the house would last until the next paycheck.  Pat's parents also borrowed money against their house to pay for Christmas presents and to take vacations.  Her parents owed $45,000 for the $7,000 house they purchased.
When Pat was in the fourth grade, her chorus teacher noticed her outstanding singing voice and called her mom to convince her that "Patti" had something special with her voice and persuaded Mrs. Andrzejewski to encourage her daughter to take a musical direction in life.  Her mom purchased Pat a transitor radio, which a new musical direction was taken… she discovered The Beatles and many other rock music acts.  Pat went on to compete in singing competitions for the elementary school.  By the time Pat made it to the sixth grade, the high school Chorus Instructor began working with Pat to train her voice for classical music.  By the time Pat graduated high school, her voice teacher was heart broken to learn that Pat did not take the college route with her vocal training.
In 1972 Pat took the next step in her journey by walking down the aisle to began a marriage with a military man that she thought would not work out… she was right.  For the next eight years their marriage was off and on.  While they were living in South Carolina, Pat performed in a dinner theatre and worked in a bank.
Some of Pat's co-workers invited her to go to see Liza Minnelli in concert.  She studied the show, the lights, the people in the audience, and decided she could do that.  Pat joined a band that performed in local clubs.  Between singing with the band and singing a few local jingles, Pat was making about $1,000 a week in the mid-seventies.  Although that was a lot of money, she made a bold move back to New York to try her luck at an "Open Mic Night" at the comedy club "Catch A Rising Star".  Many famous comedians got their start there; Jerry Seinfield, Billy Crystal, Ray Ramano, Ellen Degeneres, David Brenner, Whoppie Goldberg, Eddie Murphy, and Pat's friend, Richard Belzer.   
Pat went to the club, signed up to perform and drew number 29, which meant she would perform at three in the morning.  That was actually a good time for that club since they had a late night crowd.  After singing Judy Garland's "Rock-a-Bye Your Baby With a Dixie Melody," the audience went crazy with their approval.  That club became Pat's hang out and she would sing there many times.  In fact the club owner, Rick Newman,  would eventually become her manager.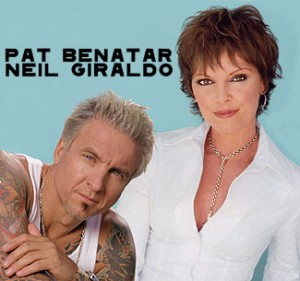 Pat would struggle trying to get her record deal of her choice because she wanted to be a singer of a rock band and not a female singer.  She settled with the offer of being the front person and name of the act, but she was in a rock band.  The struggles continued with her label, Chrysalis Records, as they continued to demand to turn Pat into a sex symbol singer.  Since she was under contract with them, she had to do photo shoots she didn't want to for album covers, magazines, and posters. Millions of records and merchandise were sold, concert tours sold-out, and Grammy's were won. 
Pat Benatar divorced her first husband, she and Neil Giraldo became an item and eventually they married.  After years of trying to get pregnant to start their family, Pat finally delivered a daughter, then another daughter.  They also moved to Hawaii to the area of were they honeymooned.
Of course Pat Benatar was a hit artist from the beginning, but when MTV started up, her popularity went over the top… especially when Neil wrote and recorded "Love Is A Battlefield" (against the record company's desires) and MTV put the video on high rotation. 
As with nearly every artist, their popularity decreased over the years and after being with Chrysalis for years (now owned by EMI), they didn't want to renew their recording contract so they could work in a different direction.  They signed with an independent record label and recorded an album.  Although the album sold a fraction of their other albums, they made more money due to a better percentage agreement.  They also recorded a blues album and toured the clubs. 
Pat and Neil still tour today and still have the dynamic energy and raw rock sound they've always had.  Concert Blast had the privilege to cover three of their concerts and were pleased with each show. 
 On a scale of 1 to 5 (5 being the best), I would give this book a 3.5. I would also give this book a PG-13 rating.  There were some profanity, but nothing like the other books I've read by rock artists. I enjoyed this book while reading about Pat's life, her start, her struggles in the music business, and her personal life.  I highly recommend this book.
Written by Mike Arnold
—

Have you Read This Book?




Please Leave Your Comments Below!


—

Tags: Between A Heart And A Rock Place, Book Review, Mike Arnold, Neil Giraldo, New York, Pat Benatar, Pat Benatar's book