Posted on 3/7/2012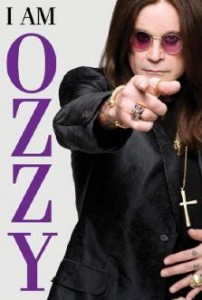 Written by Mike Arnold
Heavy Metal rocker Ozzy Osbourne described many details of his life in his autobiography from his very poor childhood days of being bullied by classmates and teachers, through his prison experience, how he joined a band, the days with Black Sabbath, multiple addictions, his solo career, his family's MTV show, starting Ozzfest, and many other aspects of his life.
Always known as the dyslexic strange guy who clowned around a lot, Ozzy found himself being released from High School with a certificate at the age of 15.  Being raised in a very poor working class family with 5 siblings, Ozzy kept looking for a way out of the everyday intensive labor jobs that everyone around him had.  Ozzy had various jobs of being a horn tester on an assembly line, to working in a meatpacking slaughterhouse, which he admitted he threw up everyday for weeks on the job from the horrible odor while continually working in the animal blood performing his job.
These types of jobs led Ozzy to the life of crime.  Ozzy was caught stealing and was sentenced to one of the worst prisons in England. Being scared to death and wondering if he would get out alive, he made plans to befriend the weight lifter prisoners by making the big guys laugh for protection as he did during his childhood school days. 
Ozzy discussed how one of the prisoners was sentenced from being a child molester and described how the guards allowed the other prisoners to enter the prisoner's cell for a periodic beating while they looked the other way. The guy ended up loosing his mind from the torture. Ozzy was released from prison after 6 weeks for good behavior.  After that short prison term, Ozzy had enough of the life of crime.
Ozzy still had to make money, but he really wanted to be a front man for a rock band, so he went to the local music store and posted an ad that read, "Singer looking for a band – Owns PA system".  The key to this ad was that he owned a PA system, although he didn't.  The musicians would have to go to his home address to answer the ad since his family didn't own a telephone.  Eventually the high school tough-guy/heart throb, Tony  Iommi, paid him a visit with drummer Bill Ward to see if Ozzy would like to form a band.  Once Tony saw Ozzy, he remembered him from school and told Bill he was no way going to be in a band with that clown, but Ozzy and Bill talked him into it and they eventually formed a band with guitarist Geezer Butler (who switched to bass) called Earth. Ozzy's father helped him finance a PA system and the guys began booking shows for nothing (or very little).
The guys noticed the lines of people at the movie theatres going to see scary movies.  That gave them the idea to write and perform scary music.  This also meant a name change and finally they came up with Black Sabbath.  Their popularity started as they were looking for a gig one night.  They saw one club that was packed and went in to talk to the manager about playing.  They were all there and ready.  The manager told them that Jethro Tull were supposed to play, but they didn't show up or call.  The manager had no choice but to let the band perform since they had a packed house ready and waiting to see Jethro Tull.  They made the announcement from the stage and Black Sabbath performed to an enthusiastic crowd.  Toward the end of the show Ozzy noticed Ian Anderson of Jethro Tull nodding his head in approval of the music.  After their show they found out that Jethro Tull's van broke down on the way to the gig and there was no way to contact anyone what had happened (pre cell phone days).
During the beginning years of Black Sabbath, Ozzy got married and had two children.  Ozzy's wife could no longer put up with his out of control drug and alcohol abuse along with his lack of self-control of being faithful to her, so she divorced him.
Black Sabbath recruited a manager, who went to work on recording an album, getting a record deal, and getting on the radio.  The album led to a tour and a meeting with a crude and tough music businessman by the name of Don Ardent.  Don had a receptionist at the time who was also his daughter which Ozzy fell for upon first glance.  Her name was Sharon and years later she became Ozzy's manager for his solo career and eventually his wife (If you're interested on how to become a band manager, Guide to Career Education can help you find schools offering music business management courses). 
Ozzy described the Satan worshippers following them on tour because they actually thought Black Sabbath were as well.  One time Ozzy walked out of his hotel room to find a circle of these worshippers with candles in a séance fashion.  Ozzy walked over to them sat down, sang "Happy Birthday", blew out their candles, and left.  This made them furious and they eventually stopped following them.  He couldn't believe there were actual followers of Satan. 
Ozzy mentioned being something I put in my book, Concert Blast Experiences, when on tour with Black Sabbath in Nashville, TN Ozzy walked into a wrong hotel room and slept for about 20 hours, right through show time while everyone was looking for him without any luck.  I was a teenager in front of the stage at this show and they had to postpone the concert.  This incident eventually was the icing on the cake for the decision to fire Ozzy from Black Sabbath.
Because of their name and their logo of the upside down cross, their concerts were occasionally being picketed by various Christian organizations.  Many times Ozzy would disguise himself, walk right through the fans, and join the picket line. 
While on tour, Ozzy noticed this guy down front at every show.  This made him curious why he would follow the tour.  After talking to him he learned that this guy was such a huge fan, he hitchhiked to every show wearing only a blue jean jacket and scraped together enough money on his journey to purchase a ticket and buy food.  Ozzy made arrangements for him to ride along with the roadies to every show and eventually gave the guy a career as his personal assistant. Ozzy said he could trust Tony Dennis with his life.
Ozzy discusses his life with guitarist Randy Rhoads.  He described Randy as the only true musician he's ever worked with, a quite individual who lived a clean and simple life.  Ozzy said his only vice was he was a chain smoker.  He very seldom drank (if he did it was only 1 or 2 beers), he never chased women, and he stayed away from drugs. Randy lined up classical guitar lessons for himself while on tour and when he wasn't on tour he would donate his time to help teach music at schools (his mom was a music school teacher). 
Ozzy also mentioned the time Motley Crue went on tour with him as an opening act and discovered there were rockers who conducted themselves worse than him… which became a contest of who can out perform each other with their outrageous behavior on this tour.
While traveling on the tour bus from Knoxville, TN to Orlando, FL Randy told Ozzy he wanted to get out of rock and roll on the night before his untimely death. Ozzy and Randy discussed it as Ozzy told him to not make a quick decision.  Ozzy told him he was tired and was going to bed.  Ozzy woke up thinking the bus had a major wreck.  The top of the bus was ripped open and he smelled fuel thinking the bus was about to explode.  The fuel was from a airplane wing that clipped the top of the bus.  The bus driver was also a pilot.  He stopped the tour bus at a small landing strip that had airplanes and helicopters, stole a plane for joy ridding, and crashed it trying to buzz by the bus.  The bus driver, Andrew Aycock, along with Randy Rhoads, and their hairdresser/seamstress, Rachel Youngblood, were killed instantly.  Randy had a fear of flying, but agreed to ride along due to the older Rachel going along for the ride.  Rachel was an older woman with a heart condition so he didn't think the bus driver/pilot would try any tricks… but no one realized the bus driver was high on cocaine.
Ozzy tried retiring at the age of 47, but was too bored with the relaxing life.  He asked Sharon to book him some gigs at rock festivals.  Sharon made a call to the Lollapalooza Music Festival to discover they didn't want a "dinosaur" on the tour. This made Sharon so mad that she created the very successful Ozzfest tour.
 
The book continues with Ozzy's drug and alcohol abuse.  Sharon tried to wean him off of drugs once by hiding his cocaine.  He woke up early one morning searching the house trying to find it.  Sharon told Ozzy that he was a drug addict and blew his cocaine out the window… which landed throughout their garden… which sparked their dog's interest and ate the drugs which cause the dog to run non-stop for days.  The dog survived and continued to sniff around the garden for more, which became his new hangout.
On several occasions Ozzy's alcohol abuse would cause him to make a spectacle out of himself to the sadness of his family… even during their children's birthday parties.  Sharon videoed his actions to show him later and he couldn't believe it.  He said he wanted to stop, but he was addicted.  One time he woke up in a jail cell not knowing why he was there, but it turned out that he tried to kill Sharon by trying to choke her to death.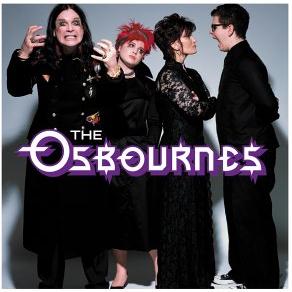 Ozzy mentions his rehab visits and a rare disease he has that emulates Parkinson's disease with shaking.  It turned out that alcohol causes these tremors with this disease.  During one of his doctor check ups they suggested a colonoscopy and Ozzy eventually convinced Sharon to also get one.  This is when they discovered that she had colon cancer.
Their life was also tormented by multiple lawsuits by Sharon's father, Don Ardent, every time he seemed to be running low on money (which cost them millions). Ozzy's thoughts were to just pay him instead of fighting family in court.  Sharon and her father had a hatred relationship throughout her adult life, although she did pay for his care during his last days with Alzheimer's.
Sharon enjoyed television so she talked Ozzy into allowing MTV to setup cameras throughout their house for a reality TV series, although their oldest daughter Aimee decided not to take any part in it.  The show lasted for three years and became very popular.  Ozzy mentioned the TV show brought him more popularity than the music business ever could.  During the height of the show, every time they traveled, mobs of fans and media would meet them at the airport.
Ozzy describes the motorbike accident he had that nearly took his life.  The accident wasn't that bad until the bike flew up in the air and then landed on top of him. 
Ozzy closes the book with a review of his family on how they are now doing.  One thing I never realized is how funny Ozzy Osborne can be.  I found myself laughing out loud about the pranks he and the guys from Black Sabbath performed on each other.  I would recommend this book to anyone interested in what happens in the rock music lifestyle… and what can happen to you!  I will warn you that there is a lot of hard-core profanity in this book and there are also a lot of stories on sex and drugs.  I will rate this book 4 out of 5 stars.
Written by Mike Arnold
—

Have You Read This Book?




What Was Your Favorite Part?


—

Tags: Aimee Osbourne, Bill Ward, Black Sabbath, blog, Book Review, concert blast, concertblast, Don Ardent, Geezer Butler, heavy metal, I Am Ozzy, Ian Anderson, Jethro Tull, Mike Arnold, Ozzfest, Ozzy Osbourne, Rachel Youngblood, Randy Rhoades, rock and roll, Sharon Osbourne, Tony Dennis, Tony Iommi