Posted on 1/30/2012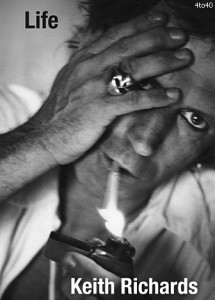 Written by Mike Arnold
The main guitarist of the Rolling Stones, Keith Richards, wrote a book about his life simply called… "Life".  This is our first book review on Concert Blast and we may have more to follow. 
Keith Richards' book, Life is appropriately named due to that is exactly what it is, a journey through his life.  The book begins as he and Ron Wood are being arrested in Arkansas as they are driving their rental car to the next city during one of the many Rolling Stones tours… and they have plenty of drugs on them, in them, and in the car.
Keith then takes the reader back to the early stages of his childhood as he remembered growing up in the UK.  There were several times when he mentioned getting beat up by bullies, but told his mom that he fell.  Keith finally makes friends with a big guy in his class.  He tells the guy he will do his homework for protection.  It seemed to work.
Keith hears Elvis Presley's, "Heartbreak Hotel" for the first time and can't get enough of this new type of music called Rock and Roll.  He also enjoyed Jerry Lee Lewis, Chuck Berry, and a variety of blues music.  He gets interested in the guitar, but can't afford to purchase one until later in his life.
Keith gets kicked out of school for continuous bad grades and bad behavior and is sent to a special school for the arts, due to his ability to draw.  This is where he meets artistic people whom he can associate with and music soon follows.
 
He meets musicians and eventually his band mates, Mick Jagger, Bill Wyman, and Brian Jones.  The guys had to buy their way to get the drummer they really wanted in their band, the popular jazz drummer Charlie Watts.  The Rolling Stones started as a blues band performing many cover tunes, but soon learn to write their own songs due to keith's ability to come up with guitar riffs. 
Keith began writing music with some words and then Mick Jagger would finish the lyrics.  Keith would have a tape recorder with him at all times to capture his creative guitar moments.  He actually wrote the hit, "Satisfaction" in his sleep.  He would place a recorder next to his bed and as he heard the sounds in his head, he would record them in the middle of the night.
Keith described the madness of Brian Jones and how awful he would treat everyone due to his drug problem, especially his girlfriend Anita Pallenberg (who actually became Keith's long-time on and off girlfriend and mother of his two oldest children).  Although Brian was the band leader in the beginning, he was eventually kicked out of the band and within a few weeks he was found dead from drowning in his swimming pool. 
Keith described the thrill of coming to America to tour the states, meeting some of his musical idols (including a romance with Ronnie Spector) and jamming with blues guitarists in the blues shacks of the Mississippi Delta.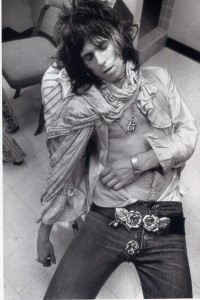 The book also takes the reader through Keith's drug habits and the multiple "Cold Turkey" experiences.  In fact he had to shoot himself up with drugs whenever they flew overseas so he wouldn't go through his "Cold Turkey" on the long flights.  One ironic part of the book is when Keith said he would never smoke crack because he seen what it does to people.  He also described how he would shot up with heroin in the muscles because he didn't want the heroin rush from shooting up in his veins or visible track marks. There were also many close calls that Keith Richards had from going to prison due to transporting his drugs in and out of various countries.
Mick Jagger decided to start his own solo career and ignored the guys in the Rolling Stones, which began the disagreements between Mick and Keith. To me this seemed to be the beginning to the end of Mick and Keith writing good quality Rolling Stones hits.  There was one song that Mick wrote by himself that was a K.D. Lang sound-alike.  Keith played the song in the car and his kids were singing a different song.  Keith knew they were in trouble.  Lawyers called quickly and K.D. Lang was added as a co-writer.
Keith mentioned several stories about his friends. Saxophonist Bobby Keys (known for his superb work on Brown Sugar) was kicked out of the Stones for ten years due to his behavior. Keith was unhappy about the horns on one of their tours so he flew Bobby to the city they were performing in and sneaked him on stage one night during "Brown Sugar" to everyone's surprise… Mick wasn't happy about it at all, but he knew he was the best for the job.  Bobby has been a part of their tours since.  Gram Parsons was one of his closest friends and opened Keith's music genre and writing style.  Keith had an excellent idea with this book by allowing those close to him to write their perspective of certain situations.
The book comes to a close as Keith and his parents re-connect during their last years, taken himself off of hard drugs, meeting and marrying the love of his life, Patti Hansen, and how he cracked his skull which led to an operation to screw his skull back together.
I would recommend this book to any fan of classic rock, Keith Richards, and/or the Rolling Stones, although I will warn the reader that there is hard-core profanity in this book!  I would say that the last half of the book was when it picked up the interest for me.  On a 5 star scale, I will give "Life" by Keith Richards 3 out of 5 stars.
Written by Mike Arnold
—-

Have you read Life by Keith Richards?




What were your thoughts?




Please leave a comment below!


—-

Tags: Anita Pallenberg, Bill Wyman, blog, Bobby Keys, book reviews, Brian Jones, Charlie Watts, concert blast, Gram Parsons, Keith Richards, Life by Keith Richards, Mick Jagger, Mike Arnold, Patti Hansen, Ron Wood, the Rolling Stones