Posted on 12/02/2011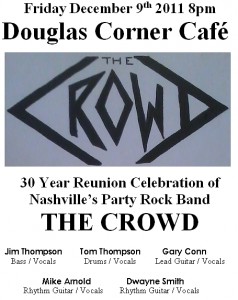 1980 four friends got together to practice their instruments they were learning to play.  Within one year they decided to perform at a party.  That party led to another party, which led to another party, which led to another party and on and on… This band of four friends that grew up together was known as "The Crowd" (Mike Arnold (of Concert Blast), Tom Thompson (of Concert Blast), Jim Thompson (Tom's twin brother), and Dwayne Smith).  In the early 80s, The Crowd became known as Nashville's Party Band as they not only performed at parties, but also at various nightclubs, colleges, and music festivals in the middle Tennessee area.
With the popularity of Facebook, old friends of the band suggested a reunion show.  After discussing this idea, Mike Arnold, Tom Thompson, Jim Thompson, and Gary Conn, along with original guitarist Dwayne Smith (who will join in for some songs at the half-way point of the show) all agreed for a one night performance for old times sake to celebrate their first gig 30 years ago.
They discussed a set list, got together for a practice, contacted a club, and now will perform that show on Friday December 9th 8pm at Douglas Corner Café in Nashville, TN.
FYI…
This show will be a Rock Show and not an oldies show. The guys will pickup the party-style energy of their live show right where they left it in the 80s. Those in attendance are expected to get up and dance, sing along, and enjoy a fun night of 60s, 70s, and 80s party rock music with a handful of originals thrown in.
WARNING…
This Show is expecting to be SOLD-OUT so attendees must be in line when the doors open at 8:00pm to have a better chance of getting in. The club only holds 125 (packed to the max with SRO) so get there early!
The Cover Charge is only $5. The venue sells food and drinks. The doors open at 8pm and the music will begin at 9pm Sharp!
We Hope to See You There!
Mike Arnold, Tom Thompson, Jim Thompson, Gary Conn, Dwayne Smith
HISTORY OF THE CROWD
The band "The Crowd" began from an idea that Mike Arnold's guitar instructor had back in 1980.
Bob DiPiero (one of Nashville's most successful songwriters) challenged Mike by suggesting him to start a party band playing fun simple music.
Mike told this to a few friends who decided to begin to learn how to play and in 1981 The Crowd played their first gig at a party with Mike Arnold, Tom Thompson, Jim Thompson, and Dwayne Smith in the lineup. From someone being at that party led to another party gig and another and another and…
The guys wanted to experiment in writing some original songs so they went to a Nashville recording studio to record four songs, two originals ("I Don't Wanna Hear These Things" and "Without You") and two covers ("Street Fighting Man" and "Land of a Thousand Dances")
With guidance and direction from Mike's new guitar instructor and local rock musician Frank Harwell, Mike took the two originals to Vanderbilt's rock radio station 91-Rock WRVU-FM. The two originals began receiving airplay and began receiving many requests that made their 2 original songs to the Top 5 request list of the day on many occasions.
With their songs now on the radio, the clubs were calling to book the band. Their first club gig was performing an opening slot for a band from Atlanta called The Night Porters at Nashville's Rock Club, Cantrell's. On this first club set The Crowd received a surprising encore and the owner of the club told the booking agent to book them as a headliner.
Lead Guitarist Dwayne Smith left the band to enjoy more family time while the guys welcomed new guitarist Chris Moran from the popular regional band from North Carolina "The Accelerators". Chris stayed with the band for about a year before moving back to North Carolina and local lead guitarist Gary Conn joined the guys.
The band's live show attracted the attention from popular local main-stream rock DJ Patti Murray from 103-KDF (at that time WKDF was a Rock station format) and began booking the band on several occasions.
The Crowd was the first band to perform at the Exit In during their re-open phase to prove to the new owner he could have a good business by having live music instead of just a restaurant. This also led to Mike Arnold helping the re-opened historic club with booking popular local music acts.
Mike left The Crowd in 1985 to start his own band, Mike Arnold & the Music City Rockers, but The Crowd continued as a three piece with band leadership from Gary Conn. They continued writing songs and recorded a self-produced CD before calling it quits in 1988. Mike continued performing with his band until 1990.
 —-


Have You Ever Seen The Crowd Perform?




Are You Planing on Going to this Event?


—-
Tags: 80s rock band, blog, Chris Moran, Douglas Corner Cafe, Dwayne Smith, Exit In, Frank Harwell, Gary Conn, Jim Thompson, Mike Arnold, Nashville, party, reunion show, Tennessee, the cannery, The Crowd, TN, Tom Thompson