Posted on 9/23/2011
Written by James Downing
Alice Cooper is back…..with a vengeance. Over 30 years after the original "Welcome To My Nightmare" album, "Ole Black Eyes" has released his latest and in my opinion, his best album in many years.
The new album picks up where the original left off, inside of Alice's twisted mind and nightmares. I have always been a huge fan of The Coop but I have to admit, to me, his last few efforts have all sounded the same. I did enjoy them but they lacked that spark that Alice's early music possessed.
The album starts out with the familiar haunting piano notes from the song "Steven" from the first "Nightmare" record. This goes into the first song "I Am Made Of You" as Alice tells us of what happened "in the beginning" of this freighting nightmare and how he wanted to be rescued for the terror he was experiencing.
Much like the victims of "Nightmare On Elm Street" villain Freddy Kruger, the next song "Caffeine" has Alice wanting to pump his veins full of caffeine so that he can stay awake and avoid his nightmares. I think this one of the albums strongest tracks. It reminds me of some of the music that made Alice the King of Shock Rock. A short musical interlude called "The Nightmare Returns" is followed by another straight forward rocking track, "A Runaway Train."
 In "The Last Man On Earth" our hero tells us he can do anything he wants to do because he is all alone. I love the line of this song that says "There is not a single soul to talk to, but that's ok because I never liked them", a classic Alice Cooper lyric I think. I wonder if this is a nod to the Vincent Price film "The Last Man On Earth". Vincent Price was one of Alice's hero and appeared on the first "Welcome To My Nightmare" record.
In "The Congregation" it sounds like Alice is being welcomed to hell. "Welcome to the congregation, I hope we meet your expectations" he is told. He is led on a tour that includes seeing the boys from Wall Street and some lawyers that must have done some bad things while on earth.
The next song is the first single from the album "I'll Bite Your Face Off." This is a story about a sexy lady that caught Alice's eye. She turned out to be more than he bargained for when she told him "I'll bite your face off." Alice has been doing this song live and it has already became a crowd favorite.
The opening of the next song reminds me of The Wicked Witch of the West's henchman's chant in "The Wizard Of Oz." The song is called "Disco Blood Bath Boogie Fever."
I was hoping that this album would include a rocker that came close to my favorite song from the first "Nightmare" album ("Department of Youth"). "Ghouls Gone Wild" is that song. This is my very favorite song off the album and I hope that Alice includes it in his live show.
I have never been a big fan of the rock ballads, but in the late 70′s Alice had a nice run of hits with ballads from this album. "Only Women Bleed", "You And Me" and "How You Gonna See Me Now" were all huge hits for him. "Something To Remember Me By" is another one of those songs that could join the ranks of his hit ballads.
"When Hell Comes Home" is a tale about someone's dad whose family hates it when "daddy comes home." But only in this story daddy "gets one between the eyes." Sweet revenge.
When I heard that Alice had teamed up with Ke$ha for a song on this album I wasn't sure what to expect. Actually it turned out to be a great song called "What Baby Wants." I think it is one of the catchiest songs on the album and might have a chance at being another single off the album.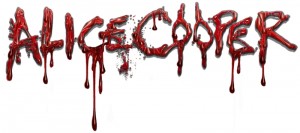 "I Gotta Get Out Of Here" is the next song on the album. When I first heard it I really didn't care for it but after listening to it several time, this one grew on me. As the chorus chants "What part of death do you not understand", Alice says he just signed up for a nightmare.
"The Underture" closes the album and is an instrumental medley of song clips from the first "Nightmare" album interwoven with songs from this one. A very nice way to close the album I think. I think it would be cool to play this at the beginning of Alice's current show on tour.
Alice recruited several old friends to help out on this album. Steve Hunter from the first "Nightmare" album and tour returns on guitar. Also on three songs, the surviving members of the original Alice Cooper band, Denis Dunaway, Michael Bruce and Neal Smith join their former band mate. Veteran producer Bob Ezrin took the control seat on this project and with a line up like this how can you miss?
I really like this album and in my opinion it marks Alice's return to the music that made him the legend that he is today. I give this album a 4.5 out of 5 points. It is not another "Welcome To My Nightmare" so don't expect that, but do expect a great album with straight forward rock and roll!!
 Written by James Downing
____
What is your favorite Alice Cooper Album?
Please Leave a Comment Below!


____
Tags: album reviews, alice cooper, Alice Cooper New Album, blog, Bob Ezrin, CD, concert blast, Dennis Dunaway, James Downing, Michael Bruce, Neal Smith, Welcome 2 My nightmare, Welcome to My Nightmare