POSTED 3/25/2011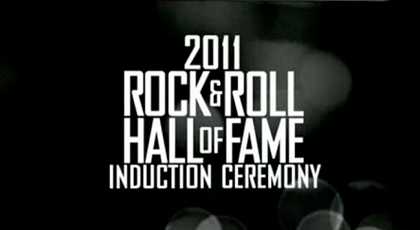 Written by Josh Jackson
For the second year in a row I was invited to work as the script supervisor for the Rock and Roll Hall of Fame inductions and of course, I obliged. I always love hearing my friends tell me to make sure to tell someone to induct __________ (insert favorite rock group) into the Hall. (Usually KISS or RUSH) I'm not sure exactly how the nominations go about, and while I have my own feelings about some of the great groups that have been left out (Eagles, Heart, Journey & oh so many more), I was fairly satisfied with this years group of inductees.
The class of 2011 included performers Alice Cooper, Neil Diamond, Dr. John, Darlene Love, and Tom Waits; Non-performers Jac Holzman and Art Rupe; and sideman, Leon Russell.
This was the first time in a while that the show was not a 'live' event for television, so it was a little different. They did all of the inductions first and saved the performances last for a more concert-like presentation. What resulted was a show that started a little after 8pm with dinner and presentations and then rocked until almost 2am.
Dr. John was inducted by John Legend, Darlene Love by Bette Midler, Alice Cooper by Rob Zombie, Tom Waits by Neil Young, Leon Russell by Elton John and Neil Diamond by Paul Simon. With the exception of a very random and rambling acceptance speech by an obviously tipsy Neil Diamond, it was a fairly un-eventful induction ceremony and everyone was looking forward to the performances.
Alice Cooper started things off by blistering the industry only crowd with their hits 'I'm Eighteen,' 'Under My Wheels,' & 'School's Out' with Rob Zombie and a kids choir from the NY Pops. In the last few years, Alice has revived younger members from 80's heavy metal groups to form his band, but for this performance brought in remaining original band members Michael Bruce (guitar), Dennis Dunaway (bass) & Neil Smith (drums). Steve Hunter who has appeared on 5 albums with Alice, sat in on guitar for deceased original member Glen Buxton. I got to meet Alice very briefly and found him to be the opposite of his stage persona — extremely pleasant and accommodating. I really enjoyed the performance as well. It was full of energy and you could tell the band was very excited to be there.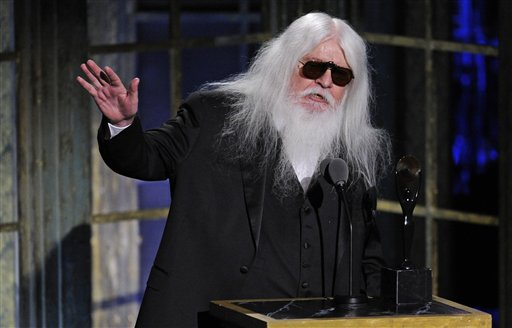 With a career built on art rather than hits, it really takes a certain kind of person to enjoy the music of Tom Waits. I personally enjoy some of his earlier, folk material, but the bulk of his catalog is a bit abstract for my tastes. Okay, let's be honest. I think he is just plain weird!
When you see him on stage though, it is hard to take your eyes off of him – there is that 'something' about him. With a band including his son Casey on drums and Dave Hidalgo of Los Lobos on guitar and concertina, he performed 'Make It Rain,' 'Rain Dogs,' 'House Where Nobody Lives,' and then finished his set by having Neil Young join on guitar for 'Get Behind The Mule.' Waits moaned, growled and writhed on stage and I'm not sure most of the audience 'got it,' but they kindly showed their appreciation at the end of his set.
After Waits performance, Paul Shaffer & the CBS Orchestra took the stage as the house band along with Judy Price who sang the song she wrote for Joni Mitchell, 'Both Sides Now,' to honor Elekra Records, Jac Holzman. I had the pleasure of working with Mr. Holzman on his induction speech and found him to be a super-nice man. I just kept telling myself – this is the guy who signed Queen and the Doors!!! In fact, John Densmore spoke and inducted him. He was another really laid-back guy who was as nice as could be.
New Orleans stalwart, Dr. John was next, playing a lively version of 'Right Place, Wrong Time.' He was then joined onstage by John Legend for the classic 'Such A Night.' Legend is an amazing performer and piano player who really added to the performance.
Darlene Love, known as one of the building block voices of Phil Spectors 'Wall of Sound,' was next. Along with Paul Shaffer & the band, she was joined by one of her greatest supporters, Bruce Springsteen. Bruce took lead guitar duties and did so in a way as to not steal any of the spotlight. To me, that was very classy of him. Together, they performed two of the 60's biggest hits, 'Zip-A-Dee-Doo-Dah,' and 'Today I Met (The Boy I'm Gonna Marry.)' They were then joined by Bette Midler for 'He's A Rebel.' It was a great sing-along set with the crowd really getting into the performances.
Leon Russell is the kind of performer that many people recognize, but once you really delve into his past, you are staggered by his resume. Russell was the real deal; recording piano & keyboards as a part of Phil Spectors 'wrecking crew' as well as for artists as varied as Frank Sinatra and the Rolling Stones. Joined by John Mayer, Russell started with the uptempo Joe Cocker song that he wrote, 'Delta Lady.' Then, for perhaps the best performance of the night, with just Mayer on electric guitar and himself on piano, was 'A Song For You.' It was an amazing performance.
After his 'interesting' acceptance speech I was anticipating Neil Diamond's performance. He opened up with his hits 'Cherry, Cherry' and 'I Am, I Said.' Before he even began his crowd favorite, 'Sweet Caroline,' he had the audience eating from his hands. For his finale, he wandered into the crowd trying to get other stars to join in, and at one point even found himself on a chair in the middle of the audience directing the sing-along. The crowd erupted, joining along to such a degree that when the song was over, he got the band to reprise it – and he did it again! Because it was after 1am and Diamond had performed to such a degree, many people began to leave, but there was more to go.
For a finale, the class of 2011 and their inductees came back to perform 'Stagger Lee' a song played to honor non-performer inductee, Art Rupe. They then segued into Darlene Love's classic, 'Da Doo Ron Ron.' I thought it was funny to hear Alice Cooper take a verse on the jam.
It was a LONG, yet wonderful night of music. Now that you have a behind the scenes look, be sure to check out the telecast on FUSE to see what made the cut!
Written by Josh Jackson
____
PLEASE LEAVE A COMMENT BELOW!
____
Tags: alice cooper, Art Rupe, Bette Midler, Bruce Springsteen, Darlene Love, Dennis Dunaway, Dr John, Elton John, Jac Holzman, John Legend, John Mayer, Josh Jackson, Leon Russell, Michael Bruce, Neil Diamond, Neil Smith, Neil Young, New York, Paul Simon, rob zombie, Rock and Roll Hall of Fame Induction Ceremony, Steve Hunter. Alice Cooper Group, Tom Waits, Waldorf Astoria