Posted 2/18/2011
Written by Mike Arnold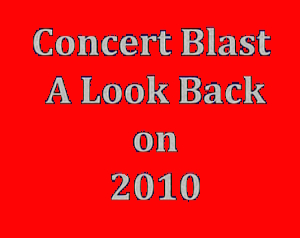 While the concert-touring season has slowed down for the winter, I thought it would be nice to show our listening audiences what we went through in 2010.  I created multiple videos of our experiences with a month by month journey of our adventures.
Here's Part 6, the final chapter of our 2010 Concert Blast Posts.  This video takes you through our experiences of October through December.
Take a look at this video (about 14 minutes) to see what Concert Blast went through during these months.
In this video, we covered the following…
Sheryl Crow, Farm Aid featuring Willie Nelson, Neil Young, and John Mellencamp, .38 Special, Jason and the Scorchers, Jacob Dylan, CMA Awards, Lawrence Gowan of Styx (Interview), Styx, Thanksgiving Special Interviews featuring Bo Bice, Mac Powell of Third Day, Rick Springfield, and Warrant, Stacie Collins Band, LA Guns, Firehouse, Warrant, and Garth Brooks … And That's Just Part 6!
____
PLEASE LEAVE A COMMENT BELOW
____
Tags: 38 Special, Bo Bice, Brian Hasbrook, CMA Awards, concert blast, Concert Photos, concertblast, Farm Aid, Firehouse, Garth Brooks, Interviews, Jacob Dylan, James Downing, Jason and the Scorchers, john Mellencamp, Josh Jackson, LA Guns, Lawrence Gowan, Mac Powell, Mike Arnold, Neil Young, Podcasts, Reviews, Rick Springfield, Sheryl Crow, Stacie Collins Band, Styx, Third Day, Tom Thompson, videos, Warrant, Willie Nelson