POSTED 11/17/2010
Written by Guest Blogger Josh Jackson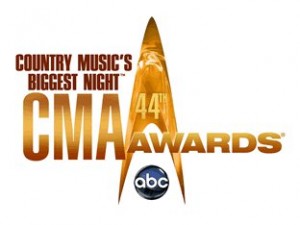 All Photos from http://www.cmt.com
For the last 14 years, the CMA Awards have consistently been one of my favorite projects to be a part of. I can only think of one show (the Grammys) that brings together the amount of talent and diversity that this one does. Each year brings it's own set of interesting performances and results, and this year was no different. So, let's get right to it!
Like many years prior, the show began with a bang. Unlike the other performances in the show, which only used the far stage left or right portions of the performance area, Carrie Underwood spread her band over both sides of the huge stage and doubled up her star power rating by bringing out co-host, Brad Paisley on guitar and Keith Urban on banjo. The result was the high-energy 'Song's Like This' – an excellent start to the show.
After a quick wardrobe change, our hosts Carrie Underwood & Brad Paisley came out to welcome the audience and get things going. I have to say, it was a great monologue that brought wonderful energy to the start of the show. After sitting in on meeting after meeting and phone call after phone call, hearing every pitch in the world and then heading up revision after revision and re-write after re-write, it was personally a pleasure to see the opening monologue get the warm response that it did. No time for claps on the back yet, though, as quickly it was time for the first award of the night.
SINGLE OF THE YEAR WINNER: 'Need You Now' By Lady Antebellum
After the year this song had on country radio, it was no surprise that Lady A (not Lady Gaga) would win this award. Many believed Miranda Lambert might steal the award away with 'The House That Built Me,' but 'Need You Now' was a stronger radio hit and I believe the voters got it right.
Our second performance of the night was Rascal Flatts with their hit, 'Why Wait.' Is it me or do The Flatts seem bored with themselves? They are still great entertainers, but there seems to be something missing. Perhaps the release of their new album this month will give them a much-needed shot in the arm.
SONG OF THE YEAR WINNER: 'The House That Built Me' (Miranda Lambert written by Tom Douglas & Allen Shamblin)
Again, the voters got it right. While 'Need You Now' was the radio hit, 'The House That Built Me' was the better song and rightfully awarded Song of the Year.
Blake Shelton was next, singing 'All About Tonight.' For some reason, in the last year people have started to recognize Blake and his abilities, but quite honestly he seems the same guy he has always been. 'All About Tonight' is a fun song and it was pretty cool to see Blake surrounded by his fans performing in the bleachers of Bridgestone Arena. Side note: wanna get a good laugh? Follow this guy on Twitter.
Blake's soon to be wife Miranda Lambert was next with her song 'That's The Way That The World Goes Round.' Imagine the Ramones with a twang and that's the performance in a nutshell. Miranda has always done well with the 'crazy-eyed country girl' type songs and this is another one that fits that mold.
Up next was 'The King,' George Strait. What exactly do you say about George Strait, except that year after year, there is no one better. He's the real deal and one of the last great song stylists left in country music.
NEW ARTIST OF THE YEAR WINNER: Zac Brown Band
No surprise here, except that many people don't think of ZBB as a 'new' band anymore. But, you have to remember these are the awards for the past year, so still relevant. If Luke Bryan and Chris Young can have good years again, look for them to possibly be in the running for New Artist in 2011. Side note #2: My brother-in-law is a dead ringer for Zac Brown. I think at Christmas we are gonna put a skull cap on him and go down to 2nd Avenue and charge $5 per picture to all the tourists.
How convenient that the performance following the New Artist award was none other than the Zac Brown Band. ZBB continue to amaze me. One minute they are a cutting-edge jam band and the next they are a more traditional sound group. Joined by Alan Jackson, they definitely hit the 80's 'Alabama' vibe with the multiple-part harmony of 'As She's Walking Away.' This was also my favorite 'look' of the night with a set taken straight out of the 'O, Brother Where Art Thou' movie.
Kenny Chesney continues to crank out songs that touch America. While 'The Boys of Fall' isn't the greatest song ever written, it is a song that young men and women across the country can relate to. And isn't that what it's all about? Country music has long been a genre that reaches people where they are – and that's just what this performance did. While Kenny Chesney isn't one of my personal favorites, he has a knack for picking material that people can relate to. Like him or not, I think he is to be commended for carrying on the spirit of the genre in his own way.
Most artists would be thrilled to sell a million records in their career, but the next performer on the show did it in just one week. On the heels of the just released 'Speak Now,' Taylor Swift performed a stripped down piano & strings version of 'Back To December,' a supposed plea for forgiveness to Taylor Lautner. It was a fine performance, but I know what you are all wondering. Why did Taylor mouth 'WHAT?' after her performance was over? I have no idea, but here's my guess…I think a stage manager was telling her to stay put and she didn't know what he was saying. The 'snow' effect could have made the stage slippery, the lights were going down and the stage wall coming in…all at the same time.  I could just see her jumping up from the piano and taking a spill for the cameras. Talk about making TMZ the next day.
Sugarland did their best Lady Gaga impersonation with their performance of 'Stuck Like Glue.' Jennifer as an odd, robot-ballerina? I don't get it, but I bet Lady Gaga did. Bottom line, it IS a super catchy song. Little known fact: Kevin Griffin, lead singer of Better Than Ezra is one of the co-writers of the song.
VOCAL GROUP OF THE YEAR WINNER: Lady Antebellum
This one could have gone to just about anyone nominated. All 5 groups have pretty darn good vocal chops, but it was Lady A's year. I haven't seen the votes, but I would say ZBB weren't too far behind.
Keith Urban continues to produce great pop songs about love & life and his new single 'Put You In A Song' is no different. This performance showed us what Keith does and  does so well – he cranks it to 11 and make the girls swoon. And a few of us guitar playing dudes, too.
Reba, Reba, Reba. Just when I was back on your side – then you go and do something like this. 'If I Were A Boy' was one of Beyonce's big hits a couple of years back and now, Reba has her version as well. The only redeeming thing about this performance was the chuckle I got when hearing her sing the lyric 'I'd kick it with who I wanted' in her southern drawl. In all seriousness, I did hear many people say how much they liked this version and she did get a standing 'O.' So, who's to say this knucklehead isn't completely wrong?
Up next was perhaps my favorite performance of the night. I'm a sucker for a huge, rock ballad and well…this is a huge, rock ballad. Jason Aldean paired up with the golden voice of Kelly Clarkson for a tune that sounds like it could have been penned by hit songstress, Diane Warren. In reality it was written by country artist Jason Sellers and some of his buddies – good for them. There's no doubt this song will be a huge mainstream hit – so, get your lighters in the air.
Kid Rock is one of the greatest entertainers in music today and he has one of the hottest bands in the industry. That said, I struggled finding his place on the awards this year.
It was a good enough performance but 'Born Free' still sounds like a song Bob Seger forgot to record in 1976 – and I'm not sure if it was good enough to warrant pushing out another country performer. Notably missing for me were Darius Rucker (not nominated, but still has a top ten single) and Female Vocalist nominee, Martina McBride. And what about our New Artist nominees?
Brad Paisley took a chance with his performance slot and it paid off big time. He could have chosen a current single to perform, but instead, he picked a song that hasn't even been properly recorded yet, 'This Is Country Music.' From the opening lyrics he had the audience eating it up. And by the time the song ended, the crowd was on it's feet as Brad exclaimed a blessing on the audience. I think it's safe to say he will be adding another #1 song to his repertoire very soon.
VOCAL DUO OF THE YEAR WINNER: Sugarland
This has always been kind of an odd category. There are usually only 1 or 2 viable options for winners and this year was no different. I think some thought that the now retired Brooks & Dunn may have stolen the award away this year due to the success of their final tour, but it was not to be. I have a feeling this award will belong to Sugarland until the NEXT Sugarland pulls onto the scene.
'Hello World,' by Lady Antebellum followed the presentation of Vocal Duo. I think it is a great performance with lots of emotion and wonderful harmony, but I'm not sure it's a good song. It's too open ended to me.
MALE VOCALIST WINNER: Blake Shelton
Let's look at what this award does exactly. It provides an award to the best Male Vocalist of the past year. And I think that is exactly what it did. While most people I know had Blake Shelton a distant 4th behind Keith, Brad and George, he does have a good voice and he has had a big year. So, go ahead and give it to him. It'll give him something to tweet about.
The Band Perry got a minute and a half to impress us all with their live version of 'If I Die Young' as we rolled to commercial. I have to say, while sad, the lyrics to this song are downright beautiful and it has been one of my favorites of the year. I also had the opportunity to chat with these guys (and gal) at length back stage and it was refreshing to see how normal and grounded they were. They were also excited to be a part of the program and that kind of enthusiasm is always refreshing.
Carrie Underwood had the opportunity to do a second performance and chose 'Mama's Song.' While it showcased her ballad pipes, it is a talent we already knew she had. I wish she would have done another up-tempo song, but who am I to complain? She has the best voice in the business and I'll take it any way I can get it.
I have known Dierks Bentley for years now and it has been great to see him morph himself from project to project. With his performance of 'Up On The Ridge' it is almost like he has taken a page from the Zac Brown play book and created his own form of bluegrass music. All of the elements of bluegrass are there, but it's a different and refreshing take on the genre. Me likey.
To start act 11, Academy Award winning actress Sissy Spacek came out and introduced a special tribute to none other than the character she played so well in the 80's, Loretta Lynn. I worked with Sissy backstage on her script and if she called me sweetie once, she called me sweetie a hundred times. She's a hugger, too – such an adorable, pleasant woman. After their introduction, Miranda Lambert and Sheryl Crow entered the stage with their version of the classic, 'Coal Miner's Daughter.' It wasn't a complete surprise, but it brought the crowd to their feet when Loretta herself came out to sing the last verse and chorus. How wonderful it is to see the legends work the stage. I hope we never forget to include our past in with future shows.
FEMALE VOCALIST WINNER: Miranda Lambert
Here's where things get tricky. Has Miranda Lambert had a big year? Yes. Can she sing? Yes. Does she have the best female voice in 2010? Nope. I had her third. It should have been Carrie's award hands down. And while Martina hasn't really done much the last year, she always deserves to be thrown in there. But then again, what do I know?
Up next was the MUCH anticipated country music debut of Gwyneth Paltrow. While I would love to tell you about her performance, I can't. Mainly because I couldn't stop staring at her legs, which have to be at least 45 inches long. Just kidding. So, she has an okay voice and they legitimized her by having the always amazing Vince Gill accompany her. I'm sure she drew in a lot of viewers and made some ratings, so I am good with it. Will it be a nominated performance next year? I doubt it, but it worked for the moment.
ENTERTAINER OF THE YEAR WINNER: Brad Paisley
I really felt this year that some great country acts were mistakenly not nominated for the final award of the night, Entertainer of the Year. Carrie Underwood's show is pedal to the metal for 90 minutes and should have gotten her a nomination. Rascal Flatts set and screen show is worth a nomination alone, but neither made the ballot over Lady A, a great group, but one that has only recently begun to headline shows and then only at small theatres. I was glad to see Paisley win. After getting to know him, I truly feel he is one of the 'good guys' in the business. Honestly, it could have easily gone to Urban or ZBB – but I'm glad it didn't. Brad's heartfelt acceptance speech is one that will go down in history and was a great way to close the show.
So there you have it. My yearly assessment of the CMA Awards. As always, I hope you enjoyed it.
By the way, what were your favorite moments on the show this year? I would love to hear about them.
Until next year…Good night!
Written by Josh Jackson
All Photos from http://www.cmt.com
—
PLEASE LEAVE A COMMENT
—
Tags: 2010, ABC, Alan Jackson, Allen Shamblin, awards, Better Than Ezra, Beyonce, Blake Shelton, blog, Brad Paisley, Bridgestone Arena, Brooks & Dunn, Carrie Underwood, Chris Young, CMA Awards Show, Coal Miner's Daughter, concert blast, Country Music, Country Music Association, Darius Rucker, Diane Warren, Dierks Bentley, George Strait, Gwyneth Paltrow, Jason Aldean, Jason Sellers, Jennifer Nettles, Josh Jackson, Keith Urban, Kelly Clarkson, Kenny Chesney, Kevin Griffin, Kid Rock, Kristian Bush, Lady Antebellum, Lady Gaga, Loretta Lynn, Luke Bryan, Martina McBride, Miranda Lambert, Music Discussion, Nashville, Rascal Flatts, Reba McIntyre, Sheryl Crow, Sissy Spacek, Sugarland, Taylor Lautner, Taylor Swift, The Band Perry, TN, Tom Douglas, Vince Gill, Zac Brown Band