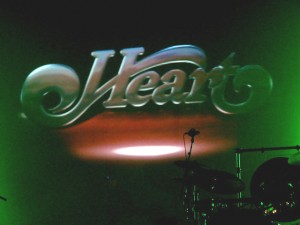 Posted on 9/17/2010
Written By James Downing
Heart has been burning up the road this past year gearing up for the release of their brand new CD, "Red Velvet Car".  It has been 6 years since "Jupiter's Darling" was released in 2004 and Heart fans were ready for some new tunes from The Wilson Sisters.  In its first week, "Red Velvet Car" debuted at number 10 on the Billboard charts.  Not too shabby for a band that has been around for over 30 years.
If you are a regular visitor to Concert Blast you know that I attended and reviewed two back to back Heart shows earlier this year.  I figured that this show would have the same set list as those two shows but much to my surprise they mixed it up a little bit.  I was telling Mike Arnold about this and he asked me if I wanted to do another review since the set list was completely different.  I said "Of course I will".
When Heart played The Ryman in 2009 there were a few empty seats in the balcony but that wasn't the case this time around.  The show was a complete sell out and there wasn't an empty seat in the house.
Eric Baker opened the show with his voice and an acoustic guitar.  Without a break, the Tyler Bryant Band from Nashville hit the stage and really got things going with his fine guitar playing.  This is one guy to keep an eye on.  He plays a guitar like a rock star twice his age.  I had seen him open for Ann and Nancy in Memphis last year and really looked forward to seeing him again.  This guy is going to be a star!
After the usual 15 – 20 minute intermission, the lights dimmed and the real show was about to begin.  When I saw Heart earlier this year they started with "Barracuda" so I was expecting to hear the opening riffs to that song.  Much to my surprise, Debbie Shair, Hearts keyboard player, had a couple of drums next to her keyboards and I could see her walk up to them.  She started pounding on them….bumb, bump bump, bump, bump bump….then I noticed bass player Kristian Attard had some drums too. He started beating on his.  Then drummer Ben Smith joined in to the opening drum beat of "Cook With Fire." The small part of the crowd that was still sitting down rose to their feet as Nancy Wilson walked out and joined in on the song along with guitarist Craig Bartock.  From center stage, out walked the woman with the pipes, Ann Wilson, the whole band broke into the song that was the first track on the "Dog & Butterfly" album.  Without uttering a word, they fired up the next offering, "Heartless" from the second Heart album "Magazine."
After a few words of hello from Ann, the band put it into fast forward and did one of their big hits from the 80′s, "What About Love." The whole house was singing along to every word of this song.  Next they revisited the "Dog & Butterfly" album and did the rockin' "Straight On" and the title track, "Dog & Butterfly."
I wasn't real crazy about what happened next.  I am not a fan of Alison Krauss at all.  I also wasn't a fan of the record that she and Robert Plant did together, "Raising Sand."    She came out and sang one of Heart's songs last year at The Ryman.  Much to my dismay she showed up again and this time instead of performing a Heart song, they did a song from the "Raising Sand" album.  Nancy was playing a harpsichord which was pretty cool, but for the most part I did not enjoy this song at all.
After Alison left the stage, Ann told the crowd about the new album, "Red Velvet Car" and when it was coming out.  They preformed the first of 4 songs from the new CD, "Hey You." Nancy was still on the harpsichord and sang the lead vocals on this one while Ann strummed on an acoustic guitar.  It is a slow song that gave Nancy's vocals a chance to shine.  The band then broke into the Heart hit  which was featured on the "Bebe Le Strange" record from the late 70′s, "Even It Up." The title track from "Red Velvet Car" and another song from that CD came next, "In The Cool."
The following tune was one of their biggest hits from the 80′s, "Alone." This was another one of those sing along songs when the audience knew every single word and sang along with the ladies.  They went back to the new record one more time to perform my favorite from it, "WTF." For the remainder of the show it was back to the classic hits and the band offered up "Magic Man," "Crazy On You," and of course "Barracuda." You could just feel the love that each and every person in the room had for this group of musicians. It was radiating everywhere.
The band waved goodbye and left the stage, but we knew they would be back.  The crowd wasn't going to let them off that easy.  Ann and Nancy are both big Led Zeppelin and Who fans.  For the encores they did Zeppelin's "What Is And What Should Never Be" and The Who's "Love Reign O'er Me." This really let me down.  They have so many rocking songs that they could have ended on, but they chose these two songs instead.  In my opinion, "Rock And Roll" by Led Zeppelin would have been a much better choice, it would have been what Ann and Nancy do best and that is playing rock and roll.
I had mixed feelings about this show.  Now don't get me wrong, the band was great and in top form.  Nancy's guitar playing was spot on and Ann's vocals sounded perfect, but bringing out Alison Krauss and the choices for the two encores just left a sour taste in my mouth.  So for this show I am going to do two ratings, one for the band and one for the set list.  On the Concert Blast scale I am going to give Heart themselves a 9.5.  As I said before they sounded great and I could not have asked for them to sound any better.  Now on the other hand, the fact that they did two cover songs for the encores, 4 new songs, and a song with Krauss I am going to give the set list an 8.0.
Hearts tour is now winding down.  I really do hope that you go see them this summer.  Maybe the ladies will gas up the "Red Velvet Car" and head out on the road again next year.  I know I will catch them if they do!
Written by James Downing
POST YOUR COMMENT BELOW!
Tags: Alison Krauss, ann wilson, Ben Smith, blog, Debbie Shair, Eric Baker, Heart band, Heart Concert Review, James Downing, Kristian Attard, Mike Arnold, nancy wilson, Nashville, Red Velvet Car, Robert Plant, The Ryman Auditorium, The Wilson Sisters, TN, Tyler Bryant Band