Podcast: Play in new window | Download
PODCAST PLAYER AND LINKS AT THE BOTTOM OF THIS POST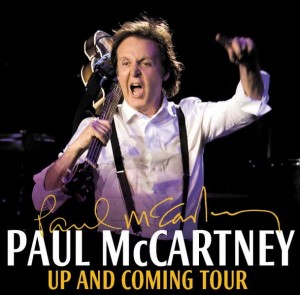 It was Monday, July 26th, 2010 when Nashville finally recieved the promise that Paul McCartney made about 38 years ago of putting Nashville, TN on his tour schedule.  Mike Arnold, Tom Thompson, and James Downing were part of 20,000 extremely excited fans that believe it was well worth the wait.
Paul McCartney took the stage in Nashville about 8:15 and left the stage for the night at 11:10 and had the attendees still wanting more after a near three hour performance.
Sir Paul led the crowd through his musical history with songs from his solo efforts, selections from his project called "The Firemen", hits and obscure songs from Wings, and of course some classics from a former band called "The Beatles."
The former Beatle also paid a tribute to his former bandmates John Lennon and George Harrison, which are no longer with us.
The 68 year old rocker performed as if he was auditioning while trying to win the hearts of the audience as he showed his humble appreciation throughout evening.
On the first encore he even brought a child from the crowd on stage to dance and sing backup with him.  On the second encore he had his security team to bring a lady on stage so he could sign her back below her bass tatoo.
With all the concerts we've seen, this is the only concert that we never heard a someone say they didn't like it.  Paul thrilled everyone!
Listen to our podcast recorded from the night of the concert in the lobby of Bridgestone Arena as Mike Arnold, Tom Thompson, and James Downing went through the entire set list to bring you the feeling of being there.
ENJOY!
Tags: Abe Laboriel Jr, Brian Ray, Bridgestone Arena, concert blast, concert review, George Harrison, James Downing, John Lennon, Linda McCartney, Mike Arnold, Nashville, Paul McCartney, Paul Wickens, podcast, Ringo Starr, Rusty Anderson, set list, The Beatles, TN, Tom Thompson, Up and Coming Tour, Wings