Concert Blast began with Mike Arnold, Brian Hasbrook, and Tom Thompson. Three guys who grew up together in the Nashville, TN area. These guys have attended hundreds (if not over a thousand) concerts.
Every time the guys would get together with friends, they would all want to know about the shows they've seen and found themselves discussing these concerts for long periods of time.
Mike thought a music talk show would make a great radio show. After failing to convince radio stations/companies that this format could be good for radio, he gave up. A couple of years later, Mike was introduced to podcasting. He approached Brian and Tom about the idea of discussing concerts on a podcast and they said let's do it! Concert Blast formed a family friendly podcast and the first podcast was uploaded in May of 2005.
Since our website began back in May of 2005 and have produced more than 200 audio shows with many blogs and posted photos.
We have been invited to cover many concerts and music festivals such as the Bonnaroo Music Festival, Memphis in May Beale Street Music Festival, CMA Music Festival, as well as many of the top Music Concerts (Paul McCartney, Aerosmith, Ringo Starr, Bob Seger, Billy Joel, Sheryl Crow, Journey, REO Speedwagon, Styx, Joan Jett, Night Ranger, and many more).
We usually feature Classic Rock acts, but we do not limit ourselves to it.
We were featured as one of the Top 5 Classic Rock podcasts from Classic Rock About.com.
http://classicrock.about.com/od/2005/tp/rock_myths.htm
In 2008 we were nominated as one of the People's Choice Podcast Awards.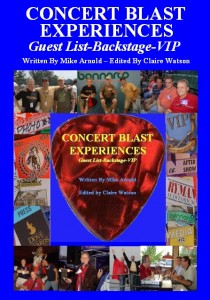 In 2009 James Downing joined the team as a blogger while Mike Arnold took time off to write his book on our Concert Blast Experiences.  James departed Concert Blast in 2012 to concentrate on his own blog/podcast/photos website, Monsters From The Basement.
In April 2010 Mike Arnold released his book:
"CONCERT BLAST EXPERIENCES Guest List-Backstage-VIP" and is back podcasting with Concert Blast.
–