You are currently browsing the archives for the day Monday, March 23rd, 2009.
Vote Here For Concert Blast to improve our podcast rankings.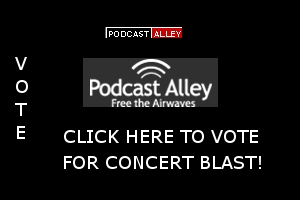 Written by Tom Thompson
Canadian rockers Nickelback with Seether and Saving Abel, started their Dark Horses Tour in Nashville, Tennessee on February 25, 2009. Nickelback tickets were extremely hard to find since it was a sold out show.
The stage was extremely large with three video screens, a very impressive light show, a state of the art speaker system and very powerful protechnics. The stage also had a catwalk that extended out to the crowd about 200 feet. Nickelback started off the show with the first song from their new album, Something In Your Mouth (a song about a guy watching a girl suck her thumb). It did not take them long before they brought out their acoustic guitars and played one of their biggest hits from All The Right Reasons, Photograph.  Lead singer and guitarist Chad Kroeger got the crowd going crazy saying " I feel like I live in Nashville, we have been here for two weeks, we might as well make Nashville our new home". Chad's voice was very strong and sounded great the entire night.